They're Coming For Your Taxes, Donnie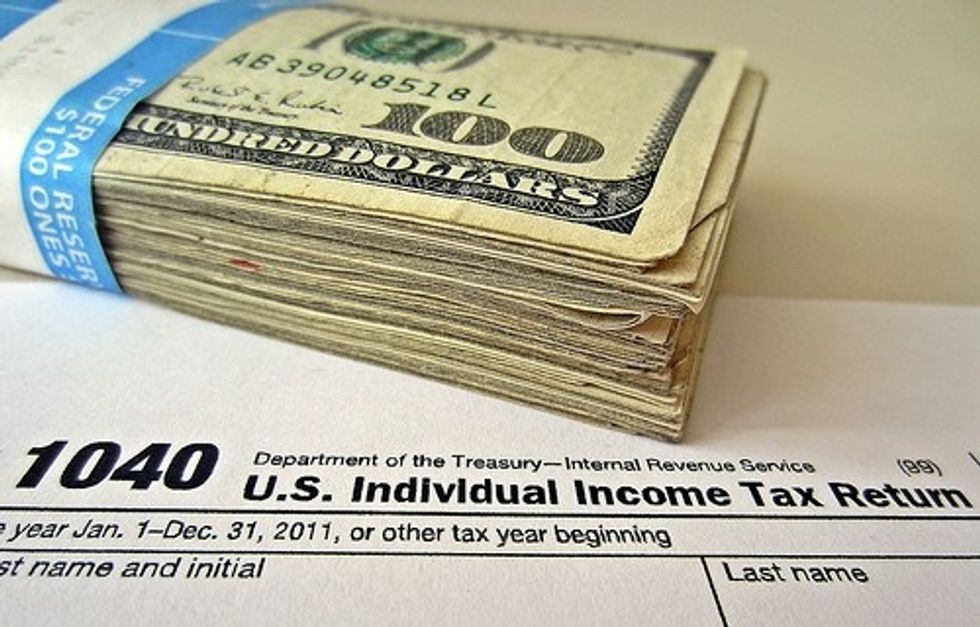 It's almost April 15 and the American people want Donald Trump's receipts.
On the second Saturday in April, organizers are planning marches in Washington, D.C. and dozens of other cities across the U.S. to call on the president to release his tax returns. Given the improving weather and polls that suggest that about 3 out of 4 Americans want to see Donnie's tax returns, these marches will likely mark the second largest protests of the new, but seemingly endless, Trump Administration.
House Republicans have blocked five recent efforts from the Democratic side of the aisle to force the release of Trump's returns — the latest being a party-line vote in the House Ways and Means Committee against a measure that would have directed the Treasury Department to provide the lower house of Congress with his returns, along with other financial information from the president.
Why?
That's the question I keep asking myself, considering that even many Republican voters continue to tell pollsters that they want more transparency (and less tweeting) from the Commander-in-Tweet.
GOP "media guy" and compulsive Trump critic Rick Wilson keeps trying to remind his fellow Republicans of the possibly irreparable consequences of standing by a president who at least seems content to appear as if he is hiding multiple cancers on his presidency.
"In 1974, the GOP lost 49 House and 8 Senate seats," Wilson tweeted. "They were branded as defending a corrupt, criminal Presidency."
So why not try to get ahead of the crooked curve a bit and say you're doing it because you're sure the president has nothing to hide? Then, either way, you made the right call. Heck, you could even note that you're just getting on board with a promise that Trump made dozens of times during the campaign.
Richard Painter was the chief White House ethics lawyer in the George W. Bush Administration from 2005 to 2007. Currently, he's the vice chair of Citizens for Responsibility and Ethics in Washington and teaches law at the University of Minnesota/Twin Cities, where he will be a speaker at Tax March MN, calling for an end to dark money in politics in addition to the tax documents from Trump that every president since Richard Nixon has released.
I asked Professor Painter why nearly all elected Republicans refuse to join the American people in demanding basic transparency. His answer is simple: Fear.
"They don't want to get a primary challenge," he told me.
It's a fear that's grounded in reality.
Trump's social media guru unabashedly called for a primary challenge of Freedom Caucus member Rep. Justin Amash on Saturday. And Rep. Mark Sanford told The Post and Courier of Charleston that Mick Mulvaney, Trump's director of the Office of Management and Budget, came to him and said, "'The president asked me to look you square in the eyes and to say that he hoped that you voted 'no' on [the American Health Care Act] so he could run [a primary challenger] against you in 2018."
Coincidentally, Sanford is one of two House Republicans who have publicly called for Trump to release his tax returns.
Painter told me that the fear is visible on Capitol Hill.
"Last Thursday, they had a hearing on some other government transparency issues," he told me. "The minute I start bringing up Trump, and the Democrats were asking me questions, the Republicans were all ducking out of the hearing. They had three separate Republicans handle the gavel just to chair this thing. None of them wanted to be in the room. They don't want to argue with me. Not a single Republican wanted to argue with me about a single thing I had to say about Trump."
And Painter has had a lot to say about Trump.
Gang of billionaires in it for themselves won't do squat for the middle class. I gave ABC News an earful tonight.https://t.co/djWGcwRzcb

— Richard W. Painter (@RWPUSA) April 2, 2017
In a Los Angeles Times' op-ed, he explained exactly why Trump's returns are so crucial to finding out who the president might be beholden to, including foreign interests. He believes that in addition to using its subpoena powers to get Trump's tax returns, Congress should amend Form 278, which is required of all presidential candidates, "to require more disclosure of debts, capital infusions and revenues of corporations, LLCs and other entities controlled by high-ranking office holders," who are subject to conflict of interest laws.
Only Republicans currently have the power to subpoena Trump's tax returns and the professor believes that pressure on GOP reps back in their districts as the 2018 election nears may result in increasing, yet quiet, calls for an independent investigation and even a possible demand for Trump's returns.
Painter is also part of the legal team suing Trump over violations of the Constitution's emoluments clause. But that level of corruption is minor compared to what he thinks the president or his associates may be hiding when it comes to possible Russian interference in the 2016 election, which he believes could be the biggest scandal in American politics in at least half a century.
"This scandal is much more dangerous than Watergate because Watergate didn't involve foreign adversaries conducting spying activities in the United States," he told me. "That was a break-in by some low-class burglars who weren't even any good at being burglars, whereas the break-in here at the DNC was a very sophisticated operation."
The release of Trump's tax returns would indicate that the president takes this scandal seriously instead of going into what Painter calls "coverup mode."
Transparency is the demand and Painter believes it's necessary for politics to help ordinary people.
"I'm concerned with the ethics of this administration," he told me, when I asked why he decided to participate in the march. "I'm concerned with the ethics of Washington in general. We need to get the campaign finance system cleaned up because that affects both political parties."
But first we have the small matter of figuring out if the president or anyone around him might have committed some high crimes and/or misdemeanors.
"There is some evidence that there was somebody in the United States collaborating with the Russians at the time the Russians were conducting a spying activity and then selectively disseminating some of the information they discovered through Wikileaks. And there were some Americans, apparently, who were collaborating with that," he told me. "I do describe that as treason."
These are serious charges. And Trump continues to fuel the speculation by acting is if he has more to hide in his tax returns than Al Capone ever did.