Zinke Imitated Trump's Media Strategy To The Bitter End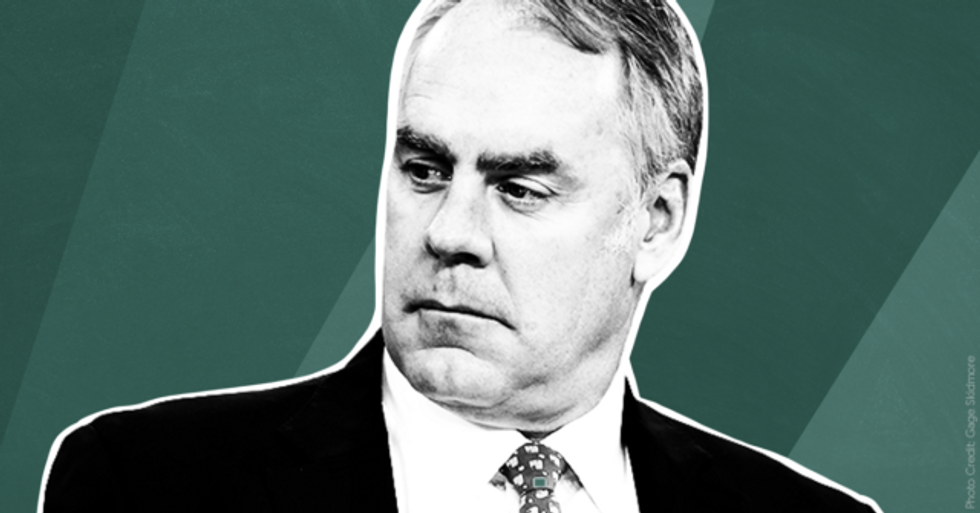 Reprinted with permission from MediaMatters.
Interior Secretary Ryan Zinke's long litany of scandals caught up with him on December 15, when President Donald Trump announced via Twitter that Zinke would be leaving his post at the end of the year. According to reporting by The Washington Post, White House officials told Zinke that he had to resign or he'd be fired.
Throughout his 21 months at the helm of the Interior Department, Zinke hewed closely to Trump's media playbook. Like his boss, Zinke heavily favored Fox News and other right-wing outlets, giving interviews to them far more often than to mainstream outlets. Also like Trump, Zinke lashed out at journalists and news organizations that reported on his ethics problems, making false claims and calling them "fake news."
Zinke's Fox fixation
During his first year in office, Zinke appeared on Fox News four times more often than on the other major cable and broadcast networks combined. As Media Matters reported earlier this year, he gave 13 interviews to Fox and just one interview each to CNN, MSNBC, and CBS.
Zinke's preference for Fox also extended to business networks: He gave seven interviews during his first year to the Fox Business Channel and just one to its chief competitor, CNBC.
And all of the interviews Zinke gave to major TV outlets other than Fox or Fox Business happened before July 2017, when his ethical problems and scandals started getting significant media coverage. After that, Zinke retreated completely to the warm embrace of Fox for his national TV appearances. Zinke was especially partial to Trump's favorite show, Fox & Friends, where the embattled secretary of the interior received a consistently friendly reception and no hard questioning. (Fox & Friends was recently revealed to have been exceedingly accomodating to another Trump cabinet official, former Environmental Protection Agency chief Scott Pruitt.)
Rumors swirled after November's midterm elections that Zinke would soon resign to avoid tough questioning and investigations of his many scandals from Democrats poised to take control of the House. Politico reported on November 8 that Zinke had already begun exploring other potential career opportunities, including trying to shop himself to Fox News: "Two [knowledgeable people] said Zinke has reached out to Fox to inquire about working at the conservative news channel as a contributor."
Zinke denied the claims that he had approached Fox about a job, but he didn't distance himself from the network. When Fox News launched a new streaming service for "superfans," Fox Nation, in late November, Zinke appeared on it twice during its first week. He visited Mount Rushmore with Fox & Friends co-host Brian Kilmeade, and he sat for an interview with conservative commentator David Webb. He also gave an interview to Kilmeade on November 21 for Fox News Talk's Brian Kilmeade Radio Show.
Zinke was back on regular old Fox News again on November 29, when Fox News @ Night host Shannon Bream gave him a friendly platform to attack his critics and dismiss the ethics investigations that have dogged him during his tenure at the Interior Department.
Fox still frequently had Zinke's back even when he wasn't on the air; the network reported on his scandals less often and in less depth than CNN and MSNBC did. For example, Fox gave lighter coverage to a controversy over expensive travel Zinke made on the taxpayers' dime, and almost no coverage to a huge Puerto Rican contract given to the tiny firm of Whitefish Energy, which had with multiple ties to Zinke.
Zinke's interviews with other right-wing outlets
Fox is far from the only right-wing media outlet that Zinke ran to when he wanted to get his talking points out. He gave interviews to nationally syndicated right-wing talk radio programs, such as his May 2017 appearance on The Hugh Hewitt Show, and to conservative talk radio programs in his home state, such as Montana Talks, where he appeared in October and November of this year. In June, he gave an interview to the conservative Washington Examiner.
Zinke also made at least three appearances on Breitbart News radio shows this year, including interviews in May, August, and November. In the August appearance, Zinke claimed that "environmental terrorist groups" were responsible for major wildfires in the West because they had tried to block some logging on public lands. The Washington Post debunked that claim, noting that "fire scientists and forestry experts have said climate change is the main factor behind the problem." In the November appearance, Zinke denied that he's done anything wrong that would warrant the many investigations and scandals surrounding him. "The allegations against me are outrageous, they're false. Everyone knows they're false," he said.
In late November, Zinke also gave another interview to David Webb — this time for his Sirius XM radio program rather than his Fox Nation show.
Zinke's attacks on the mainstream media
Not only did Zinke generally avoid talking to mainstream outlets; he and his press office at the Department of Interior attacked those outlets.
After Politico published an investigative story into an ethically questionable land deal Zinke had discussed with the chairman of Halliburton, Zinke went on the conservative talk radio show Voices of Montana and called the story's reporter "nefarious," saying, "This is exactly what's wrong with the press, and the president has it right. It's fake news. It's knowing, it's willing, to willingly promulgate fake news." But the story was credible enough that the Interior Department's inspector general started an official investigation into Zinke's involvement in the deal and referred one of its probes to the Justice Department for further investigation.
On October 16, The Hill reported that the Interior Department's acting inspector general, who had been overseeing a number of investigations into Zinke's actions, was going to be replaced by a political appointee, citing as its source an internal email written by Housing and Urban Development Secretary Ben Carson. Two days later, the Interior Department denied the report, and though Carson had been the source of the allegedly inaccurate information, Interior spokeswoman Heather Swift used the occasion to attack journalists: "This is a classic example of the media jumping to conclusions and reporting before all facts are known," she wrote in an official statement. It wasn't Swift's first attack on the media. In January, Swift disparaged a HuffPost article about Zinke failing to disclose owning shares in a gun company as "typical fake news" from the outlet.
After Politico published its article in early November reporting that Zinke was shopping around for jobs as he prepared to leave the Trump administration, Zinke went on the Montana Talks radio show to bash the journalists who wrote the story and to criticize the media in general. From The Hill, which reported on the interview:
Interior Secretary Ryan Zinke took to a conservative talk show to slam reporting on his ethics scandals as "B.S."

…

"They're very angry, and truth doesn't matter to these people anymore," Zinke said of mainstream journalists, saying that President Trump "nearly [got] assaulted" by CNN's Jim Acosta.

…

"You know, it comes from the same liberal reporters that have lost their ability to tell the truth," he continued.

…

Zinke went on to say that some media organizations "have nothing better to do, the entire organizations are about attacking Zinke … so what happens is, they invent a story, they try to sell it, and it goes all the way up to the Washington Post, the New York Times, there's truth to it. It's just a series of allegations."
Despite his fiery denials, Zinke was indeed on his way out the door just a few weeks later.
Header image by Melissa Joskow / Media Matters