Mississippi Governor Signs First Anti-Trans​ Bill Of 2021
@jarrell_zach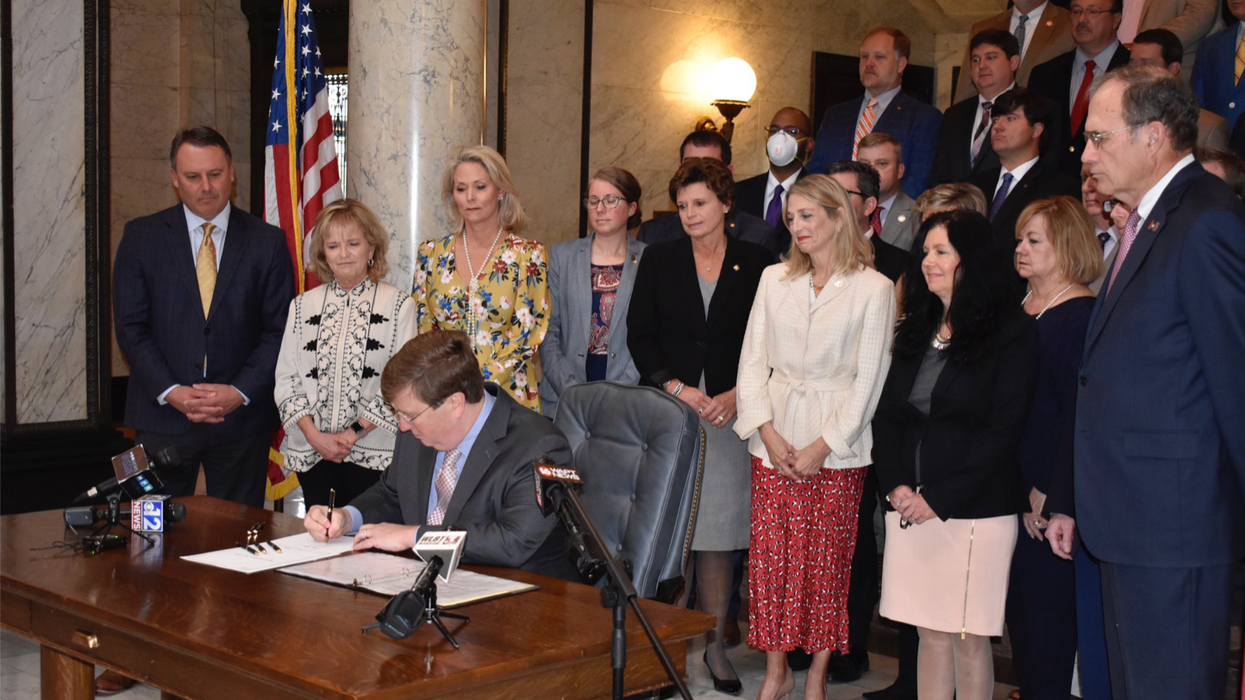 Screenshot from Tate Reeves Twitter (@tatereeves)
Mississippi 's Republican Gov. Tate Reeves officially signed the first anti-transgender bill of 2021 into law Thursday, "proudly" barring young trans student-athletes from playing sports in groups that match their gender identity, while thousands in the state are still without running water.
When he announced his signing of S.B. 2536 -- a transphobic bill that forces schools to designate their sports teams "according to biological sex" -- Reeves claimed that "one of [President Biden's] first acts was to sign an [executive order] encouraging transgenderism in children," while using the deeply offensive term "biological males" to refer to transgender women and girls.
He also attempted to falsely blame President Joe Biden for the bigotry of state lawmakers, saying, "POTUS left us no choice."
His signing of the bill, which denies basic human rights to transgender youth, was met with outrage from LGBTQ+ advocates around the country.
Alphonso David, the Human Rights Campaign President, said Reeves "chooses fear and division over facts and science," and added: "Bullying transgender kids is no way to govern the state out of the crises they face."
David is referring to "a deadly polar vortex" that hit Jackson, Mississippi particularly hard last month, leaving "40,000 people in the state's largest city" without water, according to LGBTQ+ news site them.
"Like previous iterations of the same anti-equality fight, this law is bound to face scrutiny, legal challenges, and ultimately hurt the state's reputation," said David. "Transgender kids deserve better and so does Mississippi."
The news comes as South Dakota passed a "religious refusal" bill, which would allow discrimination against LGBTQ+ people on the basis of religion, last Thursday. The state is also very close to enacting an anti-transgender law, that Gov. Kristi Noem (R) committed to signing on International Women's Day, ironically celebrating the day with a bill is designed to attack women in the state.
In South Dakota, we're celebrating #InternationalWomensDay by defending women's sports! I'm excited to sign this bi… https://t.co/GBB4OUj90t

— Governor Kristi Noem (@Governor Kristi Noem) 1615234273
"In an attempt to 'level the playing field,' House Bill 1217 excludes an entire group of women and girls from meaningful participation in sports," said Jett Jonelis, ACLU of South Dakota advocacy manager. "(The bill) isn't about protecting fairness in women's sports. It's about erasing and excluding trans people from participation in all aspects of public life. It's about creating solutions to problems that don't exist and, in the process, harming some of the most vulnerable people in our state."
H.B. 1217 passed through the state legislature and was delivered to the governor's desk on Wednesday.
According to the Human Rights Campaign, these two bills represent just a fraction of the 128 anti-LGBTQ+ bills around the country, 65 of which attack transgender rights specifically.