Up To 100 People Being Watched In Connection With Texas Ebola Case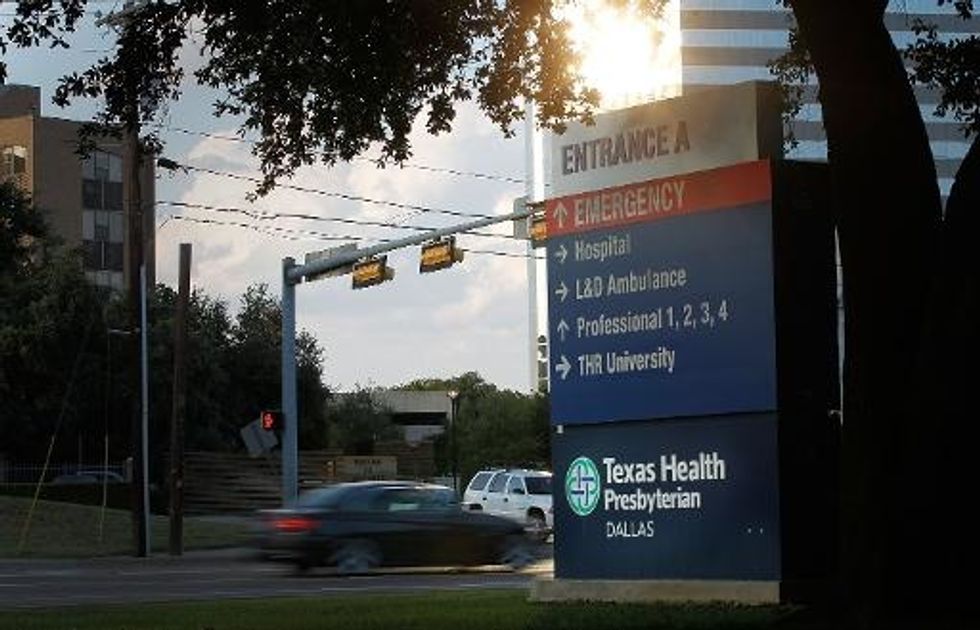 By Molly Hennessy-Fiske, Robyn Dixon and Kurtis Lee, Los Angeles Times
DALLAS — Texas health officials on Thursday stepped up their efforts to fight against any possible outbreak of Ebola by increasing the number of people they are monitoring to as many as 100, including most who were secondary contacts of the first diagnosed case of the disease in the United States.
The sharp increase from the 12 to 18 people announced on Wednesday comes as the city continues to deal with the fallout from the case of Thomas Eric Duncan, a Liberian who arrived in the United States last month, began developing symptoms and then tested positive for Ebola.
"These additional people had some sort of contact with those initial 12 to 18 individuals. Some are classmates of students who had contact with Mr. Duncan. They're all being closely monitored and watched," Erikka D. Neroes, public information officer at Dallas County Health and Human Services, told the Los Angeles Times.
The county department put the number of possible contacts at about 80, but state health officials in an official tweet increased that to as many as 100.
Duncan remains in serious condition at Texas Health Presbyterian Hospital where he has been in isolation since Sept. 28. He had traveled to the United States to visit with his fiancee and other relatives.
The original group of 12 to 18 people, including five children, was in direct contact with Duncan.
In a Communicable Disease Control Order filed Wednesday night, four members of the family were ordered to stay home and monitor themselves for any fever. They also have to make themselves available to health officials. The family is complying with the order, state officials said, though failure to comply is a misdemeanor.
Ebola can be spread only by someone who has already displayed symptoms, which is why officials have insisted that none of the passengers on the various flights Duncan took from Liberia are in any danger of infection.
In Texas, health officials have been focusing on containment to prevent the disease from spreading beyond Duncan, who fell ill on Sept. 24, sought treatment and was released from a hospital only to return by ambulance days later.
Neroes said that none of the 80 individuals have traveled outside the Dallas-Fort Worth metro area.
The five children, who have not developed symptoms, did attend classes, leading parents to worry about whether to send their children to school on Thursday.
Chanel Castillo, 25, a nurse's aide, said she had debated with her mother whether to send her 4-year-old daughter to pre-kindergarten at one of the affected schools. Castillo said she has friends who are considering pulling their children out of the school altogether.
"I said that's not fair — at least give them an opportunity to take care of the problem," Castillo said.
She loves the school, pre-kindergarten space is scarce, and staff reassured her the girl would be safe. So on Thursday, Castillo arrived as usual to drop her off.
"I just pray nothing bad happens to these kids," she said. "Hopefully we have a calm day and they're focusing back on their education."
Castillo said misinformation and fear continued to grow overnight among parents in the surrounding community, which is largely minority, including many immigrants.
Maria Lopez, 32, a Spanish-speaking parent who was also dropping her daughter off at pre-kindergarten on Thursday, said she received and read the letter to parents, but was still nervous. In the end, she decided to bring her daughter to class because the danger did not appear to be imminent.
"If it was, they would close all the schools," she said.
Kenneth Davis, 54, was waiting for the bus with his girlfriend's 7-year-old son. She decided to send the boy to school Thursday, against Davis' wishes. He wants all of the schools to close until the Ebola threat has passed.
"How do they know they're going to get rid of the disease?" he asked as the bus arrived. "I just figure these kids shouldn't be going to school until they take care of all that."
Inside Sam Tasby Middle School, one of the schools attended by children with direct contact with Duncan, halls were bustling. At least one student was upset by the Ebola scare, crying in a corner of the office, afraid to go to class. Staff tried to reassure him, offering hand sanitizer. They referred questions to the district.
Meanwhile, new details continued to emerge about Duncan's time in Africa and how he was exposed to Ebola.
A young pregnant woman in Paynesville, Liberia, is believed to be the Ebola contact who infected Duncan.
Before Duncan flew to the United States on Sept. 19, he was in direct contact with Marthalene Williams, 19, who died Sept. 16. The day before that, Duncan helped the family in a fruitless search for medical treatment for the desperately sick woman.
After an entire day driving around Monrovia in a taxi, taking her from a local clinic to two Ebola treatment units, Duncan helped Marthalene Williams' father and brother carry her from the taxi back into the family living room that night. She died there early the next morning, according to family members.
Duncan was in the front seat of a taxi, they said. Her father, Emmanuel, and brother Sonny Boy were in the back with Marthalene, who was convulsing.
Marthalene's parents, Amie and Emmanuel Williams, left home early Thursday to seek medical treatment, a day after their son and a neighbor died.
In a typical sign of the way Ebola spreads from house to house, a neighbor, Sarah Smith, whose house is just one yard from the Williams' house, also died of suspected Ebola Wednesday. Her husband, Robert Garway, checked into the John F. Kennedy Medical Center Thursday.
Four of the Williams children, aged from 3 to 18, waited at home, anxious to hear news from their parents, whose cellphones were switched off.
The oldest remaining son, Mekey Williams, said his parents fell ill with fever a few days ago.
Three-year-old Stanley played with his older sister, Tete, 12. The little boy had no idea of the scale of the tragedy affecting his family.
The bodies of Ebola patients are at their most infectious after death.
All of the family members were in the same room as Marthalene when she died.
AFP Photo