15 Startling Election Takeaways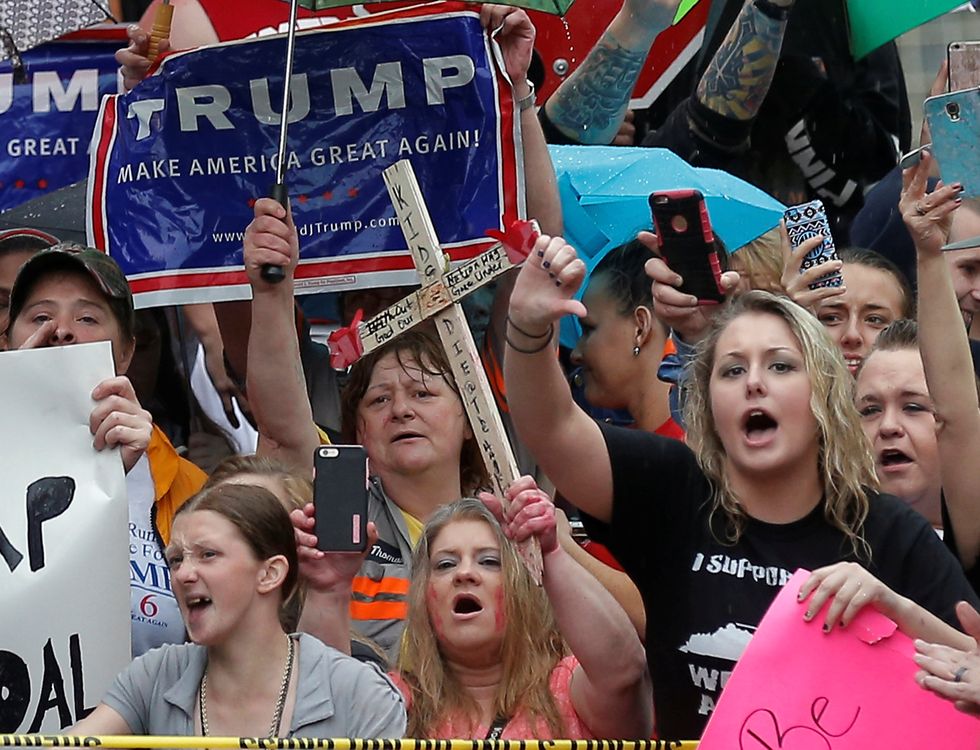 Reprinted with permission from AlterNet. 
The American electorate in 2016 has some strange and surprising features, according to a new survey released Thursday by PPRI/The Atlantic, that explored why people did or didn't vote.
It found most voters apathetic early on, with two-thirds not participating in the primaries, but then they became engaged in a passionate fight over what many working class whites saw as their last chance to preserve a country where they could prosper. Conversely, women and many in communities of color felt deeply threatened by Donald Trump and were left after the election feeling discouraged and fearful.
What follows are 15 takeaways from their research, starting with the stark reality that a small percentage of American in both parties nominated their presidential candidates, which most Americans were not pleased with.
1. A minority of Americans gave us November's candidates. Voter turnout in the primaries was 37 percent, or about half of the presidential election's 63 percent turnout. This was as true for Democrats and Republicans, PRRI found, saying, "There were no significant voting pattern differences between supporters of Hillary Clinton and Donald Trump." Fewer people drive the nominations and then tens of millions of less-engaged voters begrudgingly weigh in.
2. Making voting harder does depress turnout. States with all voting by mail set records this fall. On the other hand, nearly a quarter of non-voters (23 percent) said getting to a polling place took too much time. One in five (21 percent) said they were not registered, so they could not make last-minute decision. One-in-ten, or 11 percent, said, why bother, it's "rigged." The most common reason for not voting, among 36 percent who didn't bother, was disliking the candidates.
3. Trump's voters were more loyal than Clinton's. More Trump supporters who early on said they would vote for him ended up doing so, compared to Clinton. "Only about three-quarters (76%) of registered voters who reported that they were supporting or leaning towards Clinton in late September and early October reported actually casting a ballot for her," PPRI found. "In contrast, 84% of those who reported they were supporting Trump ahead of the election said they voted for him."
4. Many couples split, with women backing Hillary and men not. The pollsters were able to quantify the political differences along gender lines, finding about two-thirds of Clinton voters said their spouses voted like them. But among those who did not, 10 percent said their spouse voted for Trump or someone else, and another 10 percent of the women supporting Clinton said that their husbands didn't vote for anyone for president.
5. Trump households were more united than Clinton households. Compared to homes where women were behind Clinton but their partners had doubts, pro-Trump households were more unified. "Nearly three-quarters (73%) of male Trump supporters said their wife or partner was also supporting the GOP nominee, and few said their spouses or partners voted for Clinton (4%) or another candidate (3%). Thirteen percent of male Trump supporters reported that their wife or partner did not vote."
6. Voters more scared of Democrats than Republicans. More said Democratic policies were "a threat to the country" than Republican policies. "A majority (56%) of Republicans and 61% of Trump voters say that the policies of the Democratic Party constitute a dangerous threat to the country," PRRI said. "About four in ten (38%) Republicans believe that Democratic policies are misguided but not dangerous. Conversely, a slim majority (51%) of Democrats and half (50%) of Clinton supporters believe that the GOP's platform represents a threat the country."
7. Election left more negative feelings than positive ones. After Election day, half the nation was worried (26 percent), disappointed (19 percent) and angry (5 percent), compared to those feeling satisfied (23 percent) or excited (19 percent) by the election's results. Intriguingly, a lot of Democrats and Republicans don't like their party. "One-quarter (26%) of Republicans and three in ten (30%) Democrats say the policies of their own party are misguided," PRRI said.
8. Working class whites most excited with results. This isn't a new analysis, but PRRI found an intriguing twist. The most pleased people in 2016 were the ones most disappointed with Mitt Romney's loss to President Obama in 2012. "A majority of white working-class Americans say they feel satisfied (26%) or excited (26%) about Trump's electoral victory. In contrast, fewer than four in ten white college-educated Americans say they feel satisfied (20%) or excited (17%). In 2012, only about one in three white working-class Americans reported feeling either excited (12%) or satisfied (23%) about Obama's reelection. More than six in ten said they were disappointed (29%), worried (29%), or angry (4%)."
9. Not surprisedly, communities of color are disappointed. "Majorities of black and Hispanic Americans report generally negative feelings about the election outcome, expressing feelings of disappointment (33% and 33%, respectively), worry (19% and 25%, respectively) or anger (15% and 7%, respectively)."
10. Women feel much worse than men.This also is not surprising given Trump's misogynist messaging. "A slim majority of men report feeling satisfied (28%) or excited (23%) about the prospect of a Trump presidency, while only about one-third of women share these feelings—18% are satisfied and 15% are excited," PRRI found. "Roughly one-third (32%) of women say they are worried, 21% say they are disappointed, and eight percent are angry about the election outcome. Negative feelings among non-white women are even more pronounced; 35% of non-white women say they are disappointed, 26% say they are worried, and 12% say they are angry."
11. Christian fundamentalists also very excited. Among religious groups, only this cohort of evangelicals are really pleased with this election. "Two-thirds of white evangelical Protestants report being excited (31%) or satisfied (36%) with the election result," PRRI said. "Despite winning a majority of white Catholic and white mainline Protestant votes, fewer than half of each group feel positively about Trump's win. Fewer than half of white Catholics report feeling excited (27%) or satisfied (20%) by Trump's victory."
12. Republicans saw last chance to save America. This apocalyptic view was held by a majority of Trump voters. "Six in ten (60%) Republicans and 66% of Trump voters believe the election represented the last opportunity to arrest America's decline, while only 29% of Democrats and 22% of Clinton voters embrace this view," the pollsters said. "More than two-thirds (68%) of Democrats and 76% of Clinton voters reject this idea. The views of political independents closely resemble those of the public overall."
13. Working-class whites split on doomsday scenario. Not everybody who lacked a college degree thought America was facing a do-or-die moment, but many did. "Nearly half (49%) of white working-class Americans believe the election was the last chance to stop America's decline, while about as many (50%) disagree," PRRI said. "Fewer than three in ten (27%) white college-educated Americans believe the election was the last chance to stop America's decline."
14. Media bias was biggest problem seen by voters.That was seen as the biggest problem (33 percent) with the election, followed by the influence of wealthy Americans and corporations (24 percent), low-voter participation (16 percent), voter suppression (7 percent) and voter fraud  concerns (6 percent). Republicans said media bias was the biggest problem, while Democrats said it was the undue influence of big money.
15. America is still a very racist county. Half the public felt Trump's anti-immigrant remarks helped him. "Nearly half (48%) of the public says Trump's position on immigration and immigrants helped him during the 2016 election, while only 13% said it hurt him. Roughly one-third (32%) say it did not make a difference either way," PRRI said. Those findings show how entrenched racist views, whether they are openly expressed or not.
A Deeply Divided County Dig In
The country is as divided as ever on partisan lines, the PRRI/The Atlantic survey affirms. Not surprisingly, Democrats do not expect the future to be much better, while Republicans believe the opposite—buying into Trump's hype.
"A slim majority (51%) of Republicans say that the quality of life in their community will get better while only 16% of Democrats share this view. However, only 27% of Democrats say the quality of life in their local community is likely to decline while most (55%) say it will probably remain about the same."
What's especially striking about that last finding is that many Democrats do not believe that the incoming Trump administration will be able to impact the legal and political forces that shape their lives. That is remarkable, when Trump is appointing the most right-wing administration in decades and is poised to lock up the U.S. Supreme Court for social conservatives and pro-corporate forces for decades.
Steven Rosenfeld covers national political issues for AlterNet, including America's democracy and voting rights, campaigns and elections, and many social justice issues. 
IMAGE: Supporters of U.S. Republican presidential candidate Donald Trump protest outside a campaign event for Democratic presidential candidate Hillary Clinton in Williamson, West Virginia, United States, May 2, 2016. REUTERS/Jim Young