2014 May Be White Enough For The GOP — But What Comes Next?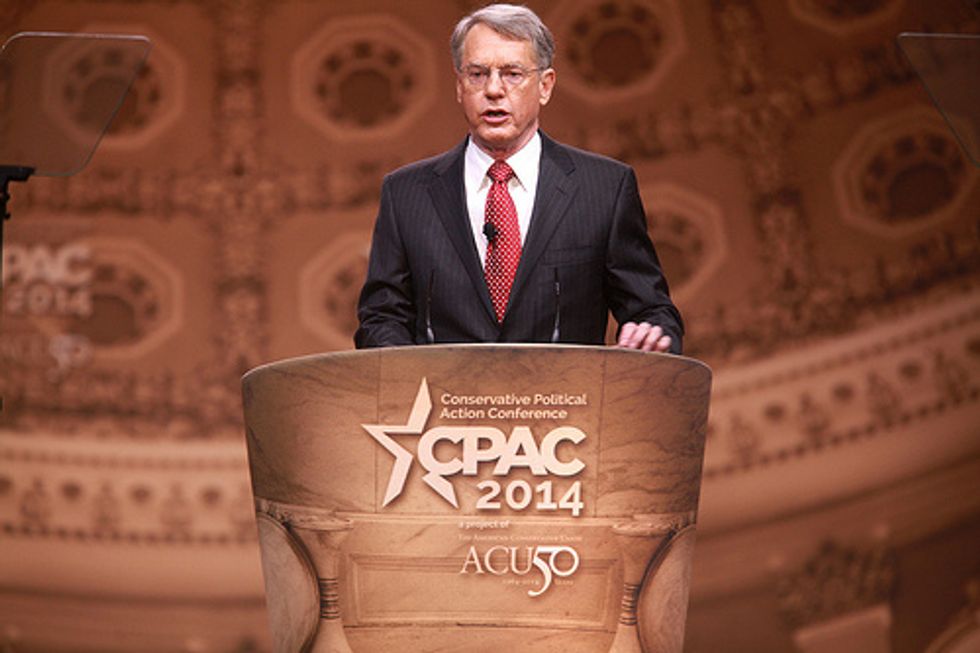 Overshadowed amid Sarah Palin's unique interpretation of Dr. Seuss, Wayne LaPierre's overheated vision of America's apocalyptic decline, and all of the other craziness at the 2014 Conservative Political Action Conference, Republican pollster Whit Ayres gave a fact-based presentation to the gathering of right-wing activists. What he said should terrify the GOP.
Ayres, whose firm counts the RNC, NRSC, NRCC, and several influential Republican politicians among its clients, appeared on a panel on Saturday to discuss electoral trends and the future of the GOP.
The slides from Ayres' presentation, which are available on his firm's website, reiterate something that many Republicans have long warned: America's changing demographics leave the increasingly white GOP at risk of entering what Senator Lindsey Graham (R-SC) memorably described as a "demographic death spiral."
In short, as the Republican pollster explained, the white proportion of the American electorate is declining at an alarming rate. Meanwhile, Republicans are performing much worse among non-white voter groups. If the party doesn't change something — Ayres suggests immigration reform as a good place to start — it will cease to be viable in national elections.
One particular point in the presentation stood out, however. Turning to the midterm elections, Ayres declared to hearty applause that "we've got some good news: We're going to have a great 2014. We're going to hold the House, we're going to pick up the Senate, it's going to be a great 2014."
"One of the reasons why," he explained, "is that the percentage of whites in the electorate is about five points higher in the off-year elections."
Perhaps Ayres — who, like most pollsters, does not have a spotless record when it comes to predicting elections — should remember what he said in 2012 before asserting that the whiteness of the midterm electorate will bring his party certain success in 2014. Back then, he explained his party's failure to elect Mitt Romney as president by noting that "it is a mistake to place rosy assumptions on a likely electorate that are at variance — and substantial variance — with recent history."
Democrats immediately called foul on the crowd's warm reception to Ayres' assertion.
"It says a lot that top Republicans believe that lower minority participation in the electoral process is something to celebrate. They know that when the electorate represents more Americans and more voices, they lose," DNC Director of Voter Expansion Pratt Wiley said in a statement.
In fairness to Ayres, he made it perfectly clear that Republicans need to diversify their party, instead of relying on shrinking the electorate.
"Some people see it as a problem," he said of America's demographic shift. "I see it as a real opportunity."
"Conservative values of free markets, and limited government, and low taxes, and good education, and reward for hard work appeal across all boundaries regardless of race, color, religion, or national origin," Ayres argued. "Conservatives can be very successful in the new America if we reach out and adopt an inclusive tone, bring people into our coalition, and aggressively campaign in their communities."
That theory sounds very good on paper — and very familiar. That's because it's almost identical to the RNC's post-election "autopsy report," which was released almost exactly one year ago. Back then, the RNC suggested that "if we want ethnic minority voters to support Republicans, we have to engage them, and show our sincerity."
Indeed, one has to wonder whom Whit Ayres thought he could convince that America's ascendant minority populations could be a positive development. Certainly not the white nationalist-led group manning an English-only booth at the conference. Or racial provocateur Ann Coulter, who used her CPAC speech to decry the "browning of America," and warned that if immigration reform passes, "then we organize the death squads for the people who wrecked America." Or the CPAC attendees who delivered a resounding victory in the conference's presidential straw poll to Senator Rand Paul (R-KY), who has spoken out against the Civil Rights Act of 1964.
Ultimately, Ayres may be right, and the combination of a whiter electorate and a friendly electoral map could deliver a big win for the Republican Party in 2014. But it couldn't be clearer that the GOP's broader demographic problem hasn't been solved — and in fact, it's actually getting worse.
Graph via Northstaropinion.com
Photo: Gage Skidmore via Flickr