2016 Poll: Clinton Would Crush Rubio Among Hispanic Voters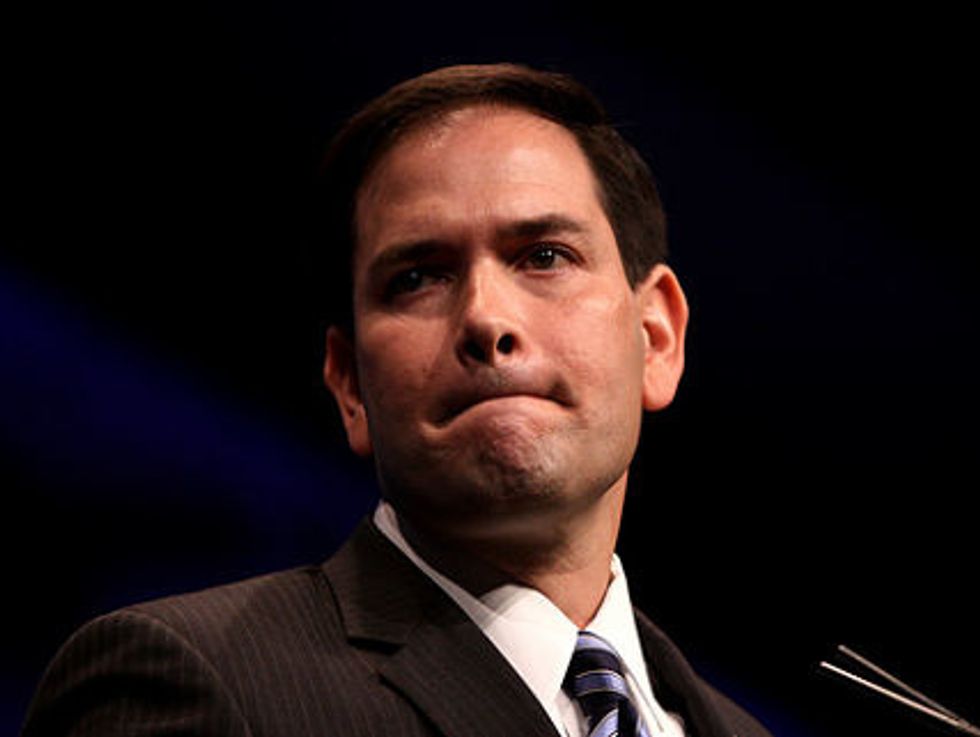 A Quinnipiac poll released Thursday further disputes the notion that Florida senator Marco Rubio can turn around the GOP's sinking numbers among Hispanic voters, raising serious questions about the party's hopes of winning a competitive share of the nation's fastest-growing demographic group.
The poll confirms that Hillary Clinton would be the overwhelming favorite in the 2016 campaign if she chooses to run. Clinton leads New Jersey governor Chris Christie 45 to 37 percent, Wisconsin representative Paul Ryan 50 to 38 percent, and Rubio 50 to 34 percent.
Most interestingly, Clinton is dominating Rubio among Hispanic voters. The poll finds Clinton clobbering Rubio 60 to 24 percent within the crucial demographic — better than her totals among any other group aside from African-Americans.
The poll suggests that Rubio is just not that popular among Hispanic voters. This isn't the first survey to reach such a conclusion; a PPP poll taken around Election Day, for example, found Rubio's approval spread among Hispanics at a dismal 24 to 42 percent. That number not only trailed every Democrat tested, but also several of Rubio's fellow Republicans.
The findings present a serious problem for Republicans who are banking on Rubio to unilaterally solve their party's problems with Hispanic voters. Those who expect Hispanics to flock to Rubio simply because he is of Cuban descent severely underestimate the cultural differences within the Hispanic and Latino diaspora. And those who hope that Rubio's newfound support for progressive immigration measures will make all the difference are oversimplifying Hispanic voters' motivations. Far from being one-issue voters, polling has shown that Hispanics are motivated by a wide range of socioeconomic issues — and their views tend to align with Democrats over Republicans on almost all of them.
With this in mind, Rubio's continued appeals to the GOP's right wing seem likely to worsen his problems with Hispanic voters. Promising to block a temporary spending bill that keeps the government running through September unless the government defunds Obamacare may make for a good headline, but it hardly differentiates Rubio from other Republican politicians whom Hispanic voters have repeatedly rejected.
Ultimately, unless the Republican Party makes some significant changes to its platform before 2016, Rubio's chances of becoming the party's "savior" seem incredibly long.
Photo: Gage Skidmore via Flickr.com