How The 22nd Amendment Has Hurt Democracy: A Ramble
@JamieStiehm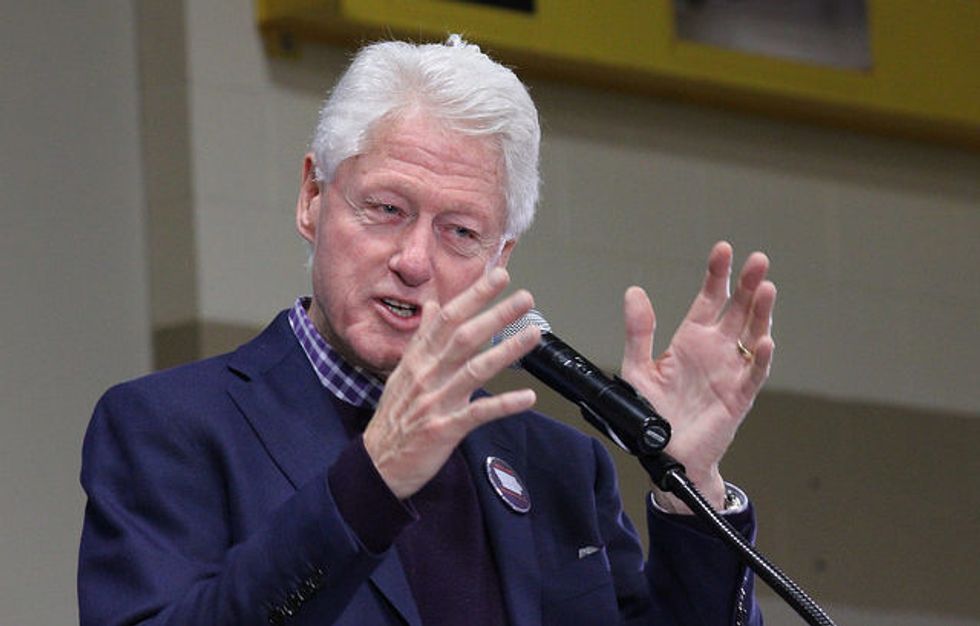 WASHINGTON — Deep in the heart of summer, things stand still here as an army of cicadas conquers the capital.
As one of those who has not fled, I'm left to wander down history's trails, ambling up to the present.
William Jefferson Clinton's 70th birthday on Aug. 19 struck me as a "big deal," something he used to say. His silver mane looks like the lion in winter. How I wish he were the lion for all seasons.
His "best darn change-maker" speech for Democratic presidential nominee Hillary Clinton in Philadelphia explained his wife better than she explains herself.
Bill Clinton was the best president in my life, a bringer of peace and prosperity in the 1990s. Many enjoyed his sunny exuberance, his talents in the same class as Republican Theodore Roosevelt.
Now I'm going there, a place that plunges me into angst: Why couldn't Clinton run for president again and perhaps again?
Rascally Republicans introduced the 22nd Amendment, passed in a petty partisan flash after a different Roosevelt, Franklin Delano, was elected to four terms, from 1932 to 1944.
There was a lot going on, of course, from the Depression to the Second World War.
The greatest modern president, beloved for speaking straight to the people, died in April 1945. Two years later, Congress passed the amendment to the constitution that limits presidents to two terms, ratified in 1951. How ungrateful to FDR for saving the nation. And what profound consequences.
Surely Bill Clinton would have won in 2000, over a brash genial governor. The outgoing president was only 54, and his popularity ratings were higher than you might think. It's hard to hold a grudge against the guy.
If Clinton were the incoming president, how much trouble we Americans never would have seen?
Walk with me into the brambles.
George W. Bush defined his presidency by the tragic Sept. 11 attacks, leading to several long wars not over yet, drawing down the treasury and military morale. Torture at Guantanamo became as an uneasy public conversation. The Patriot Act and a Homeland Security department, swiftly passed into law, created a new surveillance state.
It's the way we live now, 15 years sunk.
Clinton may have heeded CIA "blinking red" briefings in August 2001. After 9/11, as commander in chief, he likely would have waged an Army campaign in Afghanistan. But he would not have invaded Iraq over the nefarious plot of 19 men — none Iraqi — and would not have lied about WMDs.
We'd have none of that desert storm in the sand that destroyed Iraq's social fabric and taken thousands of lives for no good reason. And it's safe to say ISIS would not be chilling hearts all over the world as Syria is torn apart.
The 2008 financial crisis may have happened on Clinton's watch, but his adept skills at high-stakes moments would have forced a larger stimulus from Congress than young Barack Obama.
Clinton would have appealed to our best selves, as FDR did after Pearl Harbor, rather than fear-mongering the citizenry — or telling us to go shopping — saying inane words like, "We are here in the middle hour of our grief."
Despite his swagger, the Texan president Bush did as bad as the hapless 4th president.
James Madison comes to mind, for August is when, 202 years ago, he let the British army burn the Capitol and the White House without firing a shot. Washington was not defended; the president galloped over the river.
A military and political debacle, "Mr. Madison's War" went on, unpopular as it was. Madison ducked the consequences of the sacking, thanks to battle victories in Baltimore and New Orleans that had little to do with him.
Some presidents are better than others. Though Thomas Jefferson's chosen successor chiseled the Constitution in 1787 — Madison's fame is as the document's father — the Virginia planter (and, yes, slave owner) proved one of our weakest presidents ever.
During my historical ramble, I asked Madison about the 22nd Amendment, and he agreed with me. Americans have every right to elect the president they want, every time they choose.
To find out more about Jamie Stiehm and read features by other Creators writers and cartoonists, visit Creators.com.
COPYRIGHT 2016 CREATORS.COM
Photo: Matt Johnson