3 Reasons Republicans Must Pull The Plug On Jeb If They Want To Stop Trump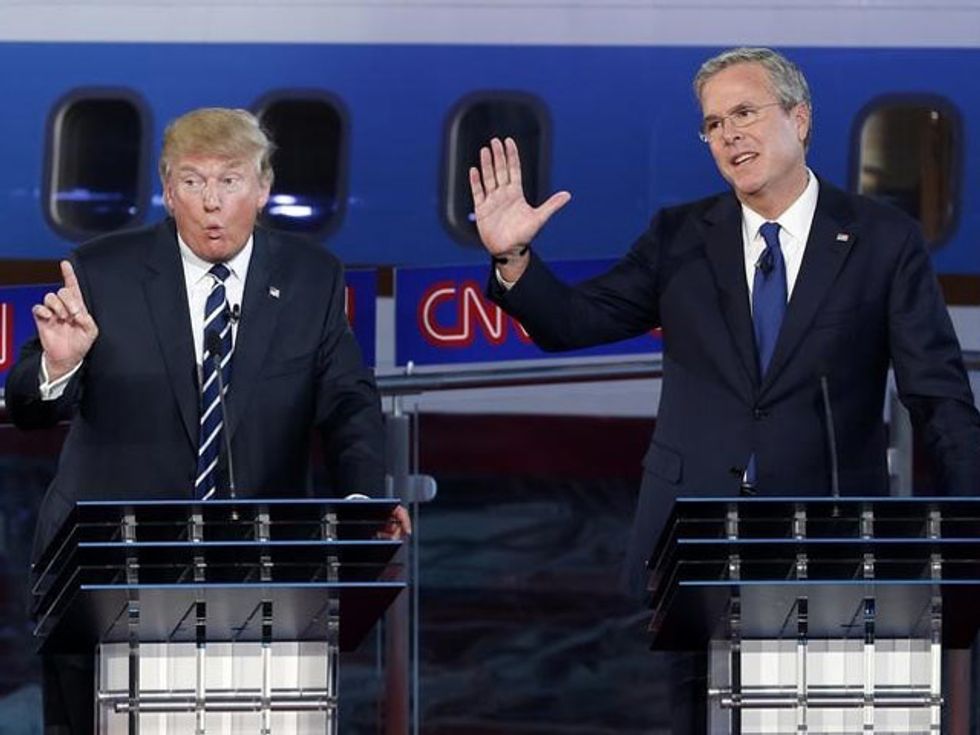 Jeb Bush — and, by extension, the GOP Establishment — has taken quite a beating this week, as Donald Trump continues to rail against George W.'s record of national security and leadership.
In his latest spat, Donald Trump became the first major presidential candidate in the 14 years since 9/11 to actually say out loud that Bush's record was horrible.
By forcing a response, Trump has pushed Jeb into the uncomfortable position of having to actually talk about his brother's record — and it's not going well for him. On Friday, he responded to Trump in personal terms:
To which Trump responded:
Over the weekend, Jeb also appeared on CNN's State of the Union, and struggled both to defend his brother's leadership in the fight against terrorism and to explain how any criticism of George W. Bush for 9/11 was different from Republicans going after Hillary Clinton for the (much smaller) attack in Benghazi 11 years later.
All of this squabbling among the candidates has made one thing abundantly clear: If establishment Republicans really want to stop Donald Trump, they must first get Jeb out of the way. Here are some reasons why.
1. Jeb Bush can't beat Donald Trump.
Jeb has been unable to show any true vigor or backbone against The Donald: sitting there uncomfortably as Trump insults him, attacks his wife, and is now taking on his brother. And even Republican voters don't seem to want Jeb around anymore.
A recent national survey from Democratic-aligned firm Public Policy Polling showed Trump in first place among Republicans with 27 percent, way ahead of his closest competitor Ben Carson with only 17 percent, then Marco Rubio with 13 percent, and Jeb at 12 percent.
But in a specially tested two-way matchup, not only did Trump lead Bush — it wasn't even remotely close: The Donald at 56 percent, Jeb at 36 percent.
By itself, Jeb being unable to beat Trump would be reason enough for GOPers who really want to stop The Donald to take some action. But it actually gets much, much worse than that.
2. As long as Jeb stays in, he sucks up time, money, attention, and resources that could go to another contender.
That survey from PPP mentioned above also tested several other two-way match-ups, with interesting results: Carson led Jeb, 52 percent to 41 percent; Carly Fiorina edged him out, 47 percent to 45 percent; and Rubio — perhaps the establishment's last, best hope — was also ahead, 50 percent to 43 percent.
But how is Rubio doing? As a recent report in Politico showed, his campaign his flatlining from a lack of money and on-the-ground organization in the early primary states:
For all the recent buzz surrounding his candidacy — fueled by strong debate performances —Rubio isn't raising enough money to keep pace with his rivals in the top tier and he's running out of time to assemble a robust field organization.

"If Trump-mania subsides, you've got to have a mechanism and a structure," said Chip Felkel, a South Carolina Republican strategist who isn't affiliated with any campaign. "I think you're being risky if you don't put a structure in place."
And for Rubio or any other candidate, they won't be able to build up the money, organization, or media attention necessary to bring down The Donald — as long as Jeb is still in the way.
This also relates somewhat to my final point…
3. As long as Jeb Bush is in the race, Donald Trump has his favorite punching bag to knock around.
I have previously argued that Trump is a lot like a monkey who walks into a new troop, and then immediately punches the biggest other monkey there in order to become the new reigning alpha-male. From the moment The Donald entered this campaign, he's been attacking the onetime frontrunner Jeb mercilessly, in ways that other candidates seemed too shy to even attempt.
Jeb didn't fight back — perhaps wanting to remain above the fray. But instead, he has only succeeded in surrendering his position at the top of the pack. And any attempts to regain it have only resulted in Trump knocking him right back down again.
And now, to follow this simian analogy to its proper conclusion, whenever Trump might be in any trouble he can simply start whaling away at Jeb again. It amounts to a new display of pack dominance that not only keeps his followers on his side — but the constant demonstration of strength and lack of any fear might very well attract more voters to his banner.
As an example, take a look at these responses that Trump tweeted out against Jeb over the weekend:
If Trump can demonstrate over and over again his supremacy over the reigning establishment candidate, then the establishment needs a new candidate.
Photo: Republican U.S. presidential candidate businessman Donald Trump (L) speaks as former Florida Governor and fellow candidate Jeb Bush reacts during the second official Republican presidential candidates debate of the 2016 U.S. presidential campaign at the Ronald Reagan Presidential Library in Simi Valley, California, United States, September 16, 2015. REUTERS/Lucy Nicholson