4 Cool Coleslaws That Don't Use Cabbage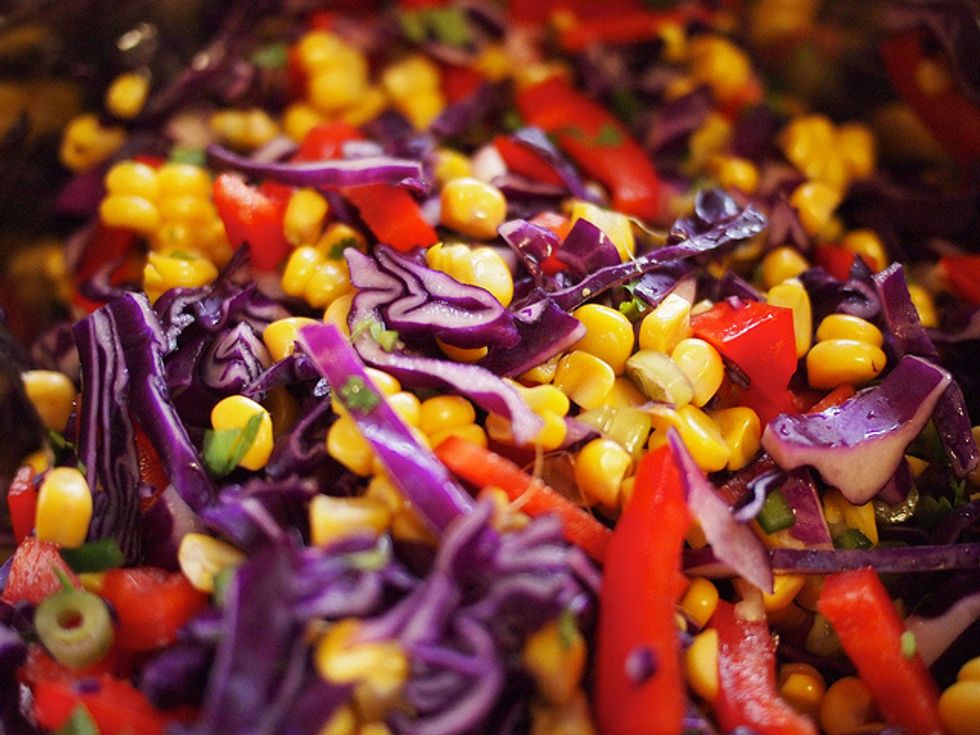 By Judy Hevrdejs , Chicago Tribune (TNS)
Bored with the usual slaws? The mayo-doused number at the deli or your aunt's vinegared version?
Don't fret. We've dug up recipes that get to the root of your problem–which is that cabbage is so 245 years ago. The koolsla recipes the Dutch brought to this country circa 1770 used cabbage. And that's been pretty much the base for coleslaws ever since.
But chefs and culinary pros like to tinker with classic recipes, so they're using beets, kohlrabi, carrots, fennel, celery root. All are sturdy, colorful, flavorful. All have slaw potential.
The fennel slaw served with a roasted fish sandwich at Found Kitchen and Social House in Evanston, Ill., began with a rethinking of classic coleslaw, explained Nicole Pederson, the restaurant's executive chef and partner.
"We call it a slaw because it's raw vegetables all sliced very thinly," she said. Shaved fennel is mixed with ribbons shaved from different colors of baby carrots. A bit of napa cabbage is added along with pickled onions, and it's finished with lemon juice and olive oil.
What sets these new slaws apart from their salad siblings is the shredded or thinly sliced ingredients, said cookbook author Rick Rodgers, whose recent "The Big Book of Sides" (Ballantine Books), features several slaw recipes, including one that teams kohlrabi with almonds and apples.
He suggests cutting raw vegetables 1/4-inch or sometimes an 1/6-inch thick. "Slices have to be small enough to be tender without cooking."
That thin slicing and crunch from raw vegetables make these updated slaws a perfect accompaniment to so many dishes, summer's grilled meats and fish among them. It's a good way to add a fun texture to a meal, said Pederson: "When they're shredded, they seem so much lighter."
What about dressings? Well, there are no rules. "Except for the fact you have to kind of bow to regional or family preferences," said Rodgers, citing a diner coleslaw popular in New Jersey that marinates all the vegetables in a sweet and sour vinaigrette. "By sweet, I mean they're almost pickled."
TIPS FROM THE PROS
Skip the knife: You can use a mandoline or plastic V slicer or a food processor (shredding blade for solid vegetables; slicer for irregular vegetables like cabbage) instead, said Rick Rodgers. But stay away from graters: "The typical box grater will make the shreds too fine, and you end up with vegetable puree."
Balance flavors: "I use radish a lot because it's got that heat and brightness to it," said Nicole Pederson. "Put carrot in, and that sweetens it up, rounds it all out. Beets raw are really sweet and delicious, but they have a backbone of earthiness." She may use a mix of beet varieties, such as candy stripes and goldens.
Consider colors: Use the same sensibilities you would to make a side dish look nice, Rodgers said.
Add herbs: "We like to add a lot of fresh herbs right at the end," said Pederson, who's favoring dill and summer savory at the moment.
Shred an apple: "Apple blends in because its texture is softer," said Rodgers. "It is a flavor element that's nondetectable."
RAW BEET SLAW WITH FENNEL, TART APPLE AND PARSLEY
Prep: 25 minutes
Makes: 4 servings
Diane Morgan, author of "Roots," (Chronicle Books) suggests serving this at a barbecue, at brunch with cured salmon or alongside country pate. Use a mandoline or a sharp chef's knife to cut beets into matchsticks. Use disposable surgical gloves, or you'll end up with red hands.
3 tablespoons extra-virgin olive oil
1 tablespoon each: fresh lemon juice, freshly grated orange zest
1/2 teaspoon each: honey, fine sea salt
1/4 teaspoon freshly ground pepper
1 medium red beet, 3 to 5 ounces, peeled, cut into matchsticks
1/2 fennel bulb, trimmed, halved lengthwise, cored, cut into matchsticks
1/2 medium crisp tart apple such as Granny Smith, cored, cut into matchsticks
1/2 cup firmly packed chopped fresh flat-leaf parsley
In a small bowl, whisk together oil, lemon juice, orange zest, honey, salt and pepper. In a medium bowl, toss together beet, fennel, apple and parsley. Add dressing. Mix gently to coat ingredients evenly. Serve immediately, or cover and refrigerate until ready to serve. Remove from refrigerator 30 minutes before serving. Slaw can be made up to 8 hours in advance. Presentation note: If you don't serve immediately and want to prevent the beets from tinting the fennel, keep beets separate (dressed with half the dressing) and mix in right before serving.
Nutrition information per serving: 128 calories, 10 g fat, 1 g saturated fat, 0 mg cholesterol, 9 g carbohydrates, 1 g protein, 386 mg sodium, 2 g fiber
CARROT SLAW WITH MISO VINAIGRETTE
Prep: 15 minutes
Makes: 4 servings
Rick Rodgers, author of "The Big Book of Sides," (Ballantine Books) serves this with Asian-style grilled meats, poultry or seafood. He's a fan of miso and writes that it's "one of the most flavor-packed ingredients in my kitchen because a little goes a long way." Miso brings deep umami notes to this.
2 tablespoons rice vinegar
1 tablespoon white miso
1/2 teaspoon soy sauce
1 garlic clove
1/2 cup vegetable oil
1 pound carrots, trimmed
1 scallion, white and green parts, finely chopped
1/2 teaspoon kosher salt
Freshly ground black pepper
Sesame seeds, for garnish
For vinaigrette, process vinegar, miso, soy sauce and garlic in a blender. With machine running, gradually add oil through hole in the lid. Or crush garlic through a garlic press into a medium bowl. Add vinegar, miso and soy sauce; whisk until combined. Gradually whisk in oil.
In a food processor fitted with the coarse shredding blade, shred carrots. Do not shred carrots too fine. If your food processor only has a fine shredding disk, use a V-slicer to julienne carrots into strips less than [-inch wide. In a medium bowl, toss together carrots, scallion and vinaigrette. Season with salt and pepper. Slaw can be covered and refrigerated up to 8 hours. Serve chilled or at room temperature. Top each serving with a sprinkle of sesame seeds.
Nutrition information per serving: 300 calories, 29 g fat, 2 g saturated fat, 0 mg cholesterol, 11 g carbohydrates, 2 g protein, 512 mg sodium, 3 g fiber
KOHLRABI SLAW WITH CREAMY HERB AND AVOCADO DRESSING
Prep: 25 minutes
Makes: 6 servings
Adapted from "Vegetable Literacy" by Deborah Madison (Ten Speed Press), who notes you may not use all the fresh herb dressing. Extra can be used as a dip for vegetables.
4 or 5 small kohlrabies, about 1 pound
1/2 avocado
5 tablespoons olive oil
2 tablespoons apple cider vinegar
1/3 cup sour cream or yogurt
1/2 teaspoon sea salt
1 1/2 tablespoons finely chopped tarragon
2 tablespoons finely chopped parsley or chervil
1 tablespoon slivered chives, plus more for garnish
Freshly ground pepper
If kohlrabies are young and tender, you don't need to peel them. If older and less than tender, slice off skins. Cut kohlrabies into fine julienne. An effective way to do this is to slice them thinly on a mandoline, then stack slices and cut into matchsticks.
For the dressing, peel and slice avocado. Combine with oil, vinegar, sour cream and 1/2 teaspoon salt in a food processor; puree until smooth. Stir in tarragon, parsley and chives; taste for salt and season with pepper. Toss kohlrabi matchsticks with just enough dressing to coat well. Garnish with chives.
Nutrition information per serving: 87 calories, 8 g fat, 2 g saturated fat, 4 mg cholesterol, 3 g carbohydrates, 1 g protein, 127 mg sodium, 2 g fiber
SHAVED FENNEL WITH ARUGULA CRUNCH SALAD
Prep: 25 minutes
Cook: 18 minutes
Makes: 4 servings
A sweet-sour orange gastrique balances and softens the fennel, writes Roberto Martin in "Roberto's New Vegan Cooking" (DaCapo Lifelong Books).
1/4 cup each: brown sugar, maple syrup
1/2 cup apple cider vinegar
Zest and juice of 2 large oranges
2 whole cloves
1 cinnamon stick or 1 teaspoon ground cinnamon
2 garlic cloves, crushed
4 medium fennel bulbs, cleaned and trimmed to bulbs only, fronds chopped and reserved
1 large Granny Smith apple
1/3 cup chives, cut in 1/4-inch pieces
Kosher salt, freshly ground black pepper to taste
4 cups baby arugula
1/2 cup salted, toasted sunflower seeds
For gastrique, whisk together brown sugar, maple syrup, vinegar, orange zest and juice, cloves, cinnamon and garlic. Bring to simmer over medium heat. Simmer uncovered until liquid is reduced by about half, about 1/2 cup; about 15 minutes. Strain; set aside for immediate use. Or cover and refrigerate.
Cut fennel bulbs in half lengthwise; shave very thin with a mandoline, starting with tops down to the base. If you don't have a mandoline, do your best with a sharp knife. Peel, halve and core apple; slice thin crosswise. In a medium bowl, toss fennel, apple and chives with gastrique. Season with salt and pepper. Cover; let marinate 30 minutes to one day.
To serve, place about 1/4 cup fennel salad on a plate. Top with a fat pinch of arugula. Sprinkle with sunflower seeds; top arugula with more fennel salad and seeds. Serve immediately. Store any unused arugula separate from fennel salad. Fennel salad is good for 5 days in the refrigerator.
Nutrition information per serving: 272 calories, 11 g fat, 2 g saturated fat, 0 mg cholesterol, 39 g carbohydrates, 8 g protein, 199 mg sodium, 12 g fiber
Photo by Alex Bayley via Flickr