4 Reasons The Individual Mandate Will Not Be Delayed (And 1 Reason It Could Be)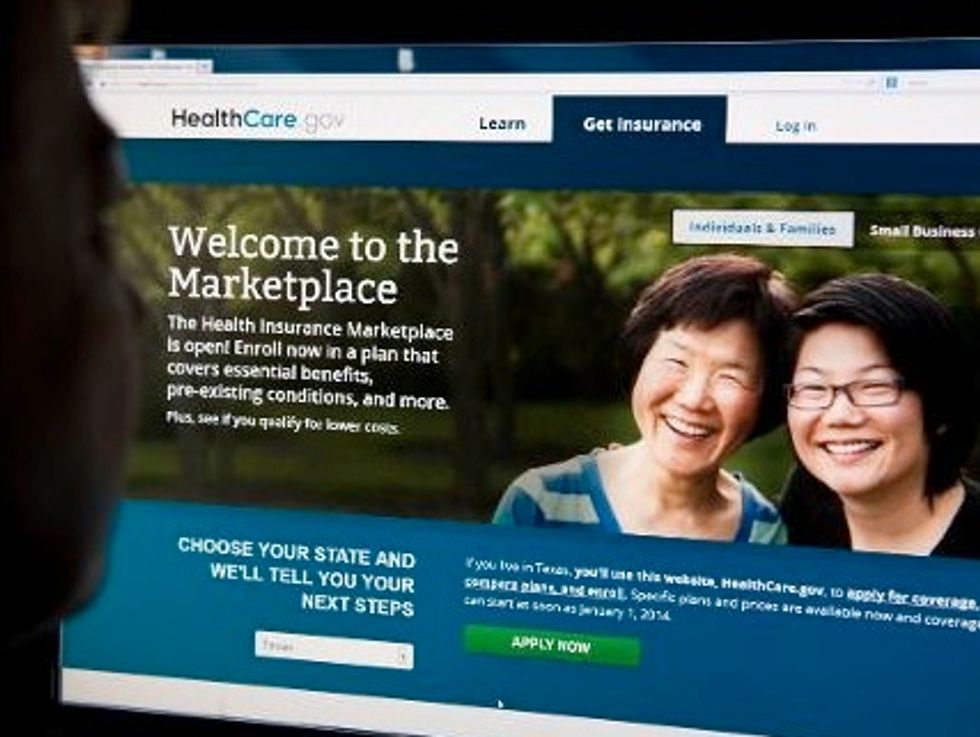 The House Republican "Suicide Caucus," which joined with Senators Ted Cruz (R-TX) and Mike Lee (R-UT) in demanding that the Affordable Care Act (ACA) be defunded as part of any deal to keep the government open, had a backup demand: delay the individual mandate.
The mandate requires that all Americans who can afford it purchase health insurance or pay a penalty that begins at $95 or 1 percent of yearly income, whichever is higher.
This aspect of the ACA was developed by conservatives as an alternative to the Clinton health care plan in the early 90s and it's designed to end the problem of "free riders," uninsured people who get treatment in emergency rooms with no hope of providers ever recovering the costs. The mandate provides the subscriber base insurers need to cover people with pre-existing conditions without charging them exorbitant premiums.
Delaying this aspect of the law could wound the ACA, or possibly even destroy it, before it's ever given a chance to work. That's why Republicans would love to see it happen.
However, the continuing problems with Healthcare.gov have given Republicans another opportunity to make the argument that the mandate should be delayed. Here are four reasons it's not really "an option" and one nightmare scenario where it could be.
1. It will leave millions and millions of Americans without health insurance.
The Congressional Budget Office (CBO) estimates that delaying the individual mandate would leave millions uninsured. And those who did sign up for insurance would likely be sicker and thus costlier to cover. Other estimates suggest that the number of uninsured would increase by between 7.8 and 24 million.
Most of these people would be low-income Americans who are far more likely to use emergency rooms than those with insurance.
2. People will die.
A Harvard University study released in 2009 found that uninsured adults have a 40 percent higher death risk than those with private health insurance. "Deaths associated with lack of health insurance now exceed those caused by many common killers such as kidney disease," David Cecere of the Cambridge Health Alliance wrote in 2009.
Media Matters' Hannah Groch-Begley explains the risk of not having health insurance:
Those who lack adequate insurance often "avoid going to the doctor or getting prescriptions filled because they can't afford it," according to Kaiser Health News, and others "end up with medical debt and other severe financial problems." The Commonwealth Fund has found that half of the underinsured "said they had not received needed care because of cost," and 67 percent of uninsured people "reported at least one cost-related problem getting needed care." Emergency rooms are required by federal law to treat all individuals regardless of insurance, but the uninsured are less likely to receive follow-up care, are at higher risk for preventable hospitalizations and for missed diagnoses, and have significantly higher mortality rates than those with insurance.

3.  It would be "a fiasco."
"If the individual mandate didn't exist, premiums would be about 15 to 20 percent higher, according to the CBO," CNN Money's Tami Luhby reported earlier this month in her story "Obamacare Delay Would Send Rates Soaring." Other estimates suggest rates would rise between 9.3 and 27 percent.
The insurance industry has been lobbying against any delay or the mandate or extension of the open enrollment period, which ends on March 31. Insurers expect to see two million people enroll in private plans as a result of the mandate. Without the requirement to buy insurance, only those most in need of care would likely sign up.
"If that were to change, the rates would have to change," Robert Zirkelbach, spokesman for America's Health Insurance Plans, recently said.
Insurers love the mandate's deadline because as it gets closer, the people signing up get healthier and younger.
As long as the mandate is in place, there are failsafes built into the ACA that would prevent rates from skyrocketing as the system falls into a "death spiral" — at least in the first few years. Insurers would have to ask regulators to raise any rates in 2014. They could charge more in year two of the law but doing that means they would end up with sicker people in year one while pricing out the healthy patients that earn them their profits in year two.
Even without the mandate, the law wouldn't likely go into a "death spiral," according to health researcher Adrianna McIntyre, thanks to what she calls the law's "three Rs" — risk adjustment, reinsurance, and risk corridors.
"The real risk of delaying the individual mandate is long-term political fallout from Obamacare being labeled a 'fiasco,' not the dreaded insurance death spiral,"  McIntyre wrote in October.
4. It may not be legal to do so.
If the mandate is delayed without delaying the end of pre-existing conditions, insurance companies would lose millions if not billions and would likely sue. And their arguments would be largely substantiated by briefs the Obama administration filed when defending the mandate before the Supreme Court, according to The Federalist's Dan McLaughlin:
When Obamacare went to the Supreme Court, one of the issues presented was "severability": that is, if the Court struck down the individual mandate, would it also strike down the entire statute? The Solicitor General's brief on behalf of the administration said no – but argued that if the mandate was struck down, the Court would have to also strike the guaranteed issue and community rating provisions because Congress would not have authorized them without the mandate.
Simply put, there's no way the mandate will be delayed — unless…
1. Healthcare.gov cannot be fixed.
Republican sabotage of this law has been unprecedented — but it's been nearly matched by the failings of Healthcare.gov. The flaws with the rollout are comparable to those that plagued the launch of Medicare Part D. But the stakes are much higher given the ferocity of the political debate.
Imagine, if you will: It's December 1, the day that Healthcare.gov is supposed to be able to handle the millions of Americans who want their coverage to begin by January 1. And the site is down. It flickers off and on all day long and for the rest of the month of December. By February, it can handle hundreds of signups a day. But that's not enough. By March, under half a million Americans have actually enrolled in a plan.
Given the confidence with which the administration launched the site on October 1, it's hard to not have doubts that the site will be fully operable by their next deadline. It's conceivable that public plans like Medicaid and Children's Health Insurance Program (CHIP) could nearly meet their goals of expanded care without the web portal. But with reports of even phone and paper applications being "caught up in the same queue," it's impossible to imagine the ACA as a whole working without HealthCare.gov.
The fate of the largest health care reform in American history hinges on a website. If it doesn't work, no one can say for sure what will happen.
AFP Photo/Karen Bleier