4 Things To Remember About Jeb Bush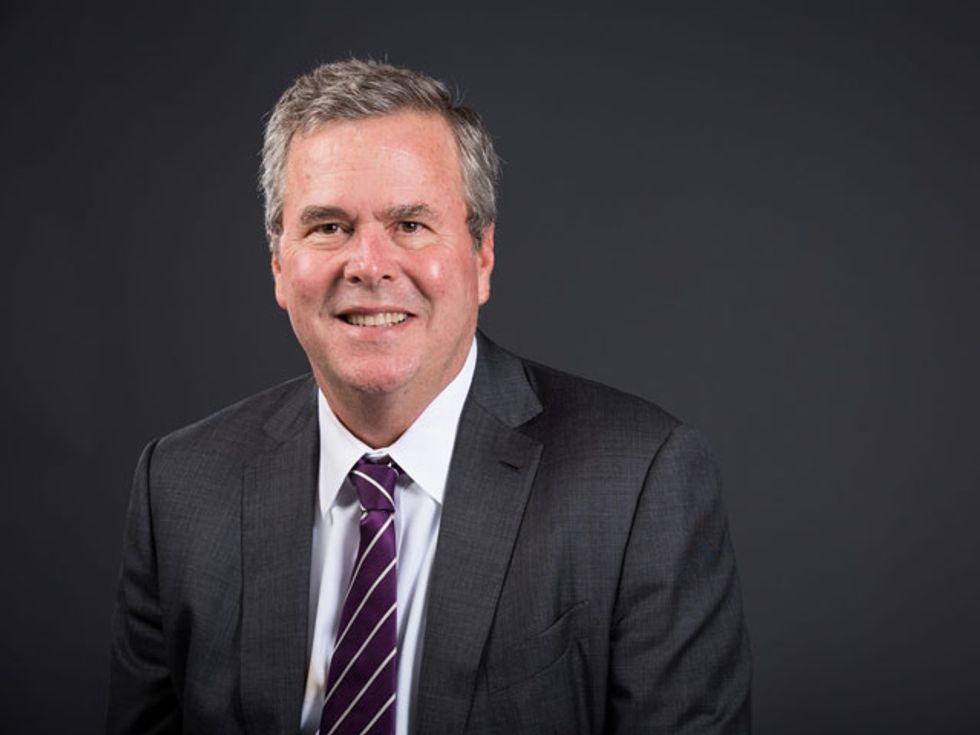 After six months of coyly "considering a run," during which time he raked in uncounted millions in donations, former Florida governor Jeb Bush is set to formally announce his candidacy for president Monday at a rally in Miami.
During his candidacy limbo, Bush asserted that he would be his "own man," separate from both the troubled legacy of his brother and the congested field of GOP candidates already in the running.
As he strives to revamp his image in the long campaign ahead, Bush will stretch himself pretty thin in order to appeal to the far-right Tea Partiers who booed him at CPAC and the old guard GOP, of which he is a conspicuous member, and which doesn't have many other credible options.
Here are four things to remember about Jeb that he would probably just as soon forget.
1. Miguel Recarey
Jeb Bush, while his father was vice president, lobbied on behalf of a man later found to be the mastermind behind one of the largest Medicare frauds ever, possibly helping him to defraud the government out of millions.
In 1985, Jeb, then a real estate businessman and entrepreneur, was paid $75,000 by Miguel Recarey, the head of health maintenance organization International Medical Centers (IMC) for real estate work. The only problem is IMC never actually purchased a building from Bush, who claimed to not know of Recarey's shady past. Known for having ties to the Miami mafia, Recarey had participated in the Mob assassination plot against Fidel Castro in the early 1960s and failed to file income tax returns in 1969 and 1970, serving a short time in prison.
Instead, Jeb phoned Health and Human Services Secretary Margaret Heckler to see whether IMC, the largest recipient of federal Medicare funds at the time, could get a special exemption regarding the balance of customers. So instead of having a 50/50 balance of Medicare patients and private (paying) customers, IMC could get more Medicare money, which they did — in 1986, with 80 percent of its customers Medicare beneficiaries, the company was collecting over $30 million a month in Medicare payments, eventually totaling $1 billion.
Although Bush denied contacting her, Heckler confirmed to the Huffington Post in 2012 that he "indeed lobb[ied] her personally, and that his input played a major role in her thinking." Two other HHS officials, including Heckler's chief of staff, confirmed during congressional testimony in 1987 that Bush did indeed call Heckler on behalf of Recarey.
An investigator from HHS and eventually two members of Congress, Rep. Barney Frank (D-MA) and Rep. Pete Stark (D-CA), launched an investigation into Medicare fraud, which led eventually to the shutdown of his company and a Federal indictment charging Recarey with bribery and fraud.
Recarey fled the country in 1987 to Caracas, Venezuela, but only after he received a $2.2 million income-tax refund. He was taken into custody in Spain in 1993, but released a year later when the country rejected the extradition request, according to a 1994 report by the Government Accountability Office (GAO).
2. Orlando Bosch
The anti-Castro Cuban militant Orlando Bosch—who was responsible for multiple terrorist attacks in Latin America in the decades following the 1959 revolution, including the 1976 bombing of a Cuban airliner which killed all 73 onboard—found an unlikely advocate in Jeb Bush.
In 1989 Bush was a Florida real estate businessman, in thrall to Miami's Cuban-American population, whose support he would rely upon in his first run for governor in 1994. And while then-attorney general Dick Thornburgh called Bosch an "unrepentant terrorist," Cuban exiles in Miami, where the city commissioners once officially declared an Orlando Bosch Day, considered him a hero.
After Bosch was detained by the Justice Department on an immigration violation, Bush successfully lobbied his father, George H. W. Bush, for a presidential pardon. Bosch had safe haven in America until his death in 2011.
3. Bush v. Gore 
Governor Jeb Bush was hardly an innocent bystander in the fracas that led to his brother becoming the 43rd president. Florida, then and now a critical electoral state, had a Republican governor and legislature in 2000 — it was well suited to support George W. Bush.
Despite recusing himself from any role involving the recount, Jeb allowed many staffers — including much of his legal team — to take unpaid leave to work on his brother's campaign.
But the state was dealing with much tougher, granular issues — who was "allowed" to vote. Most of the policies perpetuated by the Bush administration targeted minorities and the poor. One controversy involved convicted felons. Following state law, these felons aren't allowed to vote, and so must be purged from voting rolls. As governor, Jeb Bush passively allowed the backlog of ex-felons to grow — up to 62,000 as of 2002 — which also included a growing list of small offenses that disproportionally affected the urban poor, like cashing unemployment checks after a person has started a new job.
But the rolls were known to have serious errors — mixing up first and middle names and confusing similar-sounding names and nicknames were only two of the problems, as detailed by Vanity Fair in its 2004 recounting of Florida's voting procedures four years earlier.
Because there were so many errors on the voting lists, each county handled its rolls in different haphazard fashions. Some counties threw out the list. Some scrupulously checked, while others took it at face value. Miami-Dade county sent out letters informing people they could come in for a hearing. The problem was that many of the addresses were outdated, so people were never notified. Even as late as 2004, many of those wrongly listed as being ineligible to vote had never been reinstated. Just in time for Bush's re-election.
A 2001 U.S. Commission on Civil Rights report on the 2000 election found that Florida's voting system was seriously flawed, with systematic discrimination reaching back long before the election.
4. Terri Schaivo
As Florida governor, Jeb Bush used his power to intervene in the tragic dispute between the husband and parents of Terri Schiavo, a St. Petersburg, Florida resident who had been in a persistent vegetative state for over a decade.
In 2003, Bush used a hurriedly passed law ("Terri's Law") to grant himself the authority to reinsert Schiavo's feeding tube, against the wishes of her husband, Michael Shiavo.
Along with obstructing Michael's right as Terri's legal guardian, Bush installed a neurologist at Schiavo's hospice to "deduce and represent" her "best wishes and best interests" — which is to say the best interests of a governor pandering to his conservative base — and report them to him.
A court eventually ruled Terri's Law to be unconstitutional, and Schiavo passed away shortly after her feeding tube was removed in 2005 — but not before becoming a pawn in a widely publicized national battle between "right-to-life" conservatives and disability rights activists, thanks to Governor Jeb.
Photo: Jeb Bush, via Facebook