5 Anti-Science Congressmen On The House Science Committee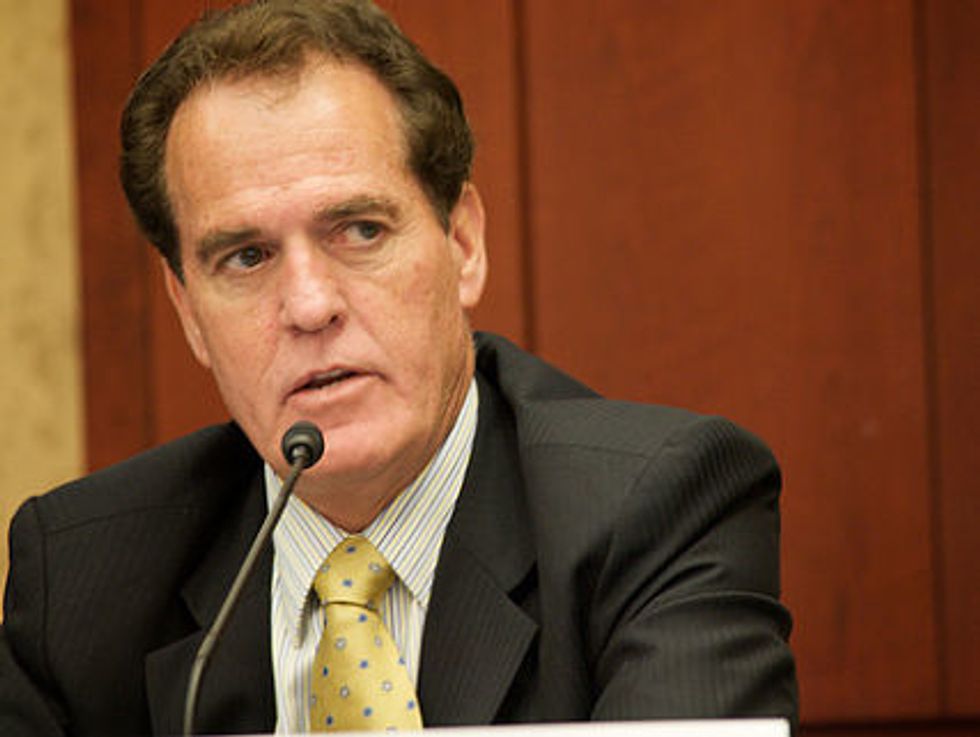 Representative Phil Gingrey (R-GA) and former representative Todd Akin (R-MO) have more in common than a breathtaking lack of knowledge of and political tact on the subject of rape. They are also former colleagues on the House Committee on Science, Space, and Technology.
According to a 2009 Pew Poll, only 6 percent of scientists identified themselves as Republicans — and it's easy to see why. Although Gingrey and Akin have moved on, many of the Republican congressmen in charge of setting the nation's scientific agenda are openly hostile to overwhelmingly accepted scientific theories.
Here are five proudly anti-science members of the House Science Committee:
Continue reading
Lamar Smith (R-TX)
Smith, the current chair of the committee, has publicly criticized scientists and journalists who are "determined to advance the idea of human-made global warming," and he has backed up his rhetoric with a hard line voting record. During his 25-year tenure in Congress, Smith has voted to block the EPA from regulating greenhouse gases, opposed tax credits for renewable energy and raising fuel efficiency standards and rejected the Kyoto Protocol.
As ThinkProgress points out, Smith has a powerful incentive to deny the existence of climate change: throughout his career, Smith has received $500,000 from the oil and gas industry.
Continue reading
Paul Broun (R-GA)

The Tea Party-backed Broun, who has served on the Science Committee since 2007, appears to believe that scientists are literally tools of the devil. In an October speech at the Liberty Baptist Church Sportsman's Banquet, Broun declared, "All that stuff I was taught about evolution and embryology and the Big Bang Theory, all that is lies straight from the pit of Hell."
"And it's lies to try to keep me and all the folks who were taught that from understanding that they need a savior," he added.
In the same speech, Broun claimed "I don't believe that the Earth's but about 9,000 years old. I believe it was created in six days as we know them. That's what the Bible says."
Continue reading
Jim Sensenbrenner (R-WI)

Sensenbrenner is a well-known climate change truther who has asserted that Earth has been cooling over the past 10 years, that Mars has been warming at a similar rate to Earth, and that global warming will help crop yields go up, making it "easier to feed 7 billion people," among other flagrant falsehoods.
Sensenbrenner also rejects the fact that genetics influence weight, telling the obese to "Look in the mirror because you are the one to blame." Along the same hypocritical lines, Sensenbrenner opposed First Lady Michelle Obama's "Let's Move!" anti-obesity campaign due to her "large posterior."
Continue reading
Dana Rohrabacher (R-CA)

Rohrabacher is arguably Congress' least informed member when it comes to climate science, strenuously arguing that climate change and global warming are either a hoax or a massive conspiracy perpetrated by scientists and liberals.
Most notably, Rohrabacher has claimed that "CO2 is irrelevant," "polar bears are not becoming extinct," and that "dinosaur flatulence" may have caused past climate changes.
Mo Brooks (R-AL)

Brooks is another climate change truther — having argued that global warming is an "aberration" and "guesswork speculation" — with an interesting twist: His district is home to NASA's Marshall Space Flight Center.
Perhaps that is why Brooks co-signed what ThinkProgress labeled an "Abandon Earth letter," which argued that "Space is the ultimate high ground," and that " we can reorient NASA's mission back toward human spaceflight by reducing funding for climate change research."
Photo: Republican Conference via Flickr