5 Examples Of Fox News' 'Fair And Balanced' Obama Coverage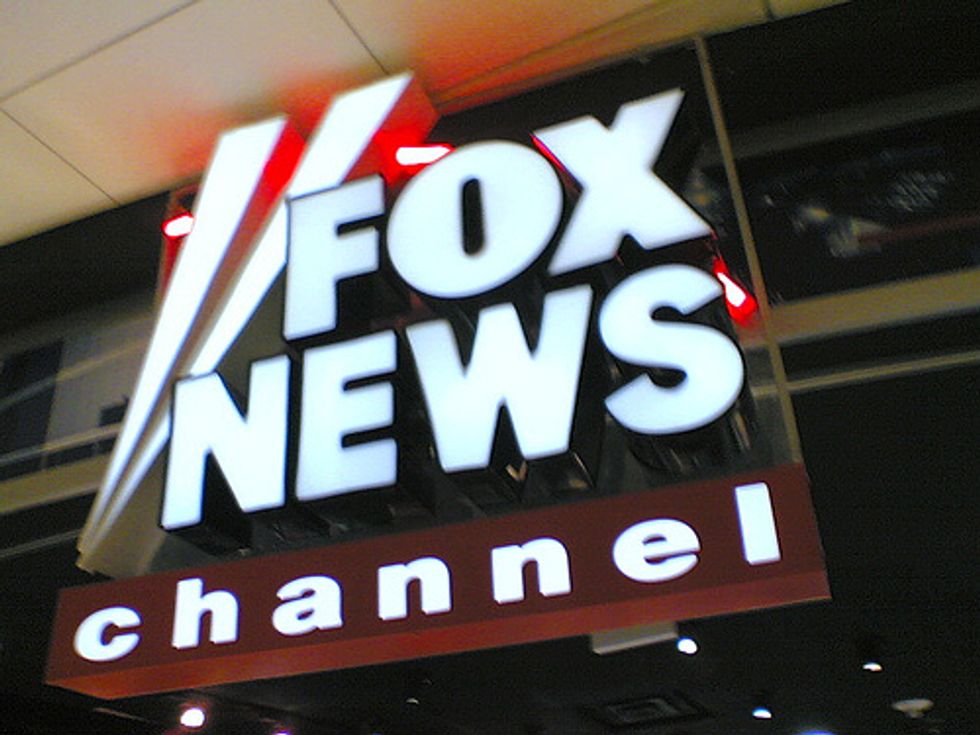 As part of the ongoing Republican freakout over President Barack Obama's remark to The New Republic that "if a Republican member of Congress is not punished on Fox News or by Rush Limbaugh for working with a Democrat on a bill of common interest, then you'll see more of them doing it," Sean Hannity made a truly jaw-dropping claim on his Monday night show.
According to Hannity — who, you may recall, is the proud owner of a painting of President Obama burning the Constitution — Fox is the "only media organization on this planet that has delivered fair and balanced coverage" of the president.
Luckily for us, groups like Media Matters for America keep tabs on Fox, providing plenty of examples to counter Hannity's claim.
Here are five examples of Fox's not so "Fair and Balanced" coverage of the president:
Barack And Michelle Obama Share "Terrorist Fist Jab"
Fox's attacks against Obama began even before he was elected president. When then-Senator Obama and his wife shared a celebratory fist bump after he clinched the Democratic presidential nomination, Fox News anchor E.D. Hill questioned the deeper meaning behind the gesture.
"A fist bump? A pound? A terrorist fist jab? The gesture everyone seems to interpret differently. We'll show you some interesting body communication and find out what it really says," Hill said.
Obama May Not Be A Citizen
In March of 2011, Hannity — in an attempt to promote conspiracy nut Donald Trump's potential presidential candidacy — falsely claimed it's "not true" that President Obama has released his birth certificate.
This was just one of at least 52 segments on Fox pushing the racially charged birther myth.
Fox & Friends Airs Anti-Obama Campaign Ad
Apparently bored with pretending to be a news show, Fox & Friends decided in May to create and air its own four-minute anti-Obama campaign ad.
The ad was not only so poorly made and over-the-top that the Santorum campaign probably wouldn't have touched it, but it was also outrageously inaccurate.
Positive Jobs Numbers Are Fake
After former GE CEO Jack Welch ridiculously claimed that the Bureau of Labor Statistics' September jobs report must have been falsified because it was too favorable for President Obama, Fox News rushed to put Welch on the air that afternoon.
Not content to merely provide a platform for Welch to push his conspiracies, host Eric Bolling went on to suggest that two Obama donors working for the BLS may have manipulated the data:
"Here Comes The Landslide"
In the final days before the 2012 election, Dick Morris — the world's worst pundit — repeatedly appeared on Fox News, promising that Mitt Romney would defeat President Obama in a 325-213 electoral vote landslide.

After Morris' predictions were proven hilariously wrong, he returned to Fox News to explain that "the Romney campaign was falling apart, people were not optimistic, nobody thought there was a chance of victory. And I felt that it was my duty at that point to go out and say what I said."
Fair and balanced indeed.