5 Explosive Town Halls You May Have Missed This Week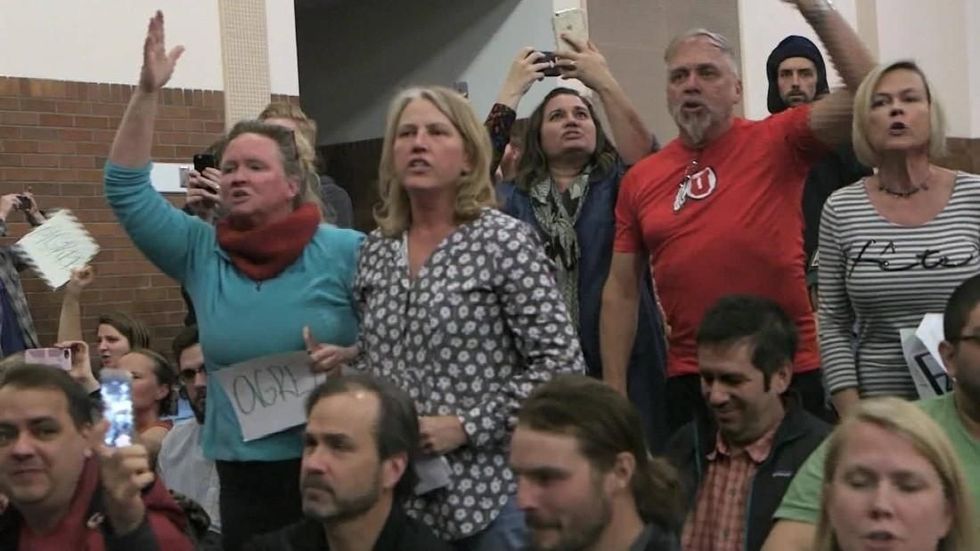 Reprinted with permission from Alternet.
Last Thursday, 217 House Republicans passed the heavily contested American Health Care Act, which the Congressional Budget Office predicts will strip 24 million Americans of their insurance over the next 10 years. Now House Republicans are feeling the wrath of their constituents.
Rep. Raul Labrador (R-ID) set the tone on Friday when he defended his vote with a patronizingly false claim:
"Nobody dies because they don't have access to health care," he told the booing crowd.
The jeers have continued nationwide. Here are five explosive town halls you may have missed over the past week.
1. Rep. Rod Blum (R-IA-1):The health care bill only affects "12,000 people in my district."
After conducting a controversial prescreening for attendees, Rep. Rod Blum (R-IA) was quickly shouted down by the crowd gathered at Dubuque high school on Monday.
Blum, a member of the conservative House Freedom Caucus, insisted he'd read the bill but maintained its effect on his district would be minimal.
"This bill, Trumpcare—whatever you want to call it—is about the individual market only," he told the furious crowd. "The individual market only. That's 12,000 people in my district."
Blum, up for reelection in 2018, narrowly won the 1st Congressional District race with just 51 percent of the vote. The district includes Cedar Rapids, Waterloo and Dubuque, all of which generally leans Democratic.

2. Rep. Patrick Maloney (D-NY-18):"This guy should not be on some milk carton. He's your congressman, right?"
After his Republican colleague James Faso (D-NY) refused to defend his health care vote, neighboring congressman Maloney decided to step in.
"I'm not doing you a favor by answering your questions if I represent you. It's my job," Maloney told Faso's constituents at a town hall Monday. "This guy should not be on some milk carton. He's your congressman, right?" He should be here."
The event held at the Senate Garage in Kingston drew a crowd of over 300. Only 1/5 of House Republicans held a town hall last month and Maloney encourages other House Democrats to "adopt" a district like he did should the Republican fail to show.
"The irony of this [is] they're doing it to the very people who put Donald Trump in office," he added.
3. Rep. Greg Walden (R-OR-2): "People are being priced out of the market today."
Lone Oregon Republican Rep. Greg Walden (R-OR) faced a crowd of over 100 at Baker High School on Monday, many of whom supported the Affordable Care Act and were now furious with Walden's vote.
"People are being priced out of the market today," Walden argued. "We're trying to figure out how do we save these exchange markets so they will work."
At the meeting, Walden was also confronted by Grande resident Joe Hayes (34), a U.S. Army veteran whose late daughter was born with a rare genetic disorder. Hayes praised the Affordable Care Act, which "helped to extend his daughter's life and spared their family from financial ruin."
More than 50 preexisting medical conditions could cause Obamacare recipients to lose their insurance under the American Health Care Act.
"The last thing you want to worry about is how you will pay for emergency procedures and equipment that cost more than a house," Hayes said.
4. Rep. Dave Bratt (R-VA-7):"I'm trying."
Rep. Dave Bratt (R-VA) had the misfortune of speaking to his constituents about the American Health Care Act shortly after news broke of James Comey's firing by President Trump. Bratt opened by asking how many of the 700 gathered at the suburban Richmond church wanted to see individual and corporate tax reductions. That didn't go over well.
"Everybody asks for town halls so we can have civil discourse," Brat told the booing crowd. "That's what I'm trying to do. If we go this route, it's going to be very hard to have rational civil discourse. I'm trying."
"Read our questions!" they demanded in unison.
5. Rep. Tom MacArthur (R-NJ-1) learns he's the "single greatest threat" to a constituent's family.
MacArthur's Wednesday town hall in South Jersey town hall was so packed, there was an overflow crowd by 6:30pm. Once everyone in the crowd with a a pre-existing condition stood up to defend Obamacare, MacArthur was roasted by certified medical assistant Geoff Ginter, who called the congressman the "single greatest threat" to his family.
"My wife was diagnosed with cancer when she was 40 years old," Ginter told him. "She beat it, but every day—every day—she lives with it. Every pain, every new something going on somewhere, is it coming back? Is it gonna take me away from my children?"
"Speaking of which: my children," he continued. "Both have preexisting conditions from birth. One cardiac, one thyroid. You have been the single greatest threat to my family in the entire world. You are the reason I stay up at night."
Man angrily tells MacArthur: "You have been the single greatest threat to my family." Says GOP bill was dead until MacArthur resurrected it. pic.twitter.com/U1O8vTwVBx

— Dan Diamond (@ddiamond) May 11, 2017
Alexandra Rosenmann is an AlterNet associate editor. Follow her @alexpreditor.
This article was made possible by the readers and supporters of AlterNet.