5 Reasons Democrats Need To Unite Sooner Rather Than Later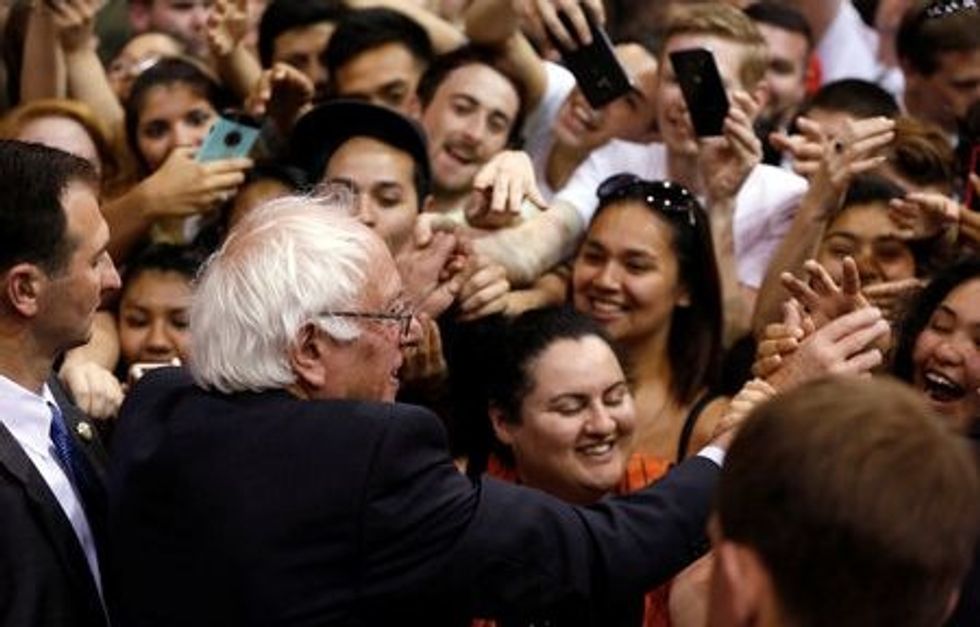 You say you want a revolution?
What would you call 11 million people being deported, religious discrimination as official government policy, and a president who has vowed publicly to use all and any authority to seek revenge on his political enemies? How about giving a thin-skinned, megalomaniacal, bigoted clown a nuclear arsenal and the most powerful armed forces ever, knowing he has vowed to commit war crimes against women and children?
That's the risk a plurality of Republicans has decided to take. Now they want to force it on the entire nation.
The GOP base is expressing an unrepressed desire to restore a strict racial hierarchy, as a salve against the pain of fragile masculinity and 30 years of increasing middle-class misery inspired by conservative policies. But the GOP establishment nurtured its Trump denial all the way through the primary — expecting the con man to crumble under the weight of his "gaffes" and know-nothing-ness, failing to recognize how the modern media landscape made both of those "flaws" huge assets.
Republicans failed to unite against Trump and got creamed. They might have gotten creamed anyway. But when you're complicit in a disaster like Trump, cheap excuses end up sounding like something out of a Martin Niemöller poem. Democrats now face the same moral crisis Republicans did. Can they focus on what unites them?
In general, we already know the answer to this: Yes. Facing the 2016 election, the left is far more united than the right. CNN found earlier this month that Sanders supporters "prefer Clinton to Trump by an 86-to-10 margin."
Still, some of the most ardent Sanders supporters may never be persuaded to back Clinton. To them, she represents a living through-line of the last 25 years of Democratic politics, sharing none of the credit — more than 30 million jobs, the appointment of Ruth Bader Ginsburg, Motor Voter, the Brady Bill, the Family and Medical Leave Act, the Children's Health Insurance Program, the Northern Ireland peace process, et cetera — while wearing the scarlet letter of what they see as unforgivable failings: NAFTA, welfare reform, Wall Street deregulation, and mass incarceration.
Shouting "Ralph Nader" at Sanders supporters will probably achieve the opposite of the desired effect. The Vermont Senator has clearly earned the right to stay in the race until the last primary vote is counted, as Hillary Clinton did in 2008. The Sanders activists have built the most successful insurgent presidential bid since at least Ronald Reagan in 1976 — unless you count President Obama's 2008 run. They can use the tremendous support they've marshaled to tear down Clinton and reject the legitimacy of the primary process, or they can join Bernie Sanders — by working above all else to stop Donald Trump.
By endorsing the idea that the winner of the majority of primary votes and pledged delegates has won the primary contest — despite genuine complaints about process, which Clinton's 2008 team also had — Sanders would show that he grasps the magnitude of the threat Trump represents.
His supporters might not agree with this decision, but it would be a powerful signal that could open up room for good faith debates about changing the primary process and incorporating some of Sanders' popular policy prescriptions in the party platform. This will only happen, however, if those who oppose Trump think about what unites them.
So here are five things for every American of good faith to consider sooner rather than later.
If Trump wins, he will have big Republican Congressional majorities eager to reverse everything Obama has done.
If Trump wins, Republicans are likely to control the House and the Senate at least through 2020 and build on the huge majority of state legislatures they already control. Trump's number one goal will be avoiding a primary challenge, and the GOP's main goal will be erasing anything Obama achieved and throwing out any rules that might prevent them from doing it. That means 20 million Americans losing their health insurance, Wall Street freed of any regulations that might prevent another financial crisis, and a reversal of any attempt to fight climate change. Yep, the future of the planet is actually at stake.
There's a huge opportunity to take Congress and expand on Obama's legacy.
Look at all that gray.

A united Democratic party could make dreams of turning Arizona and Georgia into swing states more reliable than Trump's skin tone. The things that make Trump popular with Republicans repulse swing voters. A united attack on his con-man ways could give us the chance to elect a Congress that will not only sustain Obamacare but build in a Medicare public option, while making our tax rates more progressive and putting new restrictions on big banks — as both Sanders and Clinton have proposed.
The GOP will be mostly united — and Trump will be more agile than any Republican before him.
Mega-donor Sheldon Adelson is already on the Trump train and Paul Ryan will soon join him, Reince Priebus assures us. Trump has wrapped up the nomination soon enough that he'll have the resources and support needed to win. While there may not be enough white men in America to elect Trump, a united GOP would be poised to capitalize on a divided Democratic Party. Trump has no actual beliefs, which is a huge advantage when you're representing an unpopular party with a track record of failure. And if there are any cracks among the left, his stubby little fingers will find them.
The Democratic convention could be a historically clarifying event.
The only two living Republican presidents and the last GOP nominee for president have all said they have no plans to support Trump. But Dick Cheney and Dan Quayle back him. The GOP nominee is planning a spectacular for his convention, studded with reality stars to represent a party hollowed out by hostile takeover. Compare that to the Democratic stage: President Obama, Bernie Sanders, Elizabeth Warren, Joe Biden, Bill Clinton, and more, all making the case for Hillary Clinton and a Democratic future. The only way this won't be a huge advantage in the war to stop Trump is if the convention descends into "chaos" over internecine differences.
The Supreme F*cking Court.
If Trump looks like he can win, the Republican Senate will never confirm Merrick Garland. The best chance of turning to the Supreme Court toward the center-left will be gone and at least one — and as many as four — justices will essentially be appointed by the Heritage F*cking Foundation, the ultra-right wing "think tank" that the candidate with the convictions of a Macy's Day parade float says will give him a list of names. Heritage not only wants to end a woman's right to control her body, they also want to undo the federal government's power to set a minimum wage, fight discrimination, and run programs like Medicare, Social Security and Medicaid.
The future of the world's climate, the American middle class, and generations of progressive progress are at stake in November. And the sooner that all Democrats unite, the more likely it is we can avoid a catastrophe that by now everyone should see coming.
Photo: Democratic U.S. presidential candidate Bernie Sanders greets supporters after a campaign rally in Salem, Oregon, U.S., May 10, 2016. REUTERS/Jim Urquhart