5 Reasons It's Going To Be Very Hard For Bernie Sanders To Concede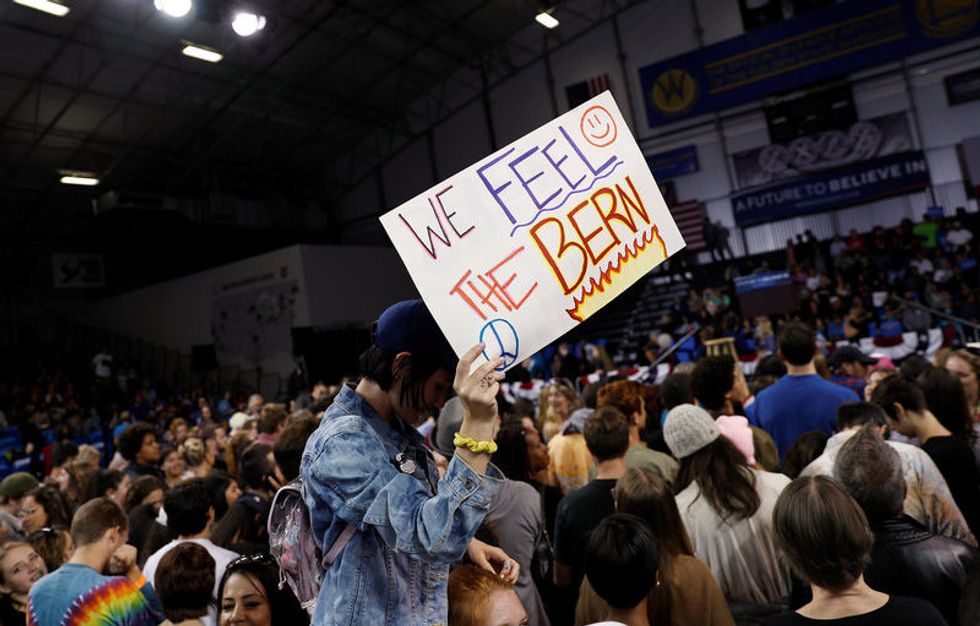 If you want to know the formula for Donald Trump becoming the next president of the United States, take a surprise economic slowdown and multiply with Democrats overcome by "disarray," as the press calls it.
Friday's disappointing employment report suggests that the first variable in this formula may yet appear — and Bernie Sanders' constant insistence that there will be a "contested convention"  suggests the second may, too.
Meanwhile, as predicted, Republicans are mostly coalescing around Donald Trump, vowing to back him even as they tacitly seem to concede he's a dangerous buffoon who should not be allowed access to a Twitter account, let alone nuclear codes.
"I think the party of Lincoln wants to win the White House," Mitch McConnell said Sunday morning, laying out his party's cold calculation. "The right-of-center world needs to respect the fact that the primary voters have spoken."
It's an inauspicious sign that Democrats at this point can't even agree on a definition of what "primary voters have spoken" means.
Though Hillary is now the presumptive nominee in the view of many Democrats and most of the media, in much the same way President Obama became the nominee in 2008, the idea that Bernie Sanders will ever be forced to "concede" is infuriating to many of his backers. Either Team Bernie now expects a small group of powerful super-delegates to overwhelm the will of the popular vote and pledged delegates to make their candidate the nominee — or they're just suggesting as much to spur their voters to show up for the remaining primaries.
Expecting the super-delegates to rig the nomination for you is not an unfamiliar argument. The Clintons made it in 2008, until they didn't, finding it in the best interest of the party (and themselves) to do everything they could to elect Barack Obama.
Will Bernie Sanders do the same?
I've long argued that the divisions between Democrats were largely overblown and amplified by the screech of social media. I still believe that the smartest progressives I know will easily and happily vote for Clinton over Trump. But recent events — and the prospect of "chaos" at the Democratic convention — require a reassessment, as Harry Reid seems to be doing.
The Senate Minority Leader first said, "Hell, no" to the idea of Elizabeth Warren being Hillary Clinton's running mate, as her departure might threaten a Democratic Senate seat. But Reid is reportedly now backing the idea, perhaps recognizing that Warren's unique appeal to Sanders voters — early traces of the Sanders campaign could be seen in the "Draft Warren" movement — may be necessary to unite the party.
Reid seems to be taking seriously the importance of this task and all Democrats should join him. Polling suggests that Clinton has a serious problem with the younger voters who back Sanders in droves. Recognizing this, Clinton herself has made it clear that she sees a role for Sanders in her governing coalition. (Could there be a more base-pleasing Secretary of Labor alive?)
Will any or all of this prove to be enough? Here are five reasons it might not be, laid out in the hope that Democrats will have the foresight and grace needed to navigate this rocky terrain.
What Sanders has conjured is amazing — but it may be a genie that won't go back into the bottle.
Within a year of joining a political party, a 74-year old man calling himself a "democratic socialist" with only a slight national profile has come within a few hundred delegates of defeating a candidate who had locked down her party's establishment and shook off all substantial competition years ago. He did it with small donors and a genuine populist movement that reflected exactly the sort of concerns middle class voters should have in the aftermath of a Wall Street-engineered financial crisis that followed decades of growing economic inequality. And he's done it — generally — by sticking to issues and inspiring young people. Already his calls for a robust Scandinavian-style security net have helped nudge nearly all of the Democratic establishment toward expanding Social Security. But will that ever be enough for a movement that expects free college and single-payer health care? When you've been promised a revolution, the prospect of fighting for steady progress may not satisfy — even if the alternative is Donald Trump and the GOP pulling the emergency brake when America is in the fast lane.
Polls really do look good for Sanders.
With the notable exception of a new poll in the crucial swing state of Florida, Bernie Sanders beats Trump by a much larger margin than Clinton does in polls that propose a hypothetical general election match up. Clinton made a similar argument in 2008 invoking the polls as she was losing and her supporters pointed out that a guy named Barack Obama would get savaged by the GOP attack machine. The idea that Sanders would be destroyed by the ferocity of Republican attacks is unacceptable to most Sanders supporters. There may never be an opportunity for a candidate like Sanders again. And to "risk" nominating Hillary Clinton with the premise she has been inoculated with decades of attacks is likewise unacceptable.
Sander and his supporters only have loose ties to the Democratic Party.
Most independents are really closeted partisans, as FiveThirtyEight's Harry Enten explains. And people who tend to vote Democratic but refuse to identify with the party back Sanders by a huge margin, doing better with them than with actual self-identified Democrats. If Clinton can't win over the vast majority of these voters, get ready to see the Trump name on the White House.
To many Sanders backers, Clinton represents an unacceptable alternative.
To many people, Hillary Clinton represents a living through-line of decades of Democratic politics, enjoying few of the successes and bearing the weight of all the compromises and failures. But she also has her own record with an Iraq vote that she admits was a mistake, and a vast array of other contestable decisions. To Clinton supporters, some Sanders supporters seem to be falling into a right-wing trap with the embrace of overly investigated and nearly entirely phony scandals. Likewise, the urge to equate the dangers of Clinton and Trump is reminiscent of the worst impulses of the 2000 election. Shouldn't we have learned from George W. Bush, Democrats keep asking? But we can't discount the genuine antipathy for past Democratic policies and Clinton's foibles. For some, the image of her as young college grad investigating segregated schools in the South or a 30 year-old trying to save Legal Assistance, or one of the earliest and most profound voices for universal health care will always be drowned by her imperfections. And even the specter of Trump tweeting racial abuse from the Oval Office may not be enough to motivate them to unite around her.
They've been told they've been robbed.
This is the most disturbing part of this primary. Many Sanders supporters genuinely believe they've been robbed. Closed primaries definitely helped Clinton. Likewise, caucuses definitely helped Sanders. But this did not decide the election — and on net, those less-democratic voting procedures hurt Clinton more than Sanders. "If every contest in the country had been an open primary, Mrs. Clinton's delegate lead would have grown," The New York Times' Nate Cohn wrote. "She would have lost ground in some of the contests, gained ground in the states with large numbers of anti-Obama registered Democrats (Oklahoma, West Virginia and Kentucky), and gained lots of ground in Western caucuses — where Mr. Sanders earned most of his big delegate hauls." The idea that Clinton has engaged in any sort of "voter suppression" never made any sense and hurts the effort to make the real case against the concerted efforts those on the right have undertaken to make it harder for minorities, the poor and elderly to vote. Maybe this notion was fed by the Democratic Party's seeming eagerness to help Clinton, by limiting the number of debates at the outset. But there were more debates and both campaigns were better off as a result. If the Bernie Sanders campaign nurtures the toxic belief that an imperfect process wasn't legitimate, get ready for a very long and very dangerous next four years.
But if Democrats can and do unite, there's a chance — a slight but real chance — that we could be speeding up the demise of the GOP as we know it. I know that sounds wild. But it has happened before.
Photo: An attendee holds a sign in support of Democratic U.S. presidential candidate Bernie Sanders during a campaign rally in Santa Cruz, California, U.S., May 31, 2016.  REUTERS/Stephen Lam