5 Reasons It's Time For The GOP To Dump Sarah Palin And The Tea Party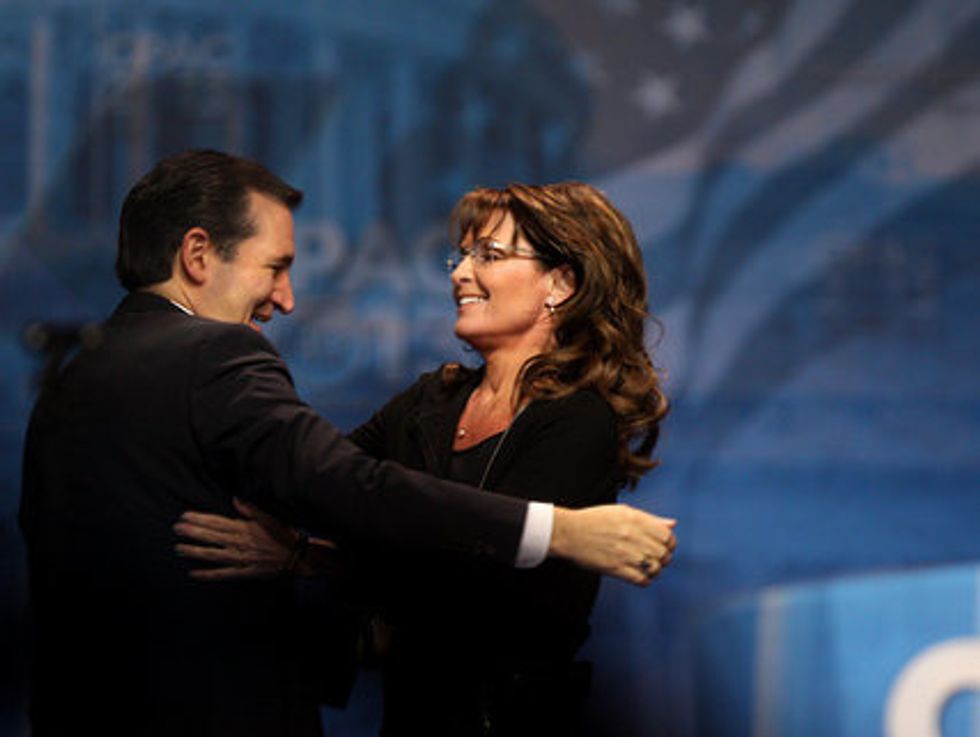 Conservative columnist Matt Lewis seems relieved.
"We may have finally reached a tipping point: Conservatives, it seems, are finally safe to criticize Sarah Palin (without fear of being written out of the movement, that is)," he wrote on Tuesday .
A flurry of criticism from the right has swarmed around the one-time Republican nominee for vice president since she used her platform at the National Rifle Association's national convention to defend waterboarding and "comically" compare torture to the Christian rite of baptism.
Most Republicans understand that the former governor of Alaska will never run for elected political office again. Her meddling in primaries has cost the party Senate seats and her star seems to be on the wane even among the devoted who made her book about the fictional War on Christmas a bestseller.
Mrs. Palin became the face of the Tea Party in 2009 and personifies the kind of intolerant nonsense and willful graft that the movement is prone to at its worst. Now that it's safe for Republicans to point out that Palin hurts more than she helps, the party should use this moment to cast aside the grifters who turned their party's once-savvy rebranding scheme into a clown show that typifies what many Americans hate about the far right.
Here are five reasons it's time for Palin and the Tea Party to go.
Photo: Ted Cruz via Flickr

The Scam Is On Republican Donors
The Tea Party that was pushed by Fox News in 2009 led to the creation of thousands of organizations that took ownership of the brand. Tea Party Nation and Tea Party Patriots were two of the largest.
Last weekend, the suspicion of many appeared to be confirmed: "A Washington Post analysis found that some of the top national Tea Party groups engaged in this year's midterm elections have put just a tiny fraction of their money directly into boosting the candidates they've endorsed," the Post 's Matea Gold wrote .
Red State' s Tea Partier-in-Chief Erick Erickson defended his fellow fundraisers, pointing out that "71 percent of the money it spent went to its non-electioneering operations. That looks terrible. But it is not."
Erickson often pontificates about how much primaries matter . So if he's happy with where the money is being spent, why are the results in the primaries looking so miserable for his movement?
Photo: Gage Skidmore via Flickr

Tea Party Candidates Are Getting Crushed
Businessman Matt Bevin has a simple case in his Republican primary: He's polling better against his likely Democratic opponent than Senate Minority Leader Mitch McConnell (R-KY). Despite this, Bevin is getting crushed by double digits and was caught dissembling about an event he attended supporting cockfighting.
Ex-shock jock Chris McDaniel is being similarly clobbered in his attempt to primary Senator Thad Cochran (R-MS). And the Tea Party hasn't been able to find a candidate who can beat its least favorite RINO, Senator Lindsey Graham (R-#Benghazi).
Tea Partiers will point to Senators Ted Cruz (R-TX) and Rand Paul (R-KY), who both beat establishment Republicans to win seats the GOP would have won anyway. But Cruz worked in the Bush administration and Paul inherited his dad's movement.
The Tea Party's chief accomplishment thus far is helping Democrats keep the Senate. This year they'll be shut out in the primaries before they can do that again.
Photo: Matt Bevin for Senate
Its Outrage Machine Dooms The Party
If Republicans don't pass any sort of immigration reform this year, the issue becomes absorbed in presidential politics.
Mitt Romney regretted the self-deportation stand he took to beat Rick Perry. How will the next GOP nominee feel about endorsing mass deportations as the Latino vote becomes even more essential ?
Tea Partiers punch above their weight. They know the numbers to call and the buttons to push to scare Republican politicians, especially when it comes to immigration reform.
Speaker John Boehner (R-OH) knows some reform needs to get done and that Latino voters who supported President Obama by 70 percent aren't going to accept the GOP's plan to blame the White House for reform's failure. He also knows that the polls say reform won't hurt his party at the polls this year and it will likely help in 2016.
The question is whether can he ignore his party's loudest voices to do it.
Photo: Fibonacci Blue via Flickr
Voters Are Tired Of It
The 2014 election was made for Tea Party economics, but each successive election finds the electorate more and more opposed to policies that leave the middle class to fend for itself.
The Washington Post 's Greg Sargent explains :
The GOP's stance on many economic issues seems to remain in thrall to the basic Tea Party economic worldview, which holds that a leading problem in American life is excessive downward redistribution of wealth, unfairly penalizing hard work and discouraging investment by job creators while government aid traps people in dependency.

Some national polls show broad disagreement with this basic worldview. Pew found that a majority favors taxing the rich to fund programs for the poor, and a plurality of Americans think government aid to the poor does more good than harm. CBS found that Americans disagree with the idea that unemployment insurance makes you less motivated to look for work by 54-42. In those cases independents sided with the public at large.
Republican economics is Tea Party economics. But the frame of rigidly siding with the rich is a loser for the party, given the way the American people's views are evolving, which leads us to the real reason the Tea Party is no longer necessary for the GOP…
Screenshot via Senator Ted Cruz YouTube channel

The Establishment Has Won
The dirty secret of the Tea Party is that it's always been just another way to label the party's base, a base embarrassed to identify with the GOP after eight years of George W. Bush.
While some will credit the Tea Party with making the party more insistent on spending cuts and less driven toward war, those claims are ridiculous. Republicans were driven to cut spending after the Contract for America in 1994, and the entire "anti-war" wing of the party is pretty much made up of three elected officials — namely Reps. Justin Amash (R-MI), Walter Jones (R-NC) and Senator Paul. Republicans abided them and opposed intervention in Syria for a simple reason — it was a way to oppose Obama.
Amash and Jones face a primary challenges from the establishment, while the wave of scary Tea Party primary challenges to House members always promised has not materialized.
Tea Partiers may be losing primaries but their extreme policies have been appropriated by Republicans when convenient, and ignored when it's time to keep the government open.
The Tea Party brand is less popular than the GOP's . So why should a party that's united in its agenda to cut taxes, spending and regulation (except for marriage and reproduction) pretend that it's actually divided?
Unless they're just trying to make a buck.