5 Reasons Why 'Trump University' Is A Complete And Utter Scam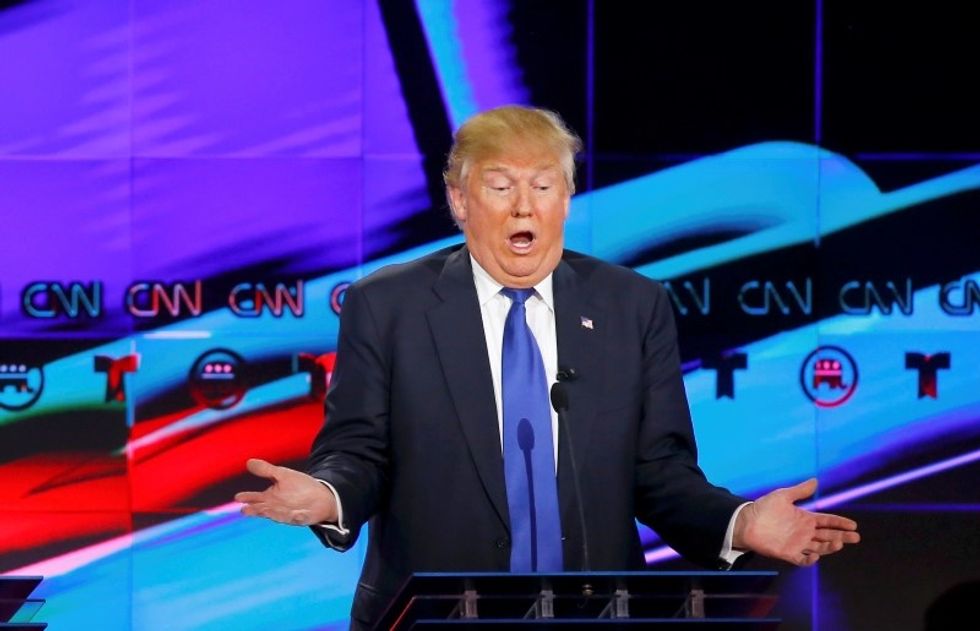 Trump University is an important part of Donald Trump's backstory – not to mention the way he handles business – because it's at the center of a couple of lawsuits alleging that Trump misled and bilked thousands of consumers out of millions of dollars. As many as 7,000 people could be listed as plaintiffs in the suits, according to Time. The Washington Post counts around 80,000 people around the country who attended free introductory seminars, lured in by ads and direct mail solicitations; about 9,200 paid $1,495 for three-day seminars followed by almost 800 paying up to $35,000 for "elite" programs that promised exclusive mentorships and access.
Here are five other facts about Trump University.
1. It's not really a university.
Trump was forced to rename Trump University to "Trump Entrepreneur Institute" after the state of New York reprimanded him for misleading the public: a series of get-rich-quick seminars do not make a credible university. According to the Washington Post, educational officials had been on Trump's case since the "university's" inception.
2. It doesn't exist anymore.
Although "Trump University" was incorporated in 2005, it has been inactive since 2010, when it stopped accepting new students. That year marked the first of several inquiries from investigators regarding possible fraud. In 2013, New York Attorney General Eric T. Schneiderman went public with his lawsuit, telling CNN's "New Day" that "[Trump University] was a classic bait-and-switch scheme. It was a scam."
3. Its namesake admitted that he was misleading consumers.
Promotional materials for "Trump University" promised that students would learn Trump's business secrets, and that instructors and mentors would be handpicked by the man himself. But in a deposition, Trump told lawyers that he didn't have a direct role in the curriculum or in picking the instructors. In fact, "Trump University" wasn't even his idea at all. The New York Attorney General's office found that the "curriculum" was largely written by a company "that creates materials for motivational speakers and salesmen."
The lawsuit asserts that many of the seminar instructors weren't even affiliated with real estate or with Donald Trump at all: "Many instructors came to Trump University from jobs having little to do with real estate investments, and some came to Trump University shortly after their real estate investing caused them to go into bankruptcy." (At least they had bankruptcy in common with the "university" promoter.)
4. Sellers pressured attendees into maxing out their credit cards to bilk them out of more money.
Potential students of Trump's courses were led into the scam through "exclusive" invitations, but once enrolled, they were constantly urged to pay for ever-higher levels of exclusivity, a classic bait-and-switch tactic.
Once in the door, attendees were given little time to make decisions regarding "investments" of thousands of dollars for future classes and seminars.
According a press release from Attorney General Schneiderman's office, "While consumers were encouraged to call their credit card companies during breaks, to increase their credit limits to have access to funds to do real estate deals, the real reason Trump University asked consumers to request higher credit limits was so they could use the credit to pay for the expensive Elite programs" – which cost in the tens of thousands of dollars and up.
One person suing Trump told the AP that it was "a high pressure" environment where attendees were "preyed upon."
Staffers were also required to follow a "playbook," which detailed everything from sales scripts to the temperature of the room (68 degrees) to the soundtrack playing at the registration table: "For the Love of Money" by the O'Jays. Seminar leaders were further instructed to tout their supposed connections to Donald Trump – even though, under oath, one instructor flatly said he had no connection to Mr. Trump: "I was just trying to be as close to the [script] as possible."
5. Donald Trump may have to appear in court during the general election.
Trump is listed as a witness in a California lawsuit scheduled to go to trial next August. According to CNN, an attorney for Trump asked that trial dates be scheduled around his campaign.
It's unlikely that even this damning evidence will harm Donald Trump's presidential campaign, however. After all, there are ads running from the American Future Fund, a conservative anti-Trump nonprofit, right now that feature former students talking about the scam — to little effect so far.
Photo: Add "scammer" to the list of things Donald Trump is. REUTERS/Mike Stone