5 Right-Wing Outrages This Week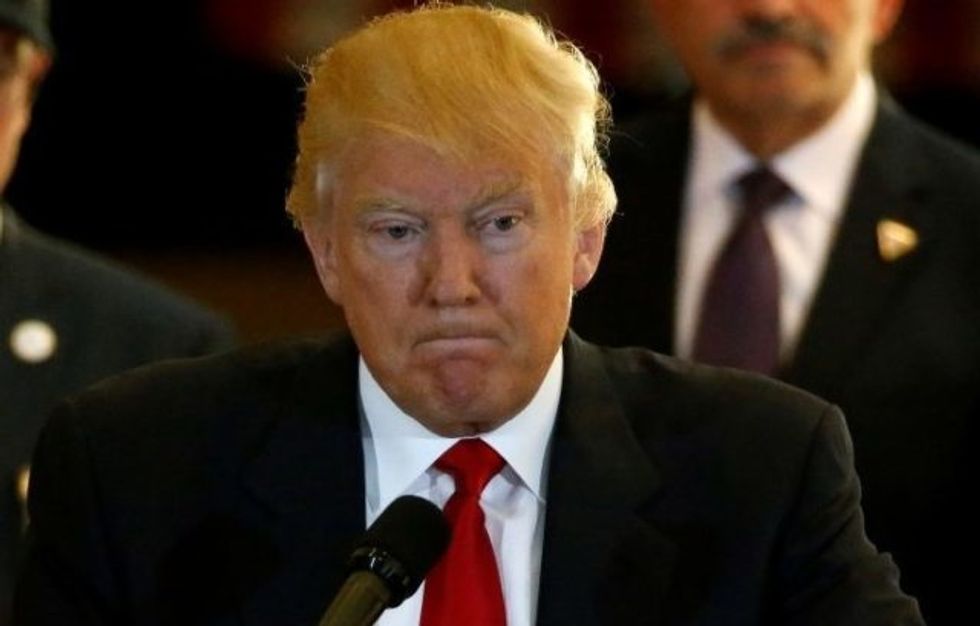 By the end of the week, the fresh shocks of the most disturbing moments of the third and thankfully final presidential debate were beginning to subside. A madman who is perfectly comfortable taking down our democracy because his ego is bruised is uncomfortably close to being president. To recoin Michelle Obama's well-worn phrase, when Trump goes low, he somehow manages to redefine the word low. To Trump's chagrin, he also inadvertently provided Hillary Clinton with one of her catchiest campaign slogans thus far, "nasty woman," a mantle an awful lot of newly minted millennial Hillary voters are now sporting with pride.
Tailspinning wildly, Trump has been showering his supporters with some of the whiniest drivel ever heard on the campaign trail. On Saturday, he treated the soggy masses to his sad version of his first 100 days.
Here are some of the low points of the week from Trump and the rest of the country's right flank.
1. Trump's first 100 days: First, deploy all the lawyers!
Win or lose, Donald Trump is bent on revenge after the election. In a speech demonstrating his visionary leadership style Saturday, Trump laid out his plans for his first 100 days, and they were just as inspiring as you might imagine.
"All of these liars will be sued after the election," Trump told a crowd in historic Gettysburg, PA, referring to the 10 and counting women who have come forward to accuse him of sexually inappropriate touching in recent weeks. "I'm so looking forward to doing that."
The thin-skinned candidate has long been a vengeful guy. Just ask real billionaire Richard Branson who went public this week with a description of a bizarre and unsettling lunch the two shared some years ago during which all Trump talked about was getting even with five of his enemies. The encounter confused the hell out of Branson, who has since concluded that, "Mr. Trump's temperament is irrational, aggressive and he lacks informed ideas on how to grow jobs in America."
Although, he does keep his lawyers fairly well-employed, it should be said.
Back when Branson had his somewhat stomach-turning lunch with Trump, he was only gunning for people who declined to lend him money when his businesses failed. Running for president has been a huge boon to Trump's enemies list, and he can't wait to start settling those scores.
It'll be such fun for him. Whee!
2. Trump decided it was a really good idea to go after inceasingly popular Michelle Obama.
The first lady has been getting a lot of attention lately for speaking poignantly and powerfully about the harm men like Donald Trump can do and her shock that such a vile nincompoop is running for president. Even right-wingers like Glenn Beck find themselves nodding in agreement and commending her rhetorical gifts. Donald doesn't like that. He does not care how popular the first lady has become. He's taking her down. Trouble is, he has no ammo.
In one of his soaring speeches in North Carolina, Friday, Trump said, "We have a bunch of babies running our country. They're losers. Babies. Losers."
That is verbatim.
"We have a president, and all he wants to do is campa-a-a-ign," Donald said. "His wife, all she wants to do is campa-a-a-ign."
Ooh, yeah, that's terrible. Why would anyone with any sway, who cares about the future of the country want to be out campaigning now? Crazy. It's not like there's something important at stake. Anyway, women shouldn't be out on the campaign trail. They should know their place, right smack at the other end of Trump's short, unwanted fingers. Putting women in their place is right where Trump was headed with this.
"And I see how much his wife likes Hillary," Trump continued, still not able to say Michelle Obama's name. "But wasn't she the one that originally started the statement, if you can't take care of your home — right? — you can't take care of the White House or the country."
"Where is that? I don't hear that. I don't hear that. She's the one that started that. I said, 'We can't say that, it's too vicious.' Can you believe it? I said that."
Hahaha, right. Too vicious for you, Donald! Good one. You would never go there.
Of course, Michelle Obama, whose daughters were still quite young when her husband was first running for president, was not talking about Hillary Clinton at all when she said in 2007: "So our view was that, if you can't run your own house, you certainly can't run the White House. So, so we've adjusted our schedules to make sure that our girls are first, so while he's traveling around, I do day trips."
She was talking about herself.
Using women to take down other women. That's novel.
3. Speaking of women taking down other women, Mrs. Trump.
At first glance, Melania Trump did a good job of seeming like a decent sane person this week in her softball interview with Anderson Cooper. She reported that her husband had apologized to her about bragging he could grab pussy without a woman's consent, and that she accepted his apology. But, she pointed out, it was not his fault. Billy Bush made him do it. Donald is, she acknowledged, a big kid, barely more mature than their 11-year-old, Barron.
What a zany, fun household. We're seeing sitcom!
But her mixed messages about her husband's level of maturity were only part of the problem. On closer inspection, there was quite a bit of misogyny lurking behind her words and viewing women as the real predators seems pretty firmly ensconced in her worldview. Since boys will of course be endearing if potty-mouthed little boys, Melania blames the women. Women, those manipulative creatures, are always hitting on her husband, sometimes right in front of her, throwing themselves at him "unappropriately," a pissed Mrs. Trump said. This was in the context of talking about sexual assault allegations, so the unmistakable conclusion is that she is implying some women ask for it.
Also, these women reporters writing these nasty articles about her husband (those nasty women), are they doing a good job? Melania wondered. Are they looking into the "backgrounds" of his accusers? Maybe these women journalists haven't studied their journalism 101. As for Natasha Stoynoff, the People magazine writer who said Trump forcibly kissed her at Mar-a Lago, the most important thing Melania wants you to know is that she was never friends with Stoynoff and would not recognize her on Fifth Avenue, despite the fact that Stoynoff attended the Trumps' wedding. (And the most important thing Mr. Trump would have you know, is that Stoynoff is not his idea of attractive enough for him to get all rapey with.)
Melania's other main message of the evening, apart from the women who are stalking her husband, is that it's all a vast left-wing conspiracy. All of it.
So conspiracy theories and misogyny are the flavor of Kool-Aid being downed in the gold-plated Trump household.
4. Trump supporter Curt Schilling, who is not Jewish, is pretty sure he knows what's good for the Jewish people.
Among the many outstanding citizens inspired by Donald Trump's run at the presidency is former Boston Red Sox pitcher Curt Schilling, who, glory be, has said he is planning a run for the Senate in 2018.
This marvelous wannabe public servant and meme aficionado who has bravely spoken out in support of his pal Donald Trump's right to ogle underaged girls is also pretty sure he knows what is good for the Jews.
Appearing with Jake Tapper on CNN, Schilling first thought it was a good idea to point out that Tapper is "a person of the Jewish faith," and then demanded an explanation for the voting behavior of Tapper's tribe. "Democrats hate Israel," Schilling said in essence. "Why are Jews Democrats?"
Yeah, you're a Jew, Jake! Riddle me that!
"Well," Tapper was forced to point out, "I don't speak for Jews…." Nevertheless, in his temporary role as King of the Jews, he stammered out that some Jewish people might have other things on their minds.
"I would imagine, just to try to answer your question, uh, that for many Jews who support Democrats it has more to do with Democratic support for social welfare programs than with Israel…. But some Jews who support Israel do vote Republican," Tapper said.
Schilling thanked Tapper, because he genuinely seeks to understand how "someone of your faith" can feel the way some Jews do.
Because they're being wrong.

5. Oops! Hard-right Arizona governor Jan Brewer just helped Hillary bigly.
Sometimes Republican women do help out other women, though sometimes it is quite inadvertent, and only while they are insulting another group of people for no good reason.
With Trump's lead rapidly shrinking in bright-red Arizona, Governor Jan Brewer was asked whether she thought part of the reason might be because of the rising number of eligible Latino voters in the state, especially Mexicans, whom Trump has described as "criminals and rapists."
She was unperturbed. "Nah," she told the Boston Globe. "They don't get out and vote. They don't vote."
Brewer is a well-known expert on Latinos. And she's totally down with profiling them. After all, she's the one who signed the law saying law enforcement can stop people they suspect of being in the country illegally.
But she might want to check her numbers before insulting and galvanizing what could potentially be a rather large group of voters. According to Pew Research, the number of eligible Latino voters is projected to be 40 percent higher than it was in 2008," a huge jump.
So, thanks Gov. Brewer. Your diss might just be their command.
Photo: U.S. Republican presidential candidate Donald Trump speaks during a news conference at Trump Tower in the Manhattan borough of New York, U.S., May 31, 2016. REUTERS/Carlo Allegri