Landslide? 5 States Mitt Romney Won That Donald Trump Could Lose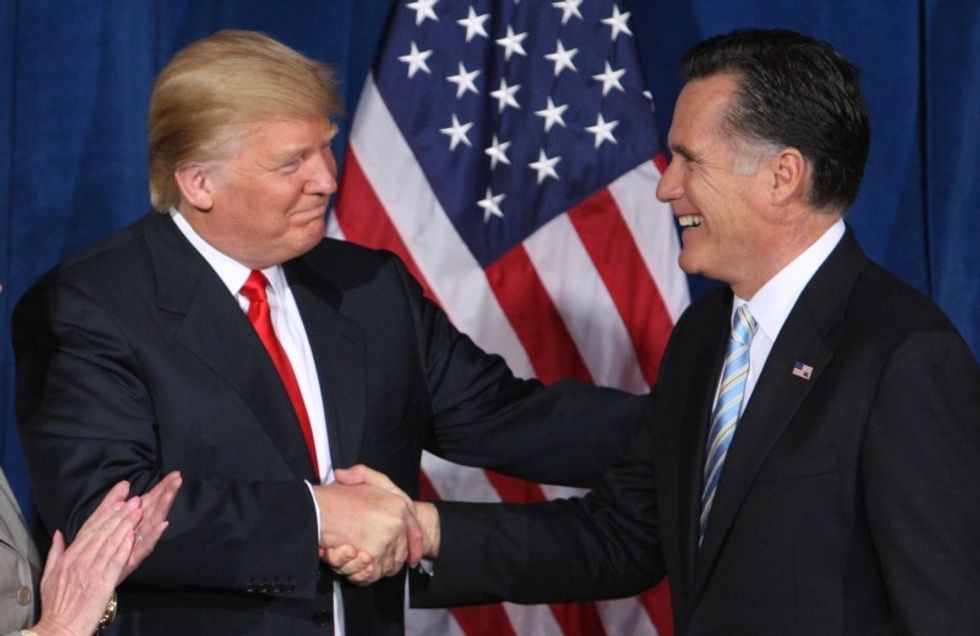 Donald Trump is crying.
He's crying "rigged." He's crying "fraud." He's even crying about "international banks" that are plotting "the destruction of U.S. sovereignty."
And in case you can't hear dog whistles, he's accusing black people of the crime of voting, while conjuring up paranoia about a vast conspiracy of the media and monied elites reminiscent of the worst tropes of anti-semitism that now happens to include a Mexican — Carlos Slim, the telecom billionaire who is the largest single shareholder of The New York Times Company. (Slim owns 17 percent of its Class A shares, although the newspaper company is still controlled by the Sulzberger family through its Class B shares.)
Also implicated in the Trumpian conspiracy are SNL's Lorne Michaels, the dozen or so women who have accused him of assault, and the microphone that caught him admitting to similar sorts of assaults on women.
"This is a guy who spent all his time hanging around trying to convince everybody he was a global elite," President Obama said, to a Clinton rally last week. "Talking about how great his buildings are, how luxurious and how rich he is and flying around everywhere, all he had time for was celebrities. And now suddenly, he's acting like he's a populist out there."
In other words, Trump's latest babbling is just telling us that he knows he's facing a loss — a huge one. And one that he won't be able to use to write off his taxes for the next 18 years.
If you want to know why Donald Trump is crying, just look at the electoral map, which suggests that he is anticipating an electoral college landslide that could be worse than any Republican has faced in 20 years, which would be shocking (or rewarding) given the trend of "negative partisanship" that has gripped American politics.
Let's take a look. But keep in mind that Trump needs to carry all of these states along with at least three more Obama won — ideally Florida, Ohio and Pennsylvania –for him to win.
(All data is from Real Clear Politics's poll aggregator.)
And this list could still be growing. See: Alaska.
Trump once bragged about turning New York and California red. Then he promised to strike a path to victory through the Rust Belt.
Now, unless something drastically changes in the next few weeks, he will struggle to invalidate the results of a landslide worse than the one suffered by Mitt Romney — the man Trump once maligned as a "choker."
IMAGE: Donald Trump and Mitt Romney shake hands after Trump endorsed the Republican's candidacy for president, February 2, 2012.  REUTERS/Steve Marcus