5 Things Politicians Think They Know About Ebola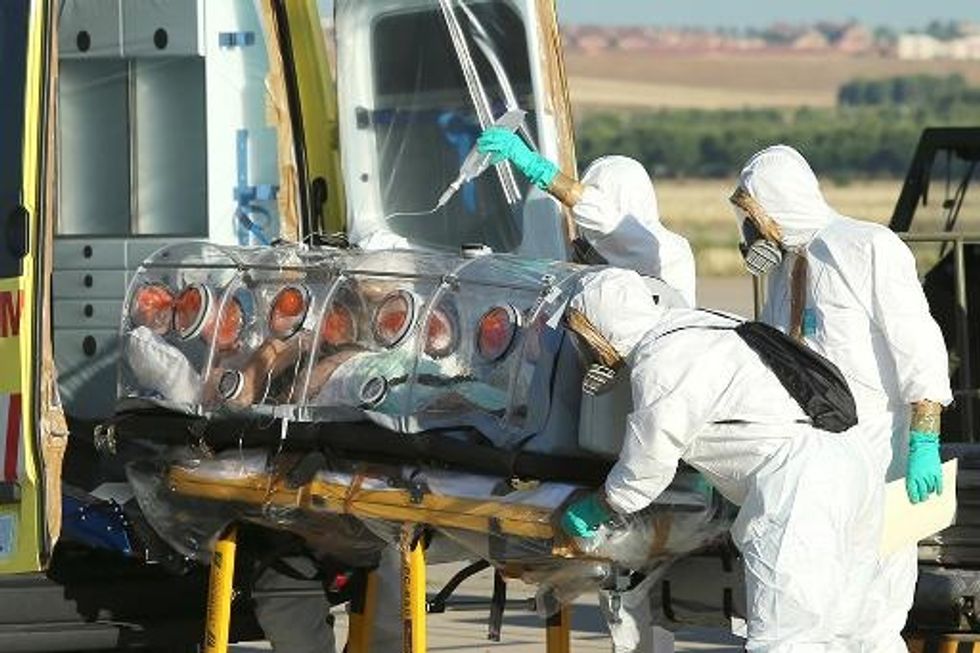 Three weeks ago, Thomas Eric Duncan became the first person to be diagnosed with Ebola in the United States. He died in Dallas, TX on October 8 and shortly after his death, two of the nurses who treated him were diagnosed with the virus. This series of events brought the issue of Ebola close to home for Americans, and sparked a strong reaction from U.S. media sources and politicians — regardless of how well they knew the subject.
Whether they were alarmists, whipping up public fear, or using the occasion for their own political advantage, here are five of the noteworthy assertions politicians made about Ebola:

Senator Rand Paul (R-KY)
Rand Paul thinks that the government has not been taking the Ebola virus seriously enough, so he is here to scare the living daylights out of you.
In a CNN interview, Paul explained his theory that "if someone has Ebola at a cocktail party, they're contagious and you can catch it from them."
Although this new information flies in the face of the facts that the Centers for Disease Control has distributed (the disease is spread only though direct contact with bodily fluids), Paul would like you to believe him: After all, he's a (self-certified) doctor. Time to cancel your cocktail parties, folks.

Scott Brown (R-NH)
Scott Brown knows the magic cure for Ebola. And it is Mitt Romney.
Brown appeared on Fox News radio last week, and told an anxious nation that if Mitt Romney had been elected president instead of Obama, we would not be dealing with an Ebola outbreak.
According to the former senator, Romney "was right on Russia, he was right on Obamacare, he was right on the economy. And I guarantee you [that if he were president] we would not be worrying about Ebola right now."

Governor Nathan Deal (R-GA)
Nathan Deal revealed some surprising news that you might not have known about the Ebola virus.
Speaking to The Marietta Daily Journal a week ago, Deal suggested that the disease can be treated simply by washing your hands.
"The most comforting thing that I heard from [Dr. Brenda Fitzgerald, commissioner of the Georgia Department of Public Health] was that water kills the Ebola virus. I've never heard that before. I thought it was something that was so contagious there wasn't much you could do to prevent it or anything else, so her advice was 'wash your hands.'" Why bother with hazmat suits when you can arm yourself with a standard garden hose instead?
After hearing that water can kill the virus, Governor Deal felt much better about Georgia's readiness for an Ebola outbreak. "We are in pretty good shape here in Georgia," he said. Stock up on your bottled water, Georgians.

Rep. Blake Farenthold (R-TX)
Representative Blake Farenthold ever so subtly invoked the politics of fear in his statement about Ebola, when he publicly stated that "every outbreak novel or zombie movie you see starts with somebody from the government sitting in front of a panel like this saying there is nothing to worry about."
NBC's White House Correspondent Kristen Welker blasted Farenthold for his I Am Legend vision of reality, noting that "some Republican candidates eyeing wins in the upcoming midterm elections are stoking public fears."

Rep. Marsha Blackburn (R-TN)
Marsha Blackburn, a U.S. representative from Tennessee, knows that we need to close the border to contain Ebola. She's just confused about which one.
In a House of Representatives panel on the government's efforts to keep the contagious virus stateside, Blackburn misunderstood the statement made by CDC Director Thomas Frieden about flight restrictions between the U.S. and African countries.
She interpreted his response, which referred to the porous borders of Liberia, to mean that we need to "worry about having an unsecure southern and northern border. Is that a big part of this [Ebola] problem?"
No, congresswoman, it is not.
AFP Photo/Inaki Gomez
Want more political news and analysis? Sign up for our daily email newsletter!