5 Things You Need To Know About Rick Perry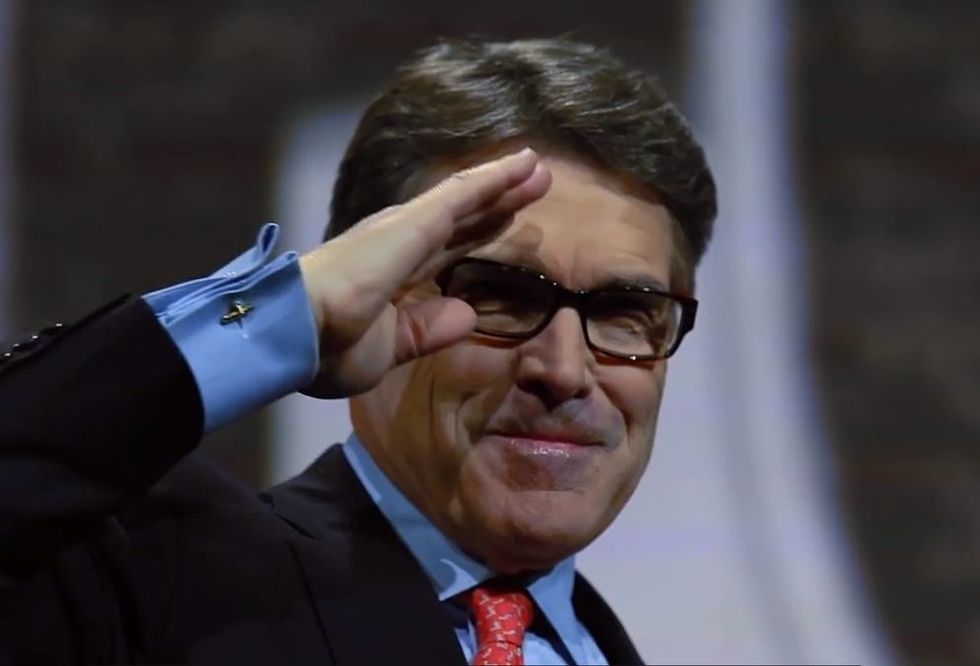 Following the release of a campaign video Thursday morning, former Texas governor Rick Perry took the stage at a rally in Dallas, Texas to announce his entry into a Republican field already congested with candidates, and declare that he is running for President of the United States — again.
In his video, he vowed to provide "leadership that transcends the petty partisanship that we've seen in the last few years," which is to say, in the years since Perry's troubled and failed run at the Oval Office in 2012.
During that campaign Perry memorably flubbed in the middle of a live television debate when he forgot which federal agency he intended to cut and got the numbers "three" and "five" confused. In an interview with CNN last year, he described the campaign as "a very humbling experience."
But his story neither begins nor ends with that memorable "oops" moment. Here are five other things every voter should know about Rick Perry.
1. He wanted to decriminalize marijuana. So he said.
In January 2014, at the World Economic Forum in Davos, Switzerland, Perry spoke at a panel on the "drugs dilemma," and expressed a desire for individual states to have the flexibility to determine their own marijuana laws.
After 40 years of the war on drugs, I can't change what happened in the past. What I can do as the governor of the second largest state in the nation is to implement policies that start us toward a decriminalization and keeps people from going to prison and destroying their lives, and that's what we've done over the last decade.
Despite his voiced wish to see marijuana decriminalized and alternatives to incarceration for low-level drug arrests introduced, Perry didn't do much to that effect during the decade and a half that he was governor of Texas.
2. He started wearing glasses after his disastrous presidential campaign in 2012.
The "oops" moment heard around the world didn't do Perry's image any favor. The people generally want their president to be able to count to three.
Not wishing to appear unscholarly, he began wearing his now-familiar black intellectual-ish-looking frames shortly after he ended his campaign. "He bought glasses," noted the Texas Observer, "and fashioned himself into the kind of man who wears glasses confidently."
All eyes will be on Perry's to see if they work this time around.
3. He was indicted on two felony counts.
Last August, Perry was indicted by an Austin grand jury for abuse of official capacity and coercion of a public official — the culmination of an ugly, public dispute he was having with Travis County attorney general Rosemary Lehmberg.
(Lehmberg was dramatically arrested for a DUI and subsequently convicted of drunk driving, but refused to resign, lest Perry replace her, a Democrat, with someone more politically friendly.)
Perry pleaded not guilty to the charges, and his standing among Iowa Republicans actually went up after the indictment.
4. He brags a lot about job growth in Texas, but he's a king of corporate welfare.
The Texas Enterprise Fund was created by the Texas Legislature in 2003 nominally to spur investment and job growth in the Lone Star State. In practice, it's become more of a slush fund for Perry to siphon money away from state's general fund and repurpose it as gifts for his favorite companies.
Rejecting the charges that his much-touted job creation effort is really just a conduit for corporate handouts, Perry has resisted attempts to audit the fund.
5. He is a loudmouthed homophobe who once compared homosexuality to alcoholism.
The country is moving forward on LGBT rights just about everywhere except among Republican candidates, who continue to bait their base with bigotry under the veil of "family values." Perry is no different.
He published On My Honor in 2008, in which he explained that all moral values Americans need to live by can be gleaned from the Boy Scouts. The book contains Perry's wisdom that homosexuality is akin to alcoholism. He clarified his point later, saying that "genetic coding" might influence people's sexual orientation or capacity for drinking, but that their desires should be able to rein that in.
In 2013, he likened opposition to LGBT rights to Texas governor Sam Houston's refusal to support or join the Confederacy — because granting equal rights is kind of like slavery, right?
Bonus: He is a former Democrat who worked on Al Gore's presidential campaign in Texas in 1988.
The Abilene Reporter-News reported in 1988 that Perry believed it was "important that conservative Texans who have traditionally voted in the Democratic Party not vote in the Republican Party simply because they want to vote for a conservative presidential candidate."
Perry switched parties in 1989, and never looked back. "I came to my senses," he said.
Screenshot: RickPerry.org