5 Times George W. Bush Extended Unemployment Insurance Benefits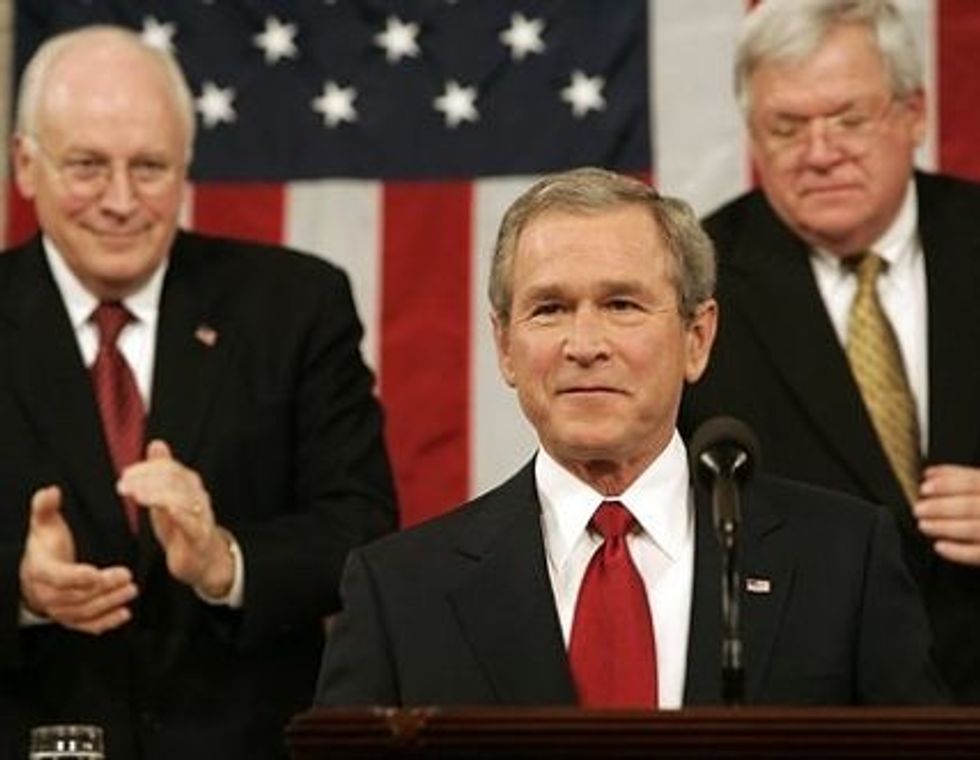 In his December 14, 2002 weekly radio address, President George W. Bush reminded Congress that "no final bill was sent to me extending unemployment benefits for about 750,000 Americans whose benefits will expire on December 28th."
He went on, "These Americans rely on their unemployment benefits to pay for the mortgage or rent, food, and other critical bills. They need our assistance in these difficult times, and we cannot let them down."
What was the unemployment rate in December 2002?
It had just risen to 6.0 percent.
The unemployment rate today is 7.0 percent and at the end of this year 1.3 million Americans — including 20,000 veterans — who have been out of work for more than six months will have their unemployment insurance benefits cut off. Republicans in Congress have refused to extend these benefits, though the Congressional Budget Office predicts failing to do so will cost the economy 200,000 jobs.
The Republican Congress heeded George W. Bush's call to extend unemployment insurance as they had the March before. They passed a bill and he signed it.
In 2003, the American economy was still dealing with the residue of the dot-com bust and economic shock of the 9/11 attacks — but it was still considerably stronger than the America that lived through the Great Recession and continues to see its growth hindered by government austerity.
The extended unemployment benefits Congress is about to let expire actually began under George W. Bush, long after his 2003 extension expired as unemployment dipped below 5 percent again. In 2008, as the financial crisis began to rock the economy, President Bush signed an extension of 13 weeks, 39 weeks total in most states, for anyone living in a state with unemployment over 6.0 percent. He also signed unemployment extensions that specifically helped the victims of 9/11 and Hurricane Katrina.
All five times Bush extended unemployment benefits, he did so with the majority of Republicans in Congress supporting him.
At the peak of the crisis, when unemployment was around 10 percent, Congress and President Obama extended benefits to 99 weeks. The current maximum is 73 weeks.

A requirement of receiving benefits is seeking a new job, but with an estimated three people out of work for every one job opening, cutting off benefits likely won't encourage jobseekers — as Senator Rand Paul (R-KY) imagines — but instead doom them to permanent unemployment. And the Center for Budget and Policy Priorities (CBPP) estimates that the 1.3 million who will be cut off in 2014 will soon swell to 5 million.
There are two huge reasons why now is not the time to cut off the long-term unemployed, explains the CBPP's Brad Stone.
While the unemployment rate has declined, the overall employment rate has not grown as it usually would during a recovery.
Secondly, cutting off benefits now for those who need them most is unprecedented.
"At 2.6 percent, the long-term unemployment rate is at least twice as high as when any of the emergency federal UI programs that policymakers enacted in each of the previous seven major recessions expired," Stone wrote.
Even conservatives recognize that it's just bad policy to refuse to renew the extension.
Democrats in Congress have vowed to tie the extension to the passage of the farm bill in order to force Republicans to approve it retroactively. They're expected to be supported by an organized grassroots effort from the left to force vulnerable congressmembers to encourage the GOP leadership to take up the bill.
But it's safe to assume that if it were President Bush asking for the extension rather than President Obama, the GOP would be happy to just say yes.