5 Troubling Facts About Pruitt's Replacement At EPA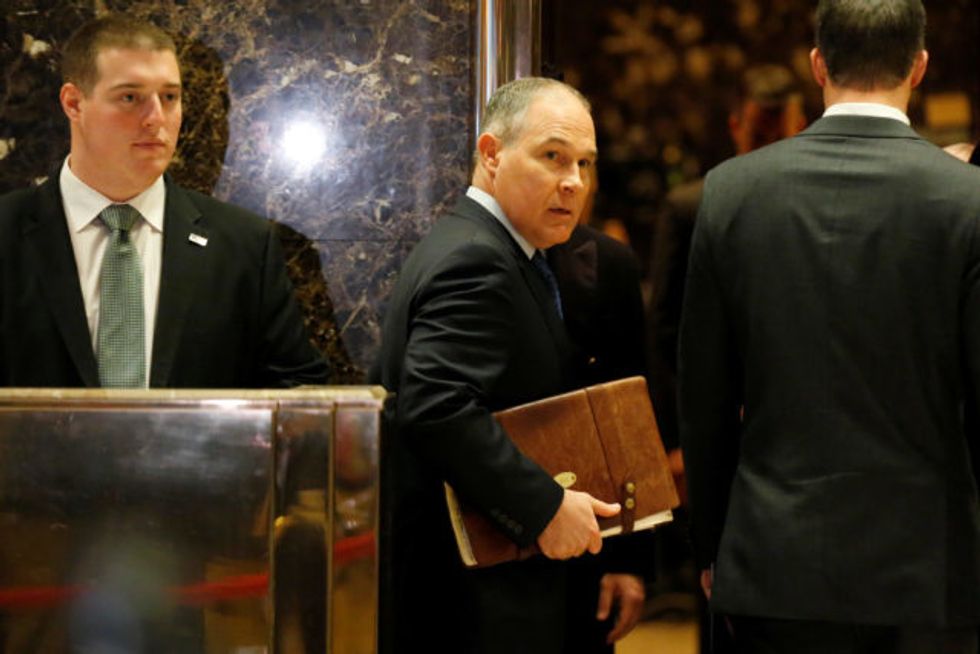 Reprinted with permission from AlterNet.
Scott Pruitt resigned as the head of the EPA after months of mounting scandals that served as an increasing distraction for the administration of President Donald Trump.
His successor will be the EPA's current deputy administrator Andrew Wheeler, a less controversial but arguably more dangerous figure.
The American people should be deeply concerned about the new EPA chief. Here are some of the biggest red flags in his background.
Wheeler Will Be Better at Destroying the Environment
Wheeler is described by the New York Times as a "consummate Washington insider who avoids the limelight and has spent years effectively navigating the rules."
The acting chief is known for being highly effective in his work and avoiding the sorts of personal scandals that consumed Pruitt.
Analysts believe Wheeler could be more effective than Pruitt at implementing Trump's deregulatory agenda at the EPA.
Wheeler Was an Energy Industry Lobbyist
Following his tenure at the EPA in the administration of George W. Bush, he became a lobbyist for Murray Energy. The head of the company is a supporter of Trump's.
"Like Pruitt, this veteran coal lobby lobbyist has shown only disdain for the E.P.A.'s vital mission to protect Americans' health and our environment," Ana Unruh Cohen, managing director for government affairs at the Natural Resources Defense Council, told the Times.
Wheeler Worked for a Climate Change Denier
The acting EPA administrator previously worked for Sen. Jim Inhofe (R-Oklahoma), a climate change denier who called the science "the greatest hoax" ever perpetrated on Americans.
Many remember Inhofe for his attempt to debunk global warming "hysteria" by bringing a snowball into the Senate.
Wheeler Really Loves Coal
He served as the vice president of the Washington Coal Club.
This organization is a quiet federation of more than 300 coal producers, corporate leaders, policy professionals and lawmakers.
Founded in 1981, the WCC is a powerful force for the coal industry today.
Wheeler Lobbied to Open Public Land to Uranium Mining
"[We] respectfully request that DOI reduce the size of the BENM to only those specific areas or sites, if any, deemed to need additional protection beyond what is already available to Federal land management agencies," Energy Fuels Resources wrote to the Trump administration in a request to open parts of Bear Ears National Monument to uranium mining.
FaegreBD was the lobbying firm that helped the organization petition the administration.
The two lobbyists who worked the Energy Fuels Resources case? Mary Bono, and now-acting EPA chief Andrew Wheeler.
Chris Sosa is the Senior Editor at AlterNet. His work also appears in Mic, Salon, Care2, Huffington Post and other publications. Follow him on Twitter @ChrisSosa.