5 Ways That Despised Chris Christie Is Trolling New Jersey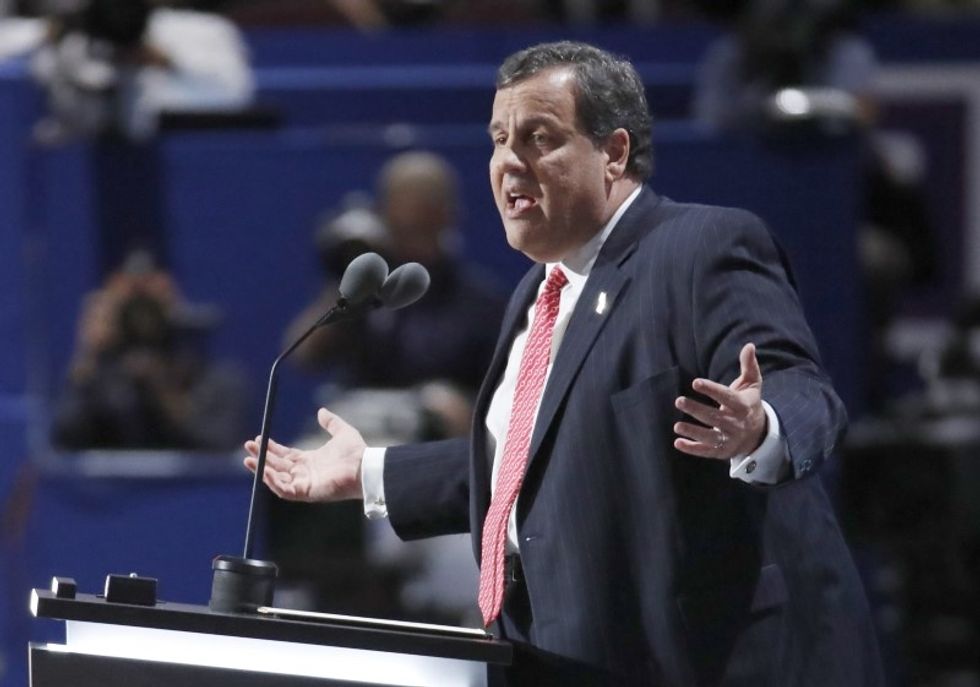 Reprinted with permission from Alternet.
Chris Christie is just trolling New Jerseyans at this point.
In June, a Quinnipiac University poll found that his approval rating stood at a dismal 15 percent, the lowest of any American governor in decades. Yet this past weekend, he was photographed sunbathing on a beach that had been closed to the public amid a state government shutdown.
Here are five ways the New Jersey governor is extending a giant middle finger to voters before he leaves office:.
1. Shutting down beaches…for taxpayers.
A health care bill involving Horizon, the state's largest health insurer, catalyzed a fiscal debacle not seen since 2006.
"I'm not happy about this," Christie said in a press conference, hours before the government shutdown began Friday. "This is completely avoidable."
As a result, all state-run parks, recreational areas, forests, camping areas, historic sites, and beaches were shuttered. But not for Christie. The New Jersey governor and his family had Island Beach State Park all to themselves on Sunday, less than 48 hours after the start of the shutdown.
In an interview WTXF-TV in Philadelphia on Monday, Christie offered this inexplicable defense of his afternoon tanning session: "Well, I'm sorry… they're not the governor."
2. No interest in helping Atlantic City.
After updating the legislation to his liking, "Gov. Chris Christie once again rejected a set of rescue bills aiming to give a boost to the financially struggling Jersey Shore gambling resort," reported NJ.com in January last year.
Christie provided no explanation for his decision, which left a $33.5 million gap in Atlantic City's municipal budget. Now, casinos could be forced to shut down if the stalemate continues, costing the city millions during peak tourist season.
3. Marijuana arrests on the rise.
A new American Civil Liberties Union report published in June found that marijuana arrests have been steadily rising under Christie, a former federal prosecutor, just as New Jersey is progressing toward legalization.
What's worse, according to the ACLU, "black residents were three times more likely than their white counterparts to be arrested on marijuana charges despite no difference in the rate of marijuana use between the two groups."
4. Commuting remains a mess.
A transportation expert pulled Crain's reporter Greg David aside ​at the Crain's Real Estate Forum in June.
"It's going to be a tense summer in the city," he warned, "with 400,000 angry people getting off the trains each day."
"He was referring to the commuters from New Jersey and Long Island derailed by track problems at Penn Station," reported David, "and the 100,000 or more subway riders who see their commute disrupted every day by the antiquated signal system."
A week earlier, New Jersey Advance Media had found that less than 50 percentof the state's morning trains to Penn Station arrived on time in May.
"State aid to New Jersey Transit declined by 90% under Gov. Chris Christie," David added.
5. Back pay not likely for workers affected by shutdown.
When 45,000 government workers were pulled off the job during New Jersey's first-ever state government shutdown, Gov. Jon Corzine, along with the state senate and assembly, agreed to grant them retroactive pay.
"Don't count on it [this time],' Christie has asserted.
"That was Jon 'I'll fight for a good contract for you' Corzine," he said of the former governor at a news conference Friday. "I ain't him."
Alexandra Rosenmann is an AlterNet associate editor. Follow her @alexpreditor.
This article was made possible by the readers and supporters of AlterNet.