5 Ways Republicans Make It Harder To Vote And Easier To Buy Elections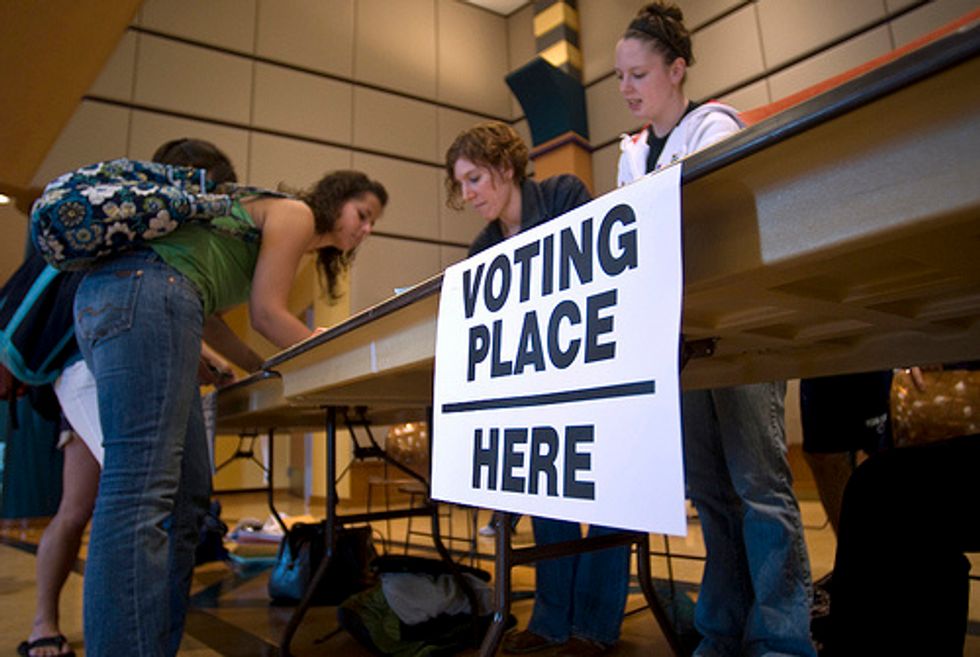 When it comes to voting rights, conservatives have to play dumb.
Over the last half-decade, Republican-led states have engaged in a concerted effort to limit voting rights that has not been seen since the civil rights struggle of the 1960s.
"From 2011 to 2015, 395 new voting restrictions have been introduced in 49 states, according to the Brennan Center for Justice, and 21 states have adopted new laws making it harder to vote, 14 of which will be in effect for the first presidential cycle in 2016," wrote The Nation's Ari Berman, whose new book Give Us The Ballottells the story of the modern battle to win the right to vote and the five-decade conservative effort to undo it.
Hillary Clinton called out several of her Republican rivals this week for their efforts to limit voting rights while proposing some simple yet radical ways to make it easier to vote, including automatic voter registration.
"She doesn't know what she's talking about," Chris Christie told CBS' Face the Nation in an interview that aired Sunday morning.
The New Jersey governor  — like all Republicans, with the occasional exception of Rand Paul — has to ignore both the broad GOP effort to keep Democrats from voting (an effort that conservatives have candidly or indirectly acknowledged several times) and his own personal contribution to it. Christie vetoed early voting in 2013 after Superstorm Sandy exposed problems with the state's voting system.
GOP presidential candidates Scott Walker and Rick Perry passed laws that will deny the vote to hundreds of thousands of citizens in their states. But they're amateurs compared to Jeb Bush, who was governor when purges of the voter rolls targeting minority voters may have helped swing Florida's electoral votes to his brother George W. Bush twice.
Echoes of the stolen 2000 presidential election could be heard clearly in 2014, when Chris Christie argued that Republicans needed to win so they could maintain control over "voting mechanisms." As head of the Republican Governors Association when the Bridgegate investigation targeted his administration, Christie set a record by raising over $100 million. And since then, he has distributed "generous gifts" to show appreciation to his donors.
While the conservative Supreme Court has gone on a rampage of undoing campaign finance laws, throwing out limits on donors and allowing unlimited anonymous donations to campaign organizations, actual voting keeps getting harder — but only for certain Americans.
Black, Latino, and Asian voters all have to wait longer to vote than their white peers. They also tend to vote Democratic more often, which is exactly the point. Republicans think voting should be harder, but buying an election should be easier, because they're so much better at attracting the .01 percent of donors who sway our politics than voters. Here are five ways that Republicans use "voting mechanisms" to undermine the will of the people.
1. Ensuring long lines.
Republicans didn't steal the 2012 election, but they sure tried. Voters in mostly Democratic areas of Florida had to wait up to 9 hours to cast their ballots. Theodore Allen, an associate professor of industrial engineering at OSU, took a look at voting in central Florida and found that as many as 49,000 voters did not vote because of the long lines. Those who did not vote favored Obama by a nearly 2-to-1 margin, 30,000 to 19,000. There's also evidence that long lines helped George W. Bush take Ohio in 2004.
2. Inventing crimes that do no exist.
Voter ID laws have become the fashionable rage among Republicans during the past six years, even though there's no evidence that they do anything but disenfranchise voters. Since 2000, more than a billion ballots have been cast. A recent study found that only 31 cases of voter fraud were discovered during that entire time. Hence we get that dark, disgusting satire of the guys who tell us 30,000 gun deaths a year mean we should enforce current laws, while they invent new government regulations to deter a crime rarer than looting after a lightning strike. These voter ID laws poll well because the public assumes good faith and doesn't recognizes the Kafkaesque obstacles that many poor and elderly have to get through to pay for new documentation that could cost as much in today's dollars as the unconstitutional poll taxes of our past.
It's hard because the laws' Republican backers purposely make those procedures difficult — by excluding forms of identification to hinder the Democratic voters they'd like to disenfranchise.
3. Registration restrictions.
Clinton's elegant call for automatic voter registration cuts to the core of the right's hypocrisy on voting. The right-wing movement that decries bureaucracy and trumpets the Founders' cry of "No taxation without representation" in fact loves red tape and barriers to democracy, in order to keep "them" from the polls. When North Carolina introduced the most draconian anti-voting rights bill since Selma — made possible by a Republican landslide that apparently proved voting fraud was rampant — the Tarheel State canceled same-day voter registration. Proof-of-citizenship laws have exactly the opposite impact their supporters claim to want.
"State laws requiring voters to submit documentary evidence of citizenship in order to register to vote are already having a dramatic and harmful effect on citizens' ability to participate in the political process in the states that have them," Demos' lead counsel Stuart Naifeh found. "Conversely, they do almost nothing to reduce voter registration fraud, a problem that barely exists in the first place." (Incidentally, the most notorious instance of alleged voter fraud in recent years involved right-wing commentator Ann Coulter, but the Republicans defended her.)
4. Opposing disclosure.
While Republicans will go to extraordinary lengths to demand identification from potential voters, they're equally insistent on blocking any transparency from donors. GOP 2016 candidates including Jeb Bush have given their support to dark money groups that could raise unlimited money from anonymous sources. The DISCLOSE Act would require speedy disclosure of those donations and their sources, from both the political action groups masquerading as "social welfare non-profits" and from labor unions. Republicans in the Senate blocked it.
5. Gutting the Voting Rights Act — and refusing to fix it.
When the Supreme Court's ruling in Shelby County v. Holder gutted Sections 4 and 5 of the "crown jewel" of the civil rights movement — the Voting Rights Act — that wasn't an accident of history. Conservatives had been plotting to undo the legislation since President Johnson signed it into law in 1965, although Republicans in both the Senate and House had overwhelmingly voted yes. The court's ruling was based on invented jurisprudence and ignored the continued necessity of the law. "The Southern states that were previously subject to 'pre-clearance' have been particularly aggressive in curbing voting rights," Ari Berman wrote. Some have called the decision as bad as Plessy v. Ferguson, which legalized segregation.
And as soon as the court removed the requirement of pre-clearance, which has fundamentally transformed the American electorate, Texas, Alabama, North Carolina and Mississippi sped into action to implement requirements that had been deemed discriminatory in recent years. Now the same people who undid the VRA are challenging the notion of "one person, one vote" that has played a major role in increasing minority representation.
Facing a demographic tsunami that, if current voting patterns hold, could shrink the GOP into a regional party, Republicans have decided to build a levee that cannot hold, instead of seeking higher ground. When called out for what they're doing, all they can do is pretend that they aren't the disenfranchisers we're looking for.