5 Ways Trump And The GOP Are Campaigning Like Losers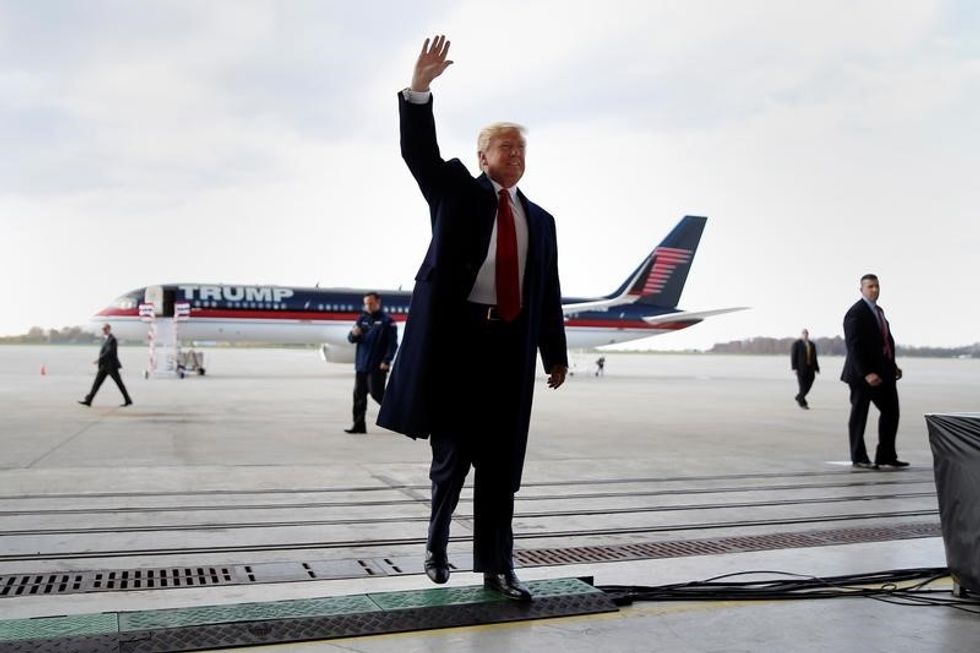 Nobody wants to jinx the defeat of the most singular threat to American democracy to ever crawl out of the WWE Hall of Fame. But something is going on.
Early voting hasn't been uniformly good for Hillary Clinton's campaign. But as tens of millions of voters have been making their way to the polls, the news has been getting progressively better out of the three key early voting battlegrounds — North Carolina, Florida, and Nevada.
If the Democratic nominee sweeps or even picks up two of these three bellwether states, it will be nearly impossible for Donald Trump to become our God Emperor Overlord, or whatever he thinks the president does.
North Carolina's Republicans have surgically limited early voting sites to make getting a ballot more difficult for students and black voters. But signs still point to a Clinton lead in the state Barack Obama won in 2008 and lost in 2012. Florida was a worry for Democrats as Republicans led the early vote until Friday. But Saturday was the best day for the Clinton campaign, with Miami-Dade county, rich in Latino and left-leaning voters, delivering a 67 percent increase from 2012.
And in Nevada on Friday night, there was a nightmare scene for the right as Latinos waited on line for hours at the Cardenas Market to summon justice upon the man who has smeared them, their families and friends as "rapists and criminals." They brought their best and if you do the math, as veteran Nevada reporter John Ralston does every election year, you might see that the chances of Trump winning the state "are about the same as Billy Bush anchoring the CBS Evening News."
The Atlantic's Ronald Brownstein suggests that the focus on these states outside of Democrats' "blue wall" may have "overestimated her hold on the states most central to her strategy." But the seeming effectiveness of her ground game — which towers over her opponents' Twitter plan of having people in red hats gathering to join their leader in yelling at the press — should allow a little optimism.
How much?
Well, are you a Bill, a Nate, a Nate, a Drew or a Sam?
Trump campaign mascot and conservative radio host Bill Mitchell is still preaching the Trump gospel that only the polls that show the Republican nominee winning can be correct. FiveThirtyEight's Nate Silver, the savior of Democratic nerves in 2012, isn't willing to be your salve this time, after missing the rise of Trump in the GOP primary; he's saying Clinton has a lead in the race but it's "tenuous" at best, with a 60-70 percent chance of making history. The Upshot's Nate Cohn sees a "solid lead" for Clinton and an "unclear" map for Trump. Thus his paper's model suggests Democrats' hopes are in the mid 80s. Daily Kos Elections'  Drew Linzer isn't as well known as his modeling colleagues, but he was the most accurate forecaster in both 2012 and 2014. His model gives Clinton nearly a 90 precent chance of capturing the White House.
And then there's Princeton Election Consortium's Sam Wang, the man who can soothe any Clinton-backing nervous wrecks enough so they can join some "Get Out the Vote" operations. Wang has Clinton's chances of carrying at least 270 electoral votes at almost 100 percent.
There's still plenty to worry about, including the unprecedented way the FBI intervened in this election, which rocked the polls and hurt Democrats' chances of taking the Senate and thus America's chances of having a functioning Supreme Court.
As a member of Hillary Clinton's inner circle told Newsweek, "You don't overthrow 5,000 years of patriarchy without a fight." But the most positive signs for Democrats may be the manner in which the GOP and Trump are campaigning.
Here are five ways Republicans and their nominee seem to be telegraphing a defeat on November 8.
IMAGE: U.S. Republican presidential nominee Donald Trump attends a campaign event in Wilmington, Ohio, U.S. November 4,  2016.   REUTERS/Carlo Allegri/File Photo