5 Ways You Know Trump Knows Trump Is Losing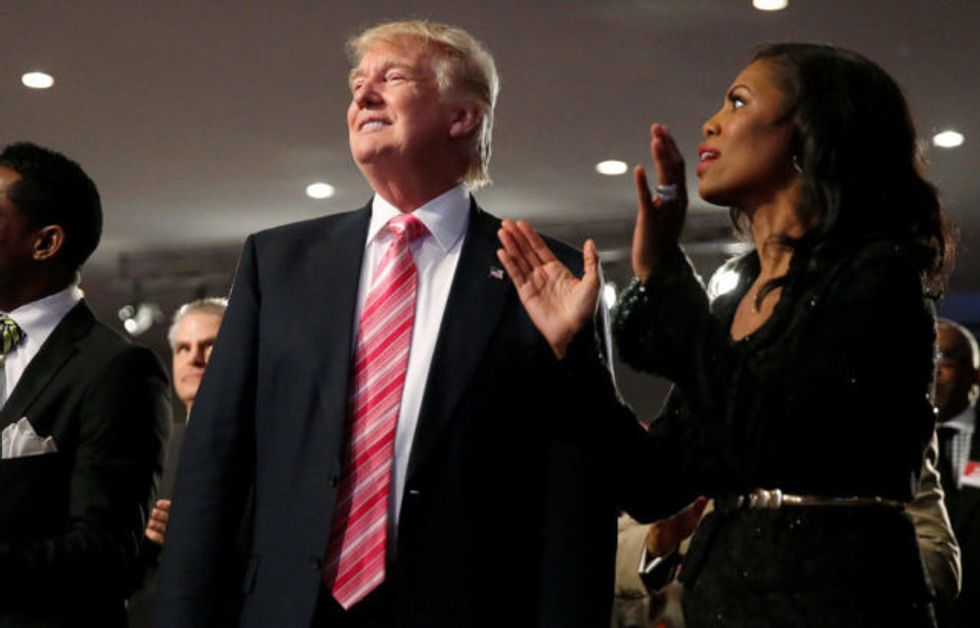 This is the video that should never stop terrifying America.
Just a little over a year ago, the idea of Donald Trump becoming the Republican nominee for president was a joke — especially to many of the people who get paid the most to inform the public about politics. The press largely saw his candidacy as a harmless ratings boost. So they fed off his nativist bleating for the sweet sugar of a high ratings and access to a famous-for-being-famous guy who wore makeup than they did.
Democrats nervously watched as Trump stampeded the GOP, surfing on waves of agony and ecstasy.
Liberals couldn't help but be a bit giddy at watching a party on the verge of nearly unprecedented political domination seemingly stick a fork into its own prospects. But they had to be horrified seeing how eager the press is in feeding interest in the election by boosting the prospects of a man who makes mockery of their questions, the truth and the most basic requirements to be president.
Republicans and the press refused to take Trump seriously. Maybe it wouldn't have mattered.
But Democrats don't seem to be making that mistake.
President Obama is set to take his 50+ percent approval rating on the road for a dozen appearances on behalf of Hillary Clinton. Bernie Sanders will begin stumping for Clinton and Senate Democrats on Labor Day in New Hampshire. You can expect to see Vice President Biden, Elizabeth Warren and Michelle Obama on the campaign trail along with aspiring First Dude Bill Clinton, who will likely outdo his 2012 marathon that saw dozens of appearances on behalf of President Obama.
Meanwhile the Clinton campaign will exploit its significant cash and field advantage, which already seems to be delivering with polls that show Democrats performing nearly as well with likely voters as they do with registered voters, a rare phenomenon in recent elections.
While the national numbers are tightening, as they almost certainly will continue to do before Election Day, all signs are pointing to a Republican Party in actual disarray.
"The plan to get to 270 electoral votes remains unclear," Politico reported last week. "The battleground state deployment plan is a work in progress. Money from big donors is slowing to a trickle. And aides are confused about who's calling the shots."
Trump can still win, of course. But his prospects are bleak if you believe, as the latest YouGov/CBS News poll tells us, that Clinton is leading in both Pennsylvania and North Carolina. Romney won North Carolina and Trump is this far outperforming the GOP nominee only in Iowa. Trade the Tar Heel State for the Buckeye state and Clinton outperforms Obama's 2012 electoral college landslide by 9 electoral votes.
But the best sign that Democrats are successfully taking the threat of Trump presidency no matter how often they mock him is that Trump finally seems to get that he's losing.
Here's how we know that realization that he's losing is finally sinking through Trump's toner:
Affirmations replacing confirmation.
Trump's tweets increasingly seem like a man who is trying to convince himself of something. "People will be very surprised by our ground game on Nov. 8," he tweeted last week. "We have an army of volunteers and people with GREAT SPIRIT! They want to #MAGA!" He's right that people will be surprised if he has any ground game at all. The problem is Clinton probably will have the most advanced ground game in American history. Trump needs to outperform Mitt with either minority voters or white voters. He's doing worse with both. That's because Trump's gains with working class white voters are being drowned out by his losses with college-educated white voters, especially women. No wonder you don't see him tweeting or ranting about many polls that show him winning anymore. And when he does, the tweets brag about him barely leading in Utah, a state Romney nearly won by triple digits.
"Hardening" and "softening."
With all this talk of "softening" and hardening", you'd think Trump's campaign was being managed by Cialis. A few weeks ago Trump suggested that he was "softening" on immigration. A few days later, he suggested that some people were calling it a "hardening." This has become a constant pattern in his general election campaign. He makes a desperate attempt to seem calm and presidential, by say visiting with the president of Mexico, and then immediately negates his own effort by giving an anti-immigrant speech that turns off the exact voters he just aimed to win over.
Still working on securing his base.
Trump obviously feels most comfortable appealing to the working class Republicans who gave him the Republican nomination. He can't help appealing to them at the cost of a strategy that could win over the college-educated Republicans he needs. His immigration speech promised millions of deportations at worst and a version of self-deportation scheme that cost Mitt the Latino vote. But the tone was right out of the Alt-Right/white nationalist playbook, speaking to voters who fear the future — voters who already voting Trump. Even if this is his path to victory, it's a recipe for destroying the Republican Party.
Blame game has begun.
Without polls to beat his chest about, Trump has begun casting blame for his lost on the chimera of voter fraud, an especially disgusting tact given how the North Carolina GOP's attempt to disenfranchise black voters by focusing on this fraud of a anti-fraud effort has been finally exposed and hindered by the courts. This attempt to delegitimize any Clinton victory is dangerous and probably unprecedented — and it's speaks to a narcissist preparing himself for the shaming of a lifetime. But if Trump goes down in November, it will likely by difficult for him to focus his anger on just a fantasy of another conspiracy. Instead you'll likely see Team Trump turn fire on the Republican National Committee and an RNC no longer beholden on the candidate for fundraising return fire. Trump's de factor campaign manager and son-in-law Jared Kushner has already suggested that "the national committee might not be giving Mr. Trump all the support he was due."
Focusing on an exit strategy.
It's difficult to believe that Trump would turn his millions of backers on the GOP, unless you recognize that he's following the exact business model conservatives have indulged in for years to move the party in its direction: painting the establishment as the source of all evil. Speculation about Trump using his candidacy to launch his own media empire suggests a profit motive for fracturing the audience of GOP and its main press outlet — Fox News. And Trump's unwillingness to engage in any minority outreach that doesn't stink of a blatant swindle to win over anxious white voters suggests that he's more interested in keeping his base loyal than winning an election. This is probably because he realizes that by actually softening his image to win over new voters at this point would be far too little, way too late. At this point, his best hope is to stick to "his brand" and pray for the press that financed his primary campaign to find some way to put him in the White House.
Photo: Republican presidential nominee Donald Trump and Omarosa Manigault attend a church service, in Detroit, Michigan, U.S., September 3, 2016.   REUTERS/Carlo Allegri