50 Preexisting Conditions That Can Make You Lose Your Insurance If Trump And GOP Have Their Way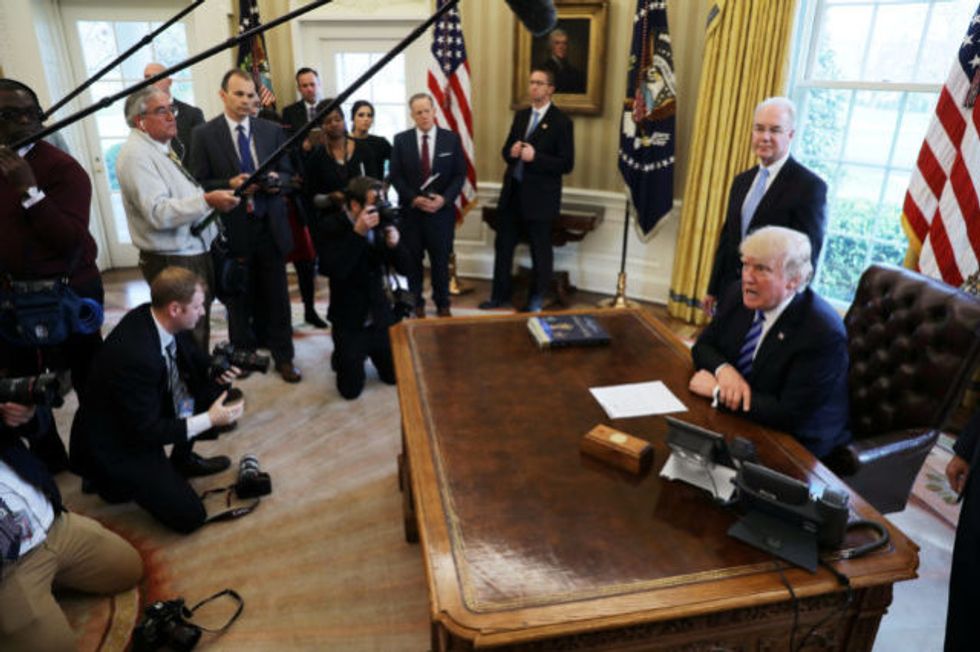 Reprinted with permission from Alternet.
Republicans have made more than 50 attempts to destroy the Affordable Care Act since its passage in 2009. They made their most successful attempt to date on Thursday, when House GOP members voted to repeal and replace the ACA with their own health care plan. According to estimates, the Republican bill "will create tax breaks worth about $600 billion that will mostly go to health insurance companies, prescription drug manufacturers and the wealthy." The GOP plan will also cut Medicaid by about $880 billion, draining funds for special education programs in K-12 schools around the country and leaving an estimated 24 million Americans without insurance, among many other consequences. Brand new bill, same GOP cruelty and greed.
One of the most discussed problems with the American Health Care Act, or Trumpcare, is that it would allow states to let health care providers charge people more for coverage. That means the sick could actually be priced out of the insurance they desperately need. The people most likely to suffer under the new Republican are older people and people in rural America, who overwhelmingly went for Trump. In fact, the 11 states with the highest number of adults with preexisting conditions all voted to live in Trump's America.
Which ailments are on the list of preexisting conditions that can drive up prices for coverage? The Kaiser Family Foundation catalogs "so-called declinable medical conditions" before the ACA.
AIDS/HIV
Alcohol or drug abuse with recent treatment
Alzheimer's/dementia
Anorexia
Arthritis
Bulimia
Cancer
Cerebral palsy
Congestive heart failure
Coronary artery/heart disease, bypass surgery
Crohn's disease
Diabetes
Epilepsy
Hemophilia
Hepatitis
Kidney disease, renal failure
Lupus
Mental disorders (including anxiety, bipolar disorder, depression, obsessive compulsive disorder, schizophrenia)
Multiple sclerosis
Muscular dystrophy
Obesity
Organ transplant
Paraplegia
Paralysis
Parkinson's disease
Pending surgery or hospitalization
Pneumocystic pneumonia
Pregnancy or expectant parent (includes men)
Sleep apnea
Stroke
Being transgender (Listed as "Transsexualism")
Time magazine spoke with Kaiser's associate director Cynthia Cox, who suggested the list could be far more expansive. "There are plenty of other conditions, even acne or high blood pressure, that could have gotten people denied from some insurers but accepted and charged a higher premium by other insurers," Cox told the outlet.
Here are more illnesses you should magically avoid, lest you run the risk of being monetarily punished for getting sick.
Acid reflux
Acne
Asthma
C-section
Celiac disease
Heartburn
High cholesterol
Hysterectomy
Kidney stones
Knee surgery
Lyme disease
Migraines
Narcolepsy
Pacemaker
Postpartum depression
Seasonal affective disorder
Seizures
"Sexual deviation or disorder"
Ulcers
Only 20 House Republicans voted "no" on the AHCA, which passed 213 to 2017. Some of those who voted yes have since admitted they never read the bill. Nonetheless, Trump and his congressional band of merry Ayn Rand adherents were absolutely giddy post-vote/pre-beer pong:
The legislation now heads to the Senate floor.
[TIME]
Kali Holloway is a senior writer and the associate editor of media and culture at AlterNet.
This article was made possible by the readers and supporters of AlterNet.