59 Years Ago, Discrimination Law And Sports Intersected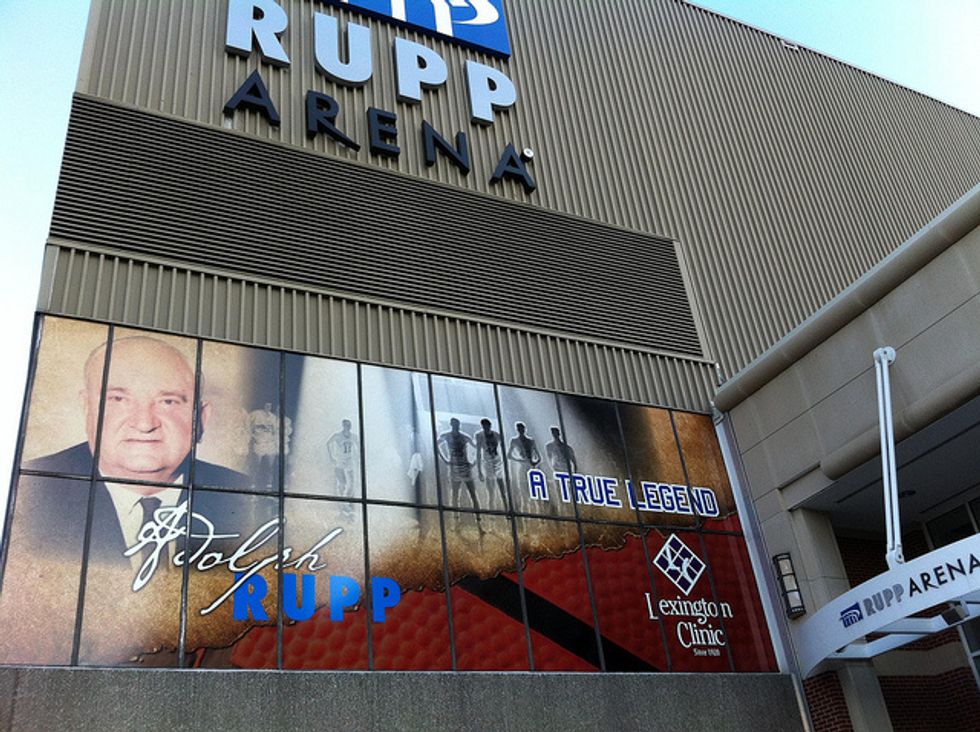 By Frank Fitzpatrick, The Philadelphia Inquirer (TNS)
The national controversy that clouded the run-up to a Final Four that concluded Monday night in Indianapolis wasn't the first collision between basketball and civil-rights politics.
In Louisiana in 1956, as in Indiana 59 years later, a four-team basketball tournament involving a favored Kentucky team was engulfed in a political storm, though the divisive issue then was race and not sexual preference.
And as in Indiana, where a recent religious-freedom law was widely seen as discriminatory against homosexuals, the Louisiana dispute involved changing cultural mores, a conservative legislature, worried civic and business leaders and, ultimately, government intervention that saved the event.
The turmoil surrounding the 1956 Sugar Bowl, a Christmas basketball tournament run by the organizers of the better-known New Year's football game, had been triggered two years earlier by the Supreme Court's historic ruling outlawing segregation.
In the tumultuous southern reaction to Brown V. Board of Education, many cities and states responded by transforming long-standing Jim Crow customs into hardened law.
Louisiana's legislature passed a flurry of such bills in 1956. One, Act 579, widely known as the Athletic Events Bill, outlawed all public interaction between blacks and whites.
"All persons, firms, and corporations," it read, "are prohibited from sponsoring, arranging, participating in, or permitting on premises under their control any dancing, social functions, entertainments, athletic training, games, sports or contests, and other such activities involving personal and social contacts, in which the participants or contestants are members of the white and negro races."
Powerful interests in New Orleans immediately foresaw financial consequences, though the only civic entity initially willing to speak out in opposition was the Mid-Winter Sports Association (MWSA), organizers of the popular football and basketball Sugar Bowls.
That group prodded Governor Earl Long to veto the legislation. But the son of populist politician Huey Long refused.
"My mail," he told reporters, "is running four-to-one in favor of the legislation."
Next, Sugar Bowl organizers sought to water down the bill, proposing an exemption for New Orleans. When lawmakers rejected that, the group devised a failed plan that essentially would have created tiny integrated islands within an otherwise segregated arena and stadium.
Racial restrictions in college sports were loosening slowly in the 1950s, but not in the South. The region's three largest conferences — the Atlantic Coast, Southeastern and Southwest — remained segregated and would be for another decade.
The 1956 Sugar Bowl field was comprised of three Catholic schools — Dayton, St. Louis, and Notre Dame — and the most dominant team in college basketball, Adolph Rupp's Kentucky.
When action to invalidate or weaken the Louisiana law failed, Notre Dame and St. Louis, each of whom had black players, withdrew. Dayton, though it had no blacks at the time, did the same.
"If we went to the tournament as it now stands," said Dayton athletic director Harry Baujan, "we'd be condoning the law."
Kentucky Governor Happy Chandler, assuming the event would be canceled, hastily made plans for a new Christmas tournament in Louisville, the Blue Grass Classic, that would feature the Wildcats.
Rupp's Kentucky team was all-white. He wouldn't add his first black player, Tom Payne, until the 1970-71 season, well after most SEC teams had integrated.
Some Kentucky alumni saw the Sugar Bowl controversy as a chance for the border-state school with national ambitions to make a positive statement on race. They urged UK to join the other schools in withdrawing.
"Here is a situation where the University of Kentucky could courageously show that principle is more important to it than the 'sugar' in the Sugar Bowl," Herschel Weil, a 1922 grad, wrote to UK president Frank Dickey.
But as Rupp himself had done so often when questioned about racial issues, Dickey used contractual obligations as an excuse. The school had promised the organizers it would appear, Dickey said, and it intended to honor that commitment.
"I agree with you that the problem of the religious and moral implications in this situation is a difficult one," wrote Dickey in response to Weil. "However [I] feel that the moral values of integrity and honesty are also involved."
Rupp's influence on the decision can't be determined but he and Kentucky helped round up three southern schools — Houston, Virginia Tech, and Alabama — as replacements and the 1956 Sugar Bowl, which the Wildcats won easily, went on.
Asked for his reaction to Act 579's impact on what had been one of the nation's premier holiday tournaments, MWSA president Paul DeBlanc said: "That's the law and we will try to live under it."
Three years later, the U.S. Supreme Court declared that law unconstitutional.
But the Sugar Bowl, perhaps a little gun-shy given its 1956 experience, would not include another northern team until Xavier of Ohio in 1962.
Photo: wlef70 via Flickr