6 Manufactured News Scandals Produced And Promoted By Breitbart News And New Trump Campaign Chief Bannon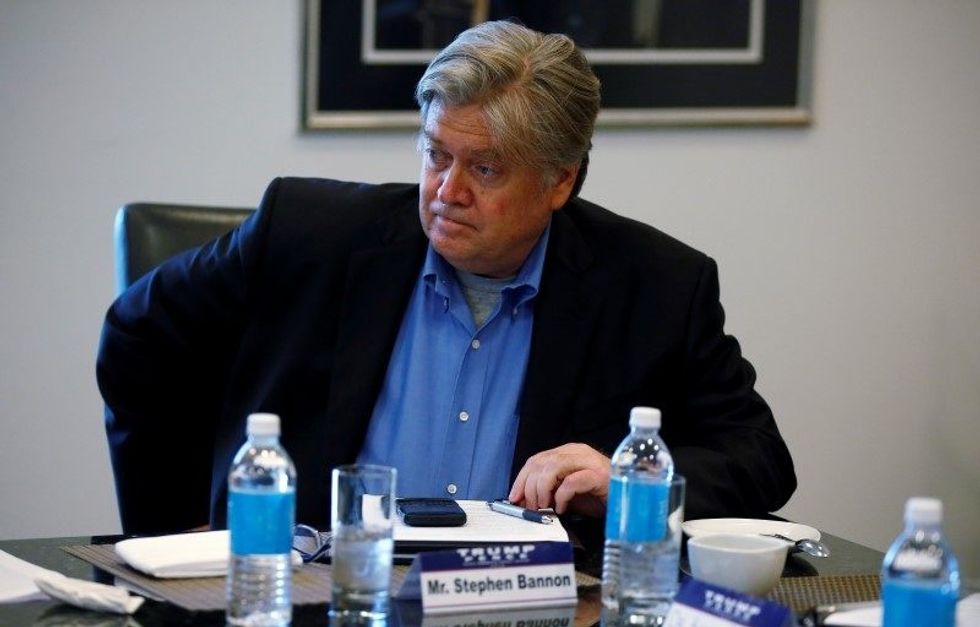 Published with permission AlterNet.
Since its inception, the aim of Breitbart News has been to taint liberals and the left with the stench of scandal, by any means necessary. Most often, the favored means involves manufacturing scandal, sometimes through innuendo and misconstruance, and most effectively through the posting of misleadingly edited video.
Now Breitbart News CEO Stephen K. Bannon brings those same fact-free, mud-slinging values to yet another reboot of Donald J. Trump's flagging presidential campaign. On Wednesday, Trump named Bannon as his new campaign chief, replacing Paul Manafort, who resigned today under a cloud of scandal concerning his consulting work for the deposed Ukrainian former president Victor Yanukovych, widely viewed as a tool of Russian President Vladimir Putin.
Here we offer a brief overview of six scandals manufactured by Breitbart News, both under Bannon's leadership and that of Andrew Breitbart.
1. Louisiana flooding and Obama. Nowhere in the Breitbart News coverage of the federal response to the ongoing flooding disaster in Louisiana will you see a quote from Gov. John Bel Edwards suggesting that now would not be a good time for President Barack Obama to visit his state because of the logistical nightmare it would impose on first responders. Instead, what you'll find is invective against the president for being on vacation, and a characterization of his absence from the scene as something negligent.
Yet, here's what Edwards has had to say about it, according to the Times-Picayune :
Edwards said a presidential visit could cause additional problems for flood recovery efforts. Obama's motorcade requires many roadways to be shutdown—and many local streets are still closed because of the flooding. Also, a presidential visit puts a strain on law enforcement. First responders shouldn't be pulled away to deal with Obama, when they are needed for search and rescue missions still, Edwards said.
The Breitbart slam on Obama was published alongside a report that Donald Trump and running-mate Mike Pence headed today to Louisiana. Not that they'd want to exploit the disaster for political purposes or anything.
2. Benghazi! Bannon is part of a cabal that demanded the Republican Congress pursue endless investigations of the State Department response to the 2012 terrorist attack on the U.S. consulate in Benghazi, Libya. If you're wondering why Congress has so far spent $6.7 million investigating the tragedy, it's partly over the fear that Breitbart News will marshal its resources to push members of the relevant congressional committees out of office if they don't come up with a viable scandal to hang around the neck of Democratic presidential nominee Hillary Clinton, who served as secretary of state when the incident happened. (Breitbart News is credited with having forced the resignation of former House Speaker John Boehner.)
In 2013, Mother Jones exposed the agenda of Groundswell, a weekly planning meeting convened by the right-wing group Judicial Watch. Bannon's name was on the guest list for a May 8, 2013 meeting, and Breitbart reporter Matthew Boyle and the late editor Mike Flynn were active on its listserv and participants in the messaging strategies on a range of issues at the time of the Mother Jones report. Others in the group, according to Mother Jones:
One of the influential conservatives guiding the group is Virginia "Ginni" Thomas, a columnist for the Daily Caller and a tea party consultant and lobbyist. Other Groundswell members include John Bolton, the former UN ambassador; Frank Gaffney, the president of the Center for Security Policy; Ken Blackwell and Jerry Boykin of the Family Research Council; Tom Fitton, the president of Judicial Watch; Gayle Trotter, a fellow at the Independent Women's Forum; Catherine Engelbrecht and Anita MonCrief of True the Vote; Allen West, the former GOP House member; Sue Myrick, also a former House GOPer; Diana Banister of the influential Shirley and Banister PR firm ; and Max Pappas, a top aide to Sen. Ted Cruz (R-Texas).
In one email message to the group, Boyle assures Groundswell members:
"I'm saying we can get pieces out fast on Breitbart. Whenever you have an idea, email or call me with a pitch and I'll do my best to get the story out there. Keep us on offense, them on defense. Even if the idea isn't perfect, I can help massage it to get there."
Audio of one of the group's meetings obtained by Karoli Kuns of Crooks and Liars reveals Boykin of the Family Research Council pushing the false Benghazi narrative of a State Department coverup, suggesting that the message be conveyed to Boehner and Rep. Darryll Issa (R-Calif.), then chairman of the House Oversight and Government Reform Committee, that nothing short of the appointment of a special committee on the Benghazi matter would do. Conspiracy theorist, Islamophobe and birther Frank Gaffney is heard saying that in a meeting the previous night, he impressed upon the speaker and the committee chair that "there's a lot of restiveness on the part of folks like us, and some of their donors as a matter of fact." In May 2014, Rep. Trey Gowdy (R-SC) was appointed to lead the newly formed Select Committee on Benghazi.
Breitbart News stepped up to spin every small revelation into a false narrative of a gargantuan scandal.
3. False 'sting' on Planned Parenthood. Breitbart News was the big player in disseminating the demonstrably false narrative that Planned Parenthood sells the body parts of aborted fetuses for profit. No matter that it's not true: The story, however many times it's been debunked, has been used as a bludgeon in Congress and state legislatures across the nation as a reason to withhold government funding of Planned Parenthood's health-care services to poor and working-class women.
In a series of videos concocted by Daniel Daleiden of the Center for Medical Progress, interviews with Planned Parenthood employees are misleadingly edited to confirm the false narrative. (The true story is that if a woman having an abortion at a Planned Parenthood opts to donate the fetal remains for medical and scientific research, Planned Parenthood facilitates the donation, sometimes charging the recipient to cover the costs of preparation and transportation of the aborted fetus.)
In March of this year, Florida was the 12th state to defund Planned Parenthood's health care, and Republicans in Congress attempted to withhold federal funds in a bill that was vetoed by President Obama . Parts of the Florida law were struck down on Thursday by a federal judge, but in other states, similar laws remain in effect.
While in Florida, the defunding legislation has been rolled back by a federal court, the false narrative has stuck. In November 2015, gunman Robert Lewis Dear, Jr. shot and killed three people and wounded nine, using the phrase "no more baby parts" to explain his actions to police .
4. The smearing of Shirley Sherrod. Bannon may have been a talented maker of propaganda before he met Andrew Breitbart, who honed his skills at the Drudge Report, but under the latter's tutelage, he learned the art of the smear. According to Joshua Green of Bloomberg Businessweek , Bannon "marveled at Breitbart's visceral feel for the news cycle and his ability to shape coverage through the Drudge Report, which is avidly followed by TV producers and news editors."
Yet one of Breitbart's most famous smear campaigns actually got him in trouble with the right—once it splashed back all over the movement.
In July 2010, Breitbart's BigGovernment site posted an explosive video of Shirley Sherrod, a black official of Obama's Department of Agriculture appearing to say, in a speech to the NAACP, that she would not provide help to a white farmer who was on the verge of losing his farm. Breitbart's posting of the video appeared to be in retribution for a July 16 vote taken at the annual meeting of the NAACP in which delegates unanimously condemned racist elements in the Tea Party. The Obama administration promptly fired Sherrod, and Ben Jealous, then leader of the venerable civil rights organization, called Sherrod's remarks "appalling." The right exploded in celebration. It was to be short-lived.
The NAACP searched its video archives and unearthed the full video of the speech, which showed Sherrod making exactly the opposite point of that depicted in the highly edited version posted on Breitbart. In fact she said that, in setting aside any race-based judgment she might have made about the farmer, Roger Spooner, she learned that the real enemy was poverty.
Spooner stepped into the media limelight to defend Sherrod. "If it hadn't been for her, we would've never known who to see or what to do," he told CNN . "She led us right to our success."
Still, the life of Shirley Sherrod—whose father was shot to death by a white farmer in a dispute over livestock—was forever changed. President Obama called her to not quite apologize, and Agriculture Secretary Tom Vilsack offered her another position, which she declined. She brought a lawsuit against Breitbart News, which was settled in October 2015 (terms undisclosed).
Fox News, which heavily promoted Breitbart's false Sherrod narrative, was for a time banned from appearing on the channel's shows.
5. The destruction of ACORN. In 2009, Breitbart protégé James O'Keefe and sidekick Hannah Giles set out to conduct a "sting" on ACORN, the community organizing group that, in addition to its advocacy work on housing for poor people, conducted a get-out-the-vote operation among the nation's poor (who, when they vote, tend to vote for Democrats). The two posed as pimps, or pimp-and-sex-worker, visiting several ACORN offices to ask for assistance with smuggling underage undocumented immigrants into the U.S. for sex work. One wore a hidden camera.
After their field work was done, they created a series of deceptively edited videos that appeared to show ACORN employees to be willingly complicit in the scheme. Later it was shown that many simply played along in the moment, not knowing quite what to do. Juan Carlos Vera, an ACORN employee in San Bernardino, lost his job when Fox News aired a video posted on Breitbart News that showed him interacting with O'Keefe and Giles. In fact, Vera said he played along in order to collect as much information from the pair as possible, and then he called the police .
In order to make ACORN employees—mostly people of color—look as stupid as possible, O'Keefe filmed set-up shots of himself and Giles dressed as cartoon versions of pimp and sex-worker—loud suit and outrageous glasses for him; minimal clothing on her—leaving the impression that they dressed that way while wielding the hidden camera. In fact, they arrived in ACORN offices dressed like staffers on Capitol Hill.
As a result of the O'Keefe videos, congressional hearings were held and Congress voted to defund ACORN, which had received around $2.5 million a year in federal funds for the community services it provided. In 2010, on the verge of bankruptcy, the group disbanded.
An investigation by the Congressional Research Service found that ACORN had appropriately managed funds it received from the government, and criminal investigations yielded no evidence of criminal activity by the organization.
Juan Carlos Vera won a $100,000 settlement and a weak apology from James O'Keefe.
6. Snookering National Public Radio. In 2011, NPR development director Betsy Liley thought she was talking with a potential donor to the non-profit radio network. The man called himself Ibrahim Kasaam, and said he represented an organization called the Muslim Education Action Center (MEAC); the organization wanted to make a $5 million anonymous donation to NPR, he said. The man's real name was Simon Templar, and the non-profit he worked for was James O'Keefe's Project Veritas. Liley was unaware that she was being audiotaped.
Once that sound file was posted to Breitbart.com, all hell broke loose. According to CNN's account :
"It sounded like you were saying that NPR would be able to shield us from a government audit. Is that correct?" the man asks.

NPR Senior Director of Institutional Development Betsy Liley responds: "I think that is the case, especially if you were anonymous, and I can inquire about that."
However, that wasn't everything Liley said, though you wouldn't know it from the ensuing uproar. Again, from CNN :
But in the recording, Liley also advises the man that NPR executives would investigate the giver before accepting any large donation, examining tax records, looking it up on a foundation database and checking out other organizations that have received donations from the giver.
Liley also raises the possibility of NPR turning down substantial gifts and stresses the "firewall" between the revenue-generating part of NPR and its news operation.
Two days before Liley's quotes were posted, NPR CEO Vivian Schiller had resigned when Breitbart posted video from a meeting with Templar in his MEAC guise, in which she referred to the Tea Party as "racist" and "scary."
O'Keefe later explained his motivation for the NPR video as retribution for the firing of news analyst Juan Williams for having made comments during a Fox News appearance that were regarded as anti-Muslim.
Adele M. Stan is AlterNet's senior Washington editor. Follow her on Twitter @addiestan.
Published: Campaign CEO Stephen Bannon listens during Republican presidential nominee Donald Trump's round table discussion on security at Trump Tower in the Manhattan borough of New York, U.S., August 17, 2016. REUTERS/Carlo Allegri