8 Inauguration Humiliations Donald Trump Has Already Endured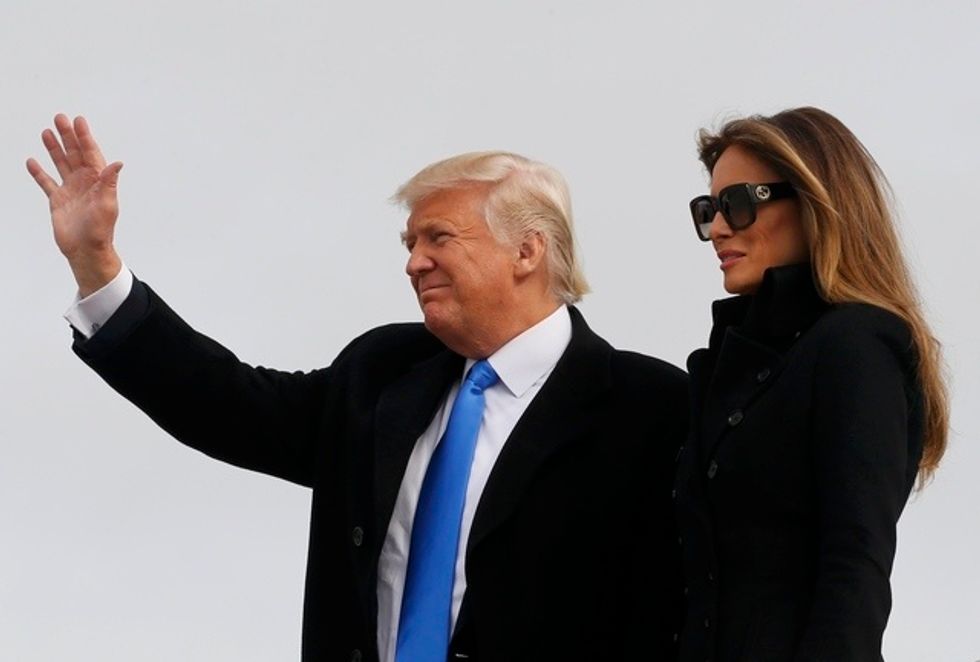 Reprinted with permission from AlterNet.
In addition to trying to destroy civilization through sheer will and profound ineptitude, Donald Trump's hobbies now apparently include party planning. According to a recent New York Post article, Trump is showing far more interest in inaugural trivialities than he does in government policy.
"He's into every detail of everything," Tom Barrack, chair of the Presidential Inaugural Committee, told the outlet. "I beg him all the time to go back to running the free world and let me focus on setting the tables."
Maybe all that fuss is to compensate for the fact that Trump's inauguration will have half the number of attendees as incoming President Obama's did, and no big-name draw upon which to base a comparison of the two events. You can bet this infuriates Trump. There are other things he's probably angry about, too. Steam definitely came out of his ears when he learned his team would be buying up Facebook ads to put butts in seats. So the U.S. president-elect and your local jam band are using the same marketing scheme to gain new fans. Think about that for a second.
Here's a list of eight inauguration humiliations—and a bonus fact—that are infuriating Donald Trump right now.
1. Tickets are in incredibly low demand.
Miami Herald columnist Lesley Abravanel (aka Savvy Gadfly) recently tweeted that she's aware of at least one person being paid to make the Trump inauguration look a little less empty. "Thank you @realDonaldTrump for already creating jobs!" Abravanel wrote. "My friend is being paid to be a seat filler at your Inauguration! #TuesdayMotivation." There's no official confirmation from the Trump team about this, but there are various other signs that conflict with Trump's contention that "people are pouring into Washington in record numbers." One scalper complained he'll have to swallow losses because "nobody wants" Trump inauguration tickets. There are still plenty of tickets available on Craigslist for a couple hundred bucks, a fraction of the five figures some Obama inauguration tickets were going for, according to a 2008 CNN article. A spokesperson for U.S. Congressman Donald Payne Jr. of New Jersey told a local news outlet, "We had more tickets than demand." The Trump team is apparently so desperate it's taken out Facebook and Instagram ads inviting—oh, let's just call it begging—people to attend. Marina Cockenburg, who works for the Tonight Show, clicked the "Why Am I Seeing This Ad" button and discovered the Trump team had targeted "people ages 27 and older who live in New York." Another Ohio recipient noted the minimum age had dropped to 18, which suggests they're casting an ever wider net.
2. Women's March bus permit requests outnumber inauguration requests by 3 times.
As of the last reported count, there were 1,200 requests for bus parking permits for the Women's March on Washington, being held Saturday, January 21. That's a little more than triple the number of permit requests the city has received for the inauguration. "All of the city's 1,200 available charter bus parking spaces at RFK Stadium have been filled for the Women's March," reports the Hill, noting the count might be an underestimate. "There could be more buses coming for the march and parking in other locations." The president and cofounder of Rally, a shuttle bus company providing transportation to D.C. from around the country told the Chicago Tribune, "In six years of doing business we've never seen buses get sold out so quickly."
3. Most hotel bookings have been made by anti-Trump protesters.
The Women's March "is driving significant additional demand" to the Kimpton Hotels chain, according to spokesperson Jack Lindemuth. Elliott Ferguson, who leads the city's tourism bureau, told Fortune that "more rooms being picked up on Saturday than on Friday." He also noted that with Trump's inauguration numbers so poor, the Women's March appears to have unseated it as the main event.
"It's been much, much slower than anyone would have anticipated for a first-term president," Ferguson told the Chicago Tribune, contrasting Trump's event with the Women's March. "The moment it was confirmed it was happening in the city our hotels were seeing reservations take place."
4. Trump is wrong (again): dress shops still have plenty of available frocks.
"All the dress shops are sold out in Washington," Trump told the New York Timesearlier this month. "It's hard to find a great dress for this inauguration."
The first sign that this was a lie is the fact that it was uttered by Trump. Boutique spokespeople say they not only have plenty of gowns in stock, but dress sales have been particularly poor for Trump's big day.
"There's never been less demand for inaugural ballgowns in my 38 years," Peter Marx, who owns D.C. dress shop Saks Jandel, told People. "Never ever has it been less for the inaugural."
Other shops expressed similar sentiments.
"We were expecting heavy traffic and it has not been that way," a D.C. Bloomingdale's representative told Elle. "The last inauguration was a lot more people shopping."
A spokesperson from Intermix told the outlet, "Usually, it is really big for us, but this year we haven't seen anything yet, surprisingly."
Elle notes that "among others we called, White House Black Market and Cusp in Georgetown confirmed they have options in stock. So does Neiman Marcus. And Gucci. And Lord & Taylor. And Nordstrom."
5. More than 60 Democrats and counting are boycotting the inauguration.
There are a million and one reasons not to legitimize Trump's presidency, enough that everyone can take their pick and feel more than justified. In addition, let's add Trump's recent racialized insults to Congressman John Lewis, a civil rights hero, right in time for Martin Luther King, Jr.'s birthday. The list of House Democrats sitting out the inauguration now stands at 65, with a chance that number may rise slightly in the next 48 hours. Most of those lawmakers issued statements about their reasons for bailing, many of them sober, well-crafted rebukes of PEOTUS. I was partial to one from Oregon's Kurt Schrader: "I'm just not a big Trump fan. He hasn't proved himself to me at all yet, so I respectfully decline to freeze my ass out there in the cold for this particular ceremony."
6. The list of celebs who said 'no' is much longer and star-studded than the 'yes' list.
Trump's desperate tweets about how great his inauguration will be seem as authentic as a high school boy's stories about having a model girlfriend who "lives in another town." For someone whose entire fragile sense of self is based on approval from others, Trump's done a piss-poor job of playing it cool, or even just, you know, not acting like a maniac when he gets rejected. With every Twitter tantrum he confirms his dejection and anger over the fact that the list of performers at his party is a poor simulacrum of his A-list dreams. Reportedly, Elton John, Garth Brooks, Bruno Mars, Kiss, Celine Dion, Justin Timberlake, Katy Perry, George Lopez, and Moby all said no. Jennifer Holliday, Paul Anka, and the B Street Band (a cover homage to Bruce Springsteen), all made last–minute cancellations. The Mormon Tabernacle Choir and Radio City Rockettes are still on the bill, but members of both groups voiced loud opposition to performing, with some defectors refusing to take the stage. The final inauguration lineup now includes 3 Doors Down, the Piano Guys, Toby Keith, Jackie Evancho, Lee Greenwood, DJ Ravidrums, the Frontmen of Country, Sam Moore (of Sam and Dave), and Jon Voight. There was also an 11th-hour addition of Chrisette Michele—though Questlove has tweeted that he'd pay the singer money not to perform.
7. The list of celebs attending anti-Trump protest events is quite robust.
One day before Trump's inauguration, on January 19, Mark Ruffalo, Alec Baldwin, Rosie Perez, Al Sharpton, and New York Mayor Bill de Blasio will attend a Michael Moore-launched protest in front of Trump International Hotel in New York City. That same day, Common and the National will be playing a free show at D.C.'s 9:30 Club to benefit Planned Parenthood and Solange will be performing at the Peace Ball at the National Museum of African American History Culture. Uzo Aduba, Scarlett Johansson, Danielle Brooks, Cher, Julianne Moore, Katy Perry, Samantha Bee, Diane Guerrero, Olivia Wilde, America Ferrera, and Amy Schumer, among others, will reportedly attend women's marches in states around the country. On inauguration day just after Trump is sworn in, Judd Apatow, Patricia Arquette, Jamie Lee Curtis, Christopher Guest, Jane Fonda, Tim Robbins, and Wilco's Jeff Tweedy will appear on the Love-A-Thon telethon. Proceeds from the event, to be broadcast via Facebook Live, will go to the American Civil Liberties Union of Southern California, Planned Parenthood and Earthjustice.
8. He's the most unpopular incoming president in the last four decades.
On Monday, Gallup released a poll showing 55 percent of Americans have an unfavorable view of Trump, versus 40 percent (surprisingly high, considering) with favorable views. That's about half the favorability rating President Obama had at his first inauguration, and 20 percent lower than incoming presidents Clinton and Bush. CNN's survey results indicate roughly the same: 52 percent of Americans disapprove of Trump and 42 percent give him a thumbs-up. A Washington Post-ABC poll released Tuesday showed 54 percent of respondents are not down with Trump, while 40 percent are. To put this all in perspective, pollster Will Jordan noted on Twitter that Trump's popularity as he enters the presidency is near the level of President Bush's right after Hurricane Katrina.
Bonus fact: Trump will take a vacation on Day One.
Remember how after Obama won a second term, Trump tweeted criticism about his vacationing, promoting a standard right-wing lie?
Trump's team has insisted that the inauguration will be short, not for lack of star power or attendees, but because PEOTUS wants to get "to work right away." Except that Trump recently announced he plans to spend the weekend chilling, instead of starting his new job on the day he's hired. "My day one is gonna be Monday," Trump told reporters, "because I don't want to be signing and get it mixed up with lots of celebration."
Kali Holloway is a senior writer and the associate editor of media and culture at AlterNet.
IMAGE: U.S. President-elect Donald Trump and his wife Melania arrive at Joint Base Andrews outside Washington, U.S. January 19, 2017, one day before his inauguration as the nation's 45th president. REUTERS/Jonathan Ernst