A Brilliant TV Career Comes To An End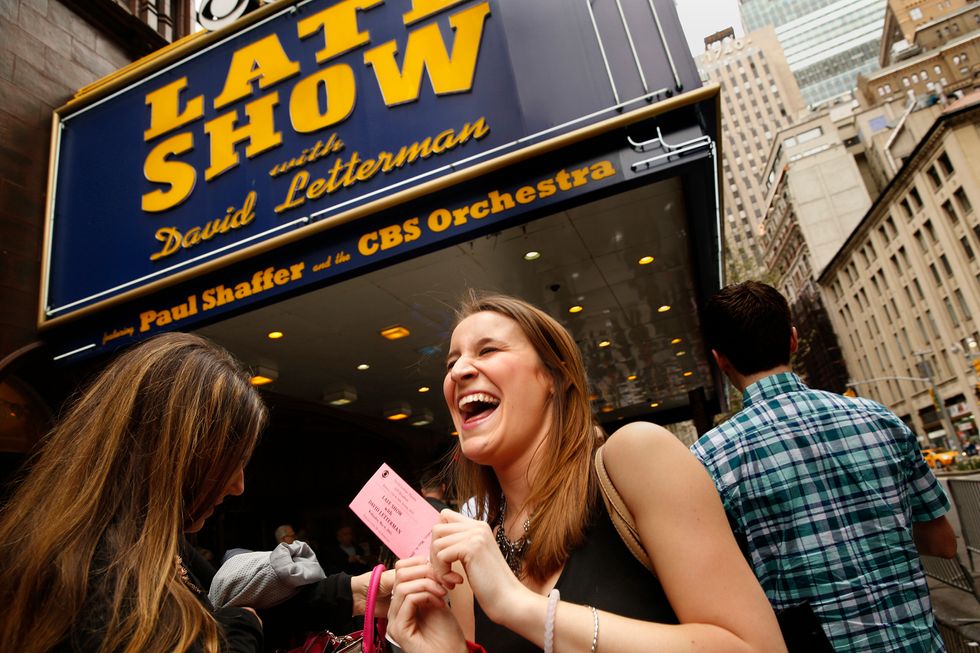 By Verne Gay, Newsday (TNS)
"Dave."
For more than 33 years, this was the name we knew him by. We still do.
Just Dave. Not "David." That was for friends or his legendarily laconic pie-baking mom, Dorothy. Rarely "Letterman." Too remote, too impersonal.
And after 33 years, there was obviously nothing left that was remote or impersonal about our Dave.
Was there?
Back in the '80s, the mere mention of "Dave" — assuming Dave wasn't your cousin, brother, or you — could conjure the image of white socks, sneakers, diminishing hair, arched brows, a pair of ferocious arctic-blue eyes, and something dentists call "diastema," or the space between front teeth.
Along with the sartorial statement, the look evolved — or wizened — over the decades. The teeth were fixed, depriving writers a favorite prefix and cliche, "gaptoothed."
But set aside all this "greatest" talk we're about to sort through or argue over this coming week — one of the Greatest TV runs ever….Greatest late-night host after Carson….Greatest impact on modern broadcast television….
Dave indisputably had one of the greatest laughs in TV history. Either mirthless or mirthful, this laugh could degrade a target like a blowtorch could degrade paper. The mirthful counterpart was a comic benediction on whatever or whomever he thought genuinely funny in the moment. Dave's patron saint, Johnny Carson, had this gift of laughter, too. Dave had the broader range.
On Wednesday, we say goodbye to all that and much more. Familiarity born of 33 years on TV is both powerful and strange. You imagine you know someone when you really don't know them at all. But whether having savored, admired, and even loved this historic run (we know who we are), or having not (and you know who you are), a void in all our lives appears Thursday. This is a basic law of television physics. Letterman has been a constant TV presence for so long and through so much that voids are inescapable. Set aside the countless jokes about the weather (how hot/cold was it today?), Central Park squirrels, Times Square professionals, or Mayor Bloomberg's height. There also were the public "Late Show" celebrations when the Giants or Yankees delivered championships. There were the personal celebrations, like the birth of his son, Harry Joseph. There was the quintuple bypass heart surgery he underwent in 2000.
(First joke when he returned five weeks later: "Wait till you hear what happened to me!…Plus, I got a haircut." And then he choked up introducing the surgery team that saved his life.) There was the extortion scandal (oh, that).
Above all, there were the shows after September 11, especially the first one after his return on September 18, which included the finest eight minutes in Letterman's 33 years on the air: "If we are going to continue to do shows, I need to hear myself talk," he said, and did, in a sustained, emotional and powerful tribute to a great city and those paid to protect it.
The void suddenly feels alarming. What? No Paul Shaffer or CBS Orchestra? The Top Ten List just…dies? Years ago, "Late Show" had a bit about Ed Sullivan's ghost hovering above the immaculately polished stage of the theater on West 53th Street. This Thursday, more ghosts hover.
This extraordinary run demands answers — what did it all mean, and what is the legacy? But what David Letterman has done over 33 years is inarguable: He created two network franchises, NBC's Late Night and CBS' Late Show, the latter in a time period when the TV equivalent of tumbleweeds once roamed.
During the '80s, Late Night and MTV were to become pop culture referees for an influential slice of the generation born after the mid-'60s — the "X" one — that had little use or interest in traditional TV or its paragons, like Carson. For them, Letterman was to comedy what MTV was to music.
The move to CBS in 1993 was preceded by the noisiest and most overhyped network talent battle since CBS' raid of Jack Benny and Bing Crosby in the late '40s (and that was radio). The tectonic plates of pop culture and politics — Hollywood and Washington, D.C. — seemed to be shifting at the same moment. If The Tonight Show and Saturday Night Live had told most of the country how to laugh at presidents and movie stars — affecting the outcome of elections or box office — then who would tell us after Johnny left? The genial lumpenproletariat comic with the ample chin, or the less genial anarchist with the apparent mean streak?
They both would. Jay Leno went to Tonight and Letterman to CBS, where he eventually would be considered a little more blue-state friendly, while Leno a little more red-state friendly. Americans had long had two political parties to choose from. For the first time in decades, they also had two 11:30 p.m. hosts to choose from.
But the meaning of these 33 years is more complicated and lies at the confluence of commerce, cultural whims, and a rare type of performer who bridged both. Very rare.
What people first noticed about Letterman — besides the fact that he was funny and fast on the uptake — was how angry he seemed to be. Anger on radio was common, on TV almost unheard of, and therefore, presented a riddle: Angry about what?
Through the brief morning show run at NBC in 1980, then at Late Night, fans figured the same stuff they were mad about — parents, bad TV, stupid sitcoms, Washington, D.C., Reaganomics, oppressive corporate overlords, the '80s Age of Me.
Dave was raging against the machine, but he was a counterculture figure who was using the machine — network TV — to make a point about how dumb everything was. A TV hero, their TV hero, had arrived at last.
Of course, their hero wasn't quite so simple. The closer you looked, the further he receded. A mysterious and unknowable aura clung to the guy. Journalist Fred Schruers once wrote of Indiana's most improbable export, "He shares with Carson a certain irreducible farm-belt loneliness. His sarcastic grin and mock angry stares speak of human distances, not connections."
Neurosis came as naturally to Letterman as irascibility. "The 10,000 Things That Are Bothering Dave" was the title of a Vanity Fair article in the mid-'80s that essentially could find just one thing — Dave was bothering Dave. He was terrified of success and was full of self-loathing. That image, too, persisted, possibly because it was true. As actor Buck Henry said on the show late in the run, "You move from a general self-loathing to a hatred of everyone else."
Dave had become a hero, or anti-hero, to the Prozac Generation, too.
Meanwhile, that show: Late Night projected a frat house party absent the keg. The host's spiritual, so to speak, guide was Ernie Kovacs, who died in 1962, and who also believed that the most popular forms of TV — like the pervasive talent shows of the '50s — were the most mockable ones. TV was inherently absurd, and Letterman subverted everything and everyone. His bits were either a send-up of institutional excesses — portable cams (on a monkey, and other bipeds) — or talk-show inanities (Andy Kaufman's appearances perfectly captured this spirit). The host himself was also an object to be subverted. He wore suits made of Alka Seltzer, or marshmallows, or Rice Krispies, or magnets, then propelled himself onto whatever or into whatever made them react. He brought a basket of fruit to GE headquarters when the company took over RCA, only to be turned away.
But irony as a guiding principle for a TV show got old, and the decade — as decades do — had moved on. The "Irony Epidemic" was over (even Spy Magazine said so). TV's Ironist-in-chief got restless. Time to grow up. But grow up where?
Letterman expected the equivalent of a gold-engraved invitation from NBC to take over from Carson after he announced his retirement in 1991. That never came. The ensuing battle for Tonight was waged and lost, but…ultimately won. Letterman gained focus and maturity, and, in the process, discovered his second act just two big city blocks away, starting in 1993.
The true meaning of Letterman's career, along with the lasting legacy, would extend over the next 23 years at a former vaudeville theater where the Great Stone Face himself — Ed Sullivan — once ruled. Late Show immediately established dominance. Twenty-three million viewers arrived the first night alone, and Late Show would remain in first place at 11:35 over the next two years.
What viewers got in those early years was the true heir to Carson and Tonight, but based in Manhattan, where Tonight had originated. New York energized Late Show and, by association, the host, who found life, vitality, and especially comedy everywhere, from Broadway "where the hell are the cats!" bellowed early visitor Paul Newman, to neighbors, like merchants Mujibur and Sirajul and Rupert Jee. "Found" comedy, always a Letterman staple, thrived at "Late Show."
And consider that 23 years ago, New York as a venue for a late-night talk show was a risk, possibly a foolhardy one. Where would Dave get guests? Wasn't Hollywood the place to be for that? Dave got them, and in the process restored New York's luster as both glorious city and a glorious place for TV. He championed New York in ways SNL — confined to Studio 8H — never had.
Success never came easy to our Dave, however. At the summit of Davemania, he stumbled. A disjointed "Uma-Oprah" turn as Oscar host in 1995 diminished his stature. The host of the show, which had already fallen to second place, disintegrated visibly on some nights, the old self-loathing returning like a case of shingles, which Dave also got.
He later regained his footing, and so did the show, which became even better, although it only briefly returned to first place when NBC moved Leno to ten p.m. And then, the 2009 extortion incident threatened to demolish everything. (Robert Halderman, a 48 Hours producer, threatened to reveal a series of affairs Letterman had conducted with staffers unless he was paid two million dollars.) Letterman apologized on the air, the producer went to jail, and even that is a distant memory.
Over the past three weeks, a steady stream of stars and pals has come by — Howard Stern, Steve Martin, Oprah Winfrey — and there are a few more left to come, including maybe even Leno himself. They, too, are all forcible reminders of what this was about, what this all meant.
And so farewell, Dave. Your legacy is intact, your legatees indebted. From you, Jon Stewart learned the art of controlled rage. From you, Stephen Colbert the art of prolonged irony. You made late-night TV smarter and better, also indisputably funnier. You gave us great joy over a great many years.
We knew you well. We hardly knew you at all. But "thank you" are the right words to end with.
___
DAVID LETTERMAN, BY THE NUMBERS
Some key figures from "Late Night" (1982-93) and "Late Show" (1993-2015)
19,932: Number of guests
4,605: Top Ten lists
4,214: Editions of "Late Show"
1,810: Editions of "Late Night"
136: Most appearances on "Late Show," by Regis Philbin
126: Stupid Pet Tricks segments
112: Emmy nominations (won 16) (includes the 1980 daytime program "The David Letterman Show")
89: Stupid Human Tricks segments
73: Most appearances on "Late Night," by Marv Albert
44: Appearances by Bill Murray, who was the first guest on both shows
11: Cities that were headquarters of the show's "home office"
Photo: Carolyn Cole via Los Angeles Times