A Case Of Negligent Homicide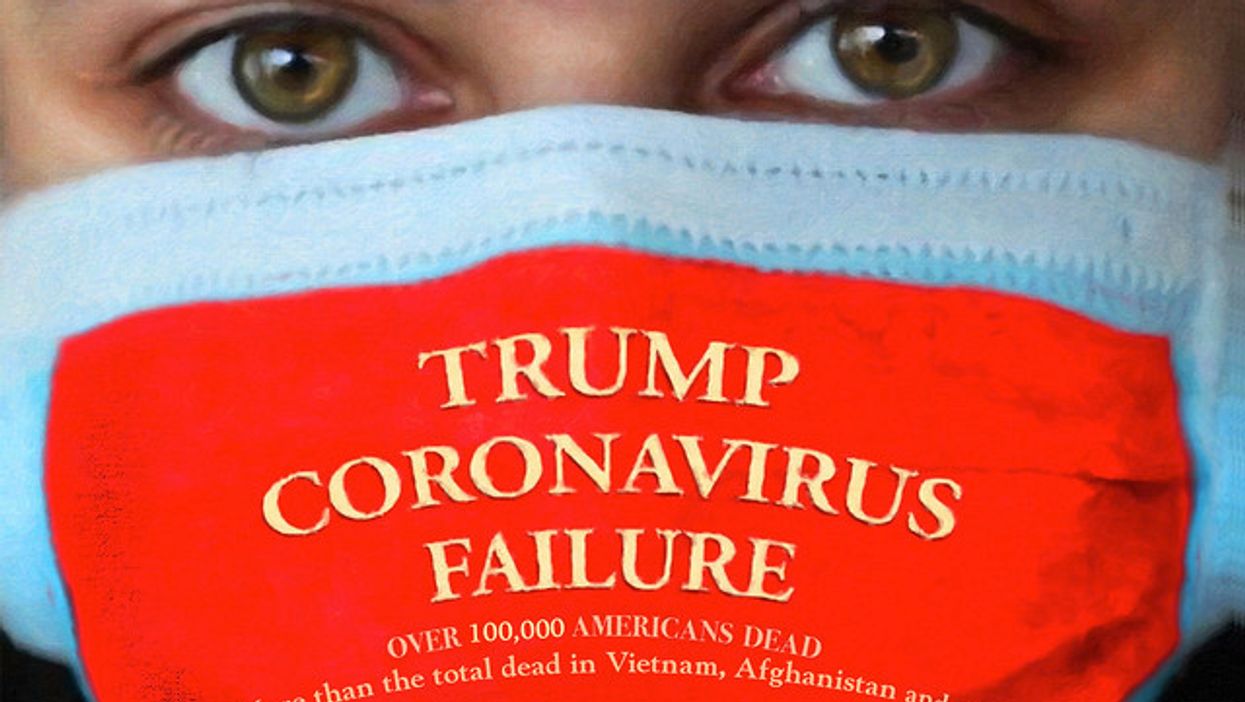 A normal president of either political party would have read by now the dark milestone that the country passed this week, when American deaths from coronavirus passed 100,000 in a space of three months. A normal president would have acknowledged when jobless claims passed 40 million. A normal president would have felt compelled to face up to this terrible reality in a spirit of unity and compassion, speaking to us from the Oval Office or a house of worship. A normal president would not have brushed aside those deaths with a perfunctory tweet, wedged with minimal sincerity into his daily outpouring of poison.
But we know Donald Trump isn't a normal president. He is a perpetrator and a predator. He has proved again this week that he cannot respond appropriately to this monumental tragedy — that he must instead do anything he can to distract us — because he is conscious of his own guilt.
---
The definition of negligent homicide is the killing of another person through gross negligence, which is exactly what Trump has inflicted, on a scale that was once unimaginable.
So, whatever Trump says about China or the World Health Organization or Joe Scarborough or Barack Obama or Twitter, he knows the pandemic in America is a massive case of manslaughter — perhaps the largest in American history and certainly the worst in the world today.
On Friday, Trump withdrew the United States from the WHO, yet another action among many White House missteps that will prolong the pandemic, endanger Americans and others, and damage our global standing. His latest insult to our allies is nothing but another attempt to blame others for the stunning ineptitude of his own wretched administration.
Whatever WHO officials may have said or done to maintain cooperation with Beijing, the inescapable fact is that its warnings were delivered at the same time to every member state — including nations like South Korea, New Zealand and Germany, which managed to protect their populations with far greater success than the United States.
And whatever the shortcomings of the WHO, Trump repeatedly received flashing-red briefings about the looming coronavirus pandemic from our own intelligence agencies, which, of course, he ignored. His trade adviser Peter Navarro tried to tell him in January that this new coronavirus could kill hundreds of thousands of Americans.
Indeed, Obama administration officials had tried to make Trump aware of the likelihood of a pandemic during the 2017 transition and then watched in horror as his vandals dismantled the global health apparatus in the National Security Council and withdrew the teams monitoring potential disease threats around the world — including Wuhan, China.
Even Joe Biden tried to warn Trump last fall, when the first traces of an ominous zoonotic illness were detected. On October 24, 2019, the former vice president posted a prophetic tweet: "We are not prepared for a pandemic. Trump has rolled back progress President Obama and I made to strengthen global health security. We need leadership that builds public trust, focuses on real threats, and mobilizes the world to stop outbreaks before they reach our shores."
But rather than absorb any of those crucial admonitions, Trump listened as he always does to quacks and imbeciles talking on cable television, who assured him this virus was no more threatening than the flu. That was what he wanted to believe, and he acted — or, more precisely, failed to act — accordingly.
So, he told us that China had "everything under control." He said that warm weather would get rid of the virus. He promised that the virus would go away "like a miracle." He uttered idiotic pronouncements about the virus, none based on fact or science. With his usual preference for isolationist stupidity, he closed our airports to travelers from China — except for Americans and travelers who had visited another country on their way from China. He still boasts about this travel ban, which we now know achieved nothing and likely made matters worse when he extended it to Europe (which unwittingly sent the virus to New York and set off the epidemic there).
The latest estimate is that Trump might have prevented nearly half of the now more than 100,000 deaths suffered here if he had acted swiftly in late February. He must know now that his dithering incompetence cost an additional 40,000 lives, at a minimum. Yet he recklessly continues to inflict mayhem, making false claims for nonexistent cures, encouraging premature reopening, and sending a fatally false message about face masks.
The stark numbers frame the indictment: With roughly four percent of the world's population, the U.S. has tolled nearly 25 percent of the world's coronavirus deaths. There will be thousands more people who didn't have to die. Trump's feckless failure has doomed them.
To find out more about Joe Conason and read features by other Creators Syndicate writers and cartoonists, visit the Creators Syndicate website at www.creators.com.