'A Cave Not A Wall': Trump Slammed On Shutdown Defeat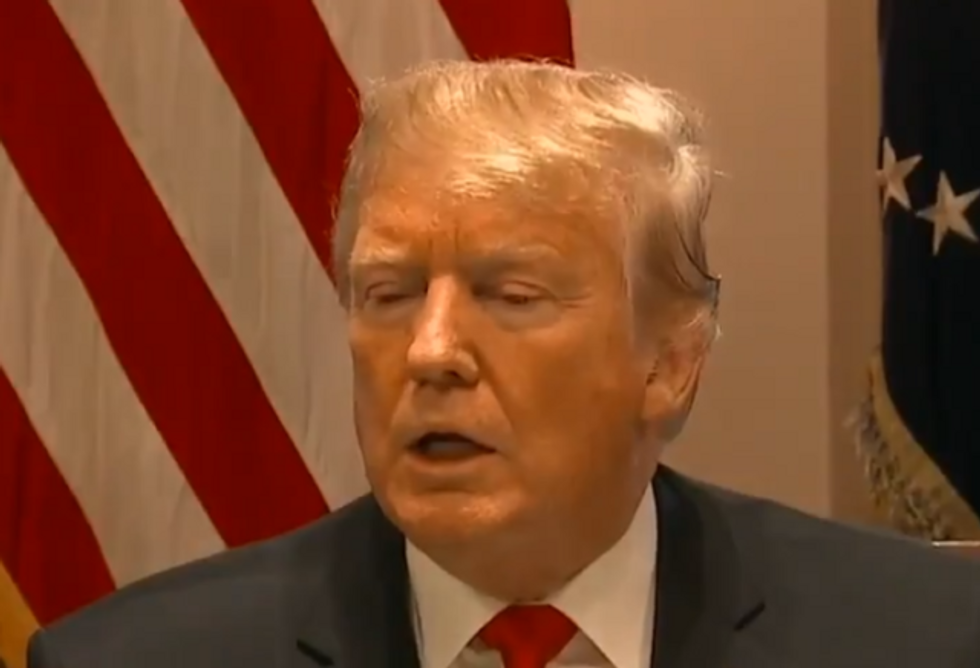 Reprinted with permission from AlterNet.
While he tried to declare victory in ending the government shutdown fight on Friday, it seemed no one in the world bought President Donald Trump's transparently ridiculous spin.
In a Rose Garden speech, Trump said the government will reopen for three weeks while debates about border security funding continue. Though he claimed to have secured concessions from Democrats, this was flatly untrue — the solution is exactly what the opposition party has been demanding since the shutdown began 35 days ago.
In other words, all the pain, anxiety, and uncertainty caused by the president's shutdown was completely pointless.
Here's how people reacted to his speech:
This is a cave, not a wall. https://t.co/omeyvT693V

— Working Families Party (@WorkingFamilies) January 25, 2019
Did he end the shutdown for the State of the Union or the Super Bowl?

— Lawrence O'Donnell (@Lawrence) January 25, 2019
We'll soon watch Republican Senators vote for a bill reopening the government that isn't substantially different from the 10 House-passed bills or the one they rejected yesterday or the one they approved by unanimous consent in December, only because a weakened president said OK.

— Joy Reid (@JoyAnnReid) January 25, 2019
>> @brookebcnn: "This man single handedly shut down the government. It is shameful." pic.twitter.com/iPWjhJzL2P

— Brian Stelter (@brianstelter) January 25, 2019
35 days of not getting paid. For what?! #GovernmentShutdown#borderwall

— Don Lemon (@donlemon) January 25, 2019
The president may be a stupid bigot, but he also sucks at negotiating.

— rob delaney (@robdelaney) January 25, 2019
Reminder: recent studies found immigrants in the US illegally were 25% less likely to convicted of homicide, 11.5% less likely to be convicted of sexual assault, and 79% less likely to be convicted of larceny than native-born Americans.

— amna (@IAmAmnaNawaz) January 25, 2019
I'm sorry but there's no way Trump didn't smoke a fat blunt before giving this speech

— Cameron Kasky (@cameron_kasky) January 25, 2019
Let's not forget this. Untold numbers of people will never recover 4 weeks of lost pay. https://t.co/QJ6xhmqyMe

— Abby D. Phillip (@abbydphillip) January 25, 2019
Maybe this is part of an insanity defense for the Russia probe

— Jennifer Rubin (@JRubinBlogger) January 25, 2019
— Bradley P. Moss (@BradMossEsq) January 25, 2019
Shutdown has been going on for 35 days, this proposal for a 3 week ext has been talked about for a long time. Why now? Hmmm….what happened 7 hours ago? Trying to change the subject, yet the only card he has to play is the most minimal thing any President could do–open the govt

— Neal Katyal (@neal_katyal) January 25, 2019
Is this the worst, most rambling speech by a President in our lifetimes?

— Neal Katyal (@neal_katyal) January 25, 2019
Not only did Trump alienate moderates with a shutdown, he upset his core 35 percent by caving – and, most significantly for 2020, did it all as Democrats held together on a major issue fight.

— Maggie Haberman (@maggieNYT) January 25, 2019
Oh boy https://t.co/aqjvdT89dI

— Seung Min Kim (@seungminkim) January 25, 2019