A 'Gift' To Putin: Retired Army Commander Blasts Trump Attack On Allies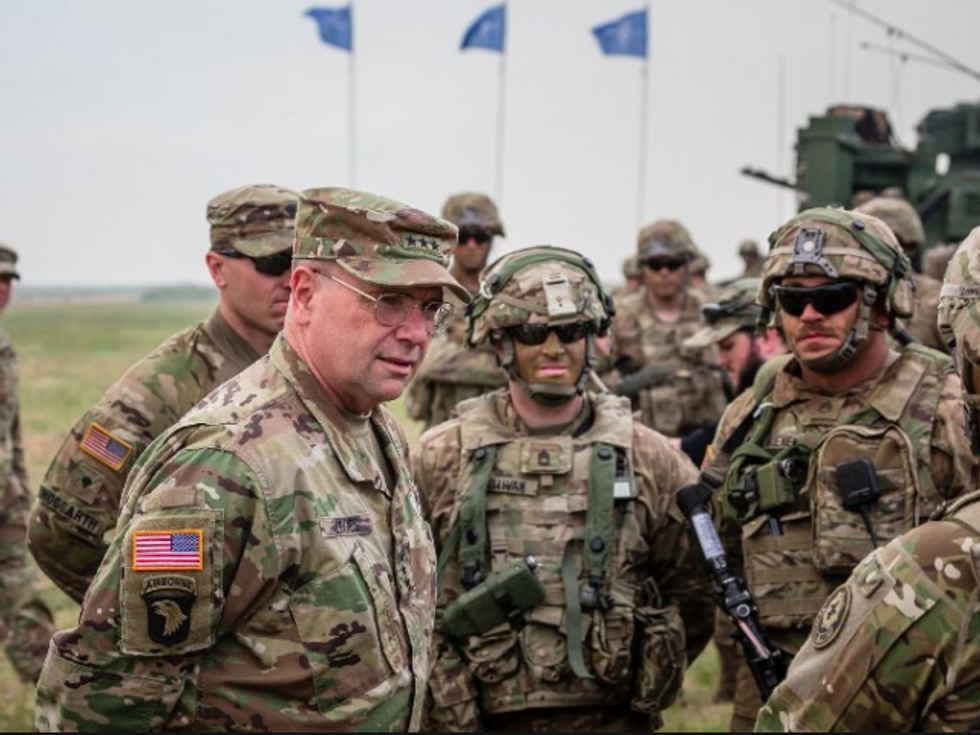 Trump's relentless attacks on U.S. allies in Europe are a gift to Russian dictator Vladimir Putin, according to someone who should know.
"It's just so unhelpful when he's kicking the most important allies in the ass publicly," Lt. Gen. Ben Hodges, former commander of the U.S. Army in Europe, told Public Radio International on Wednesday.
When Trump "refers to the EU as an enemy of the United States, that's a gift to the president of the Russian Federation and also to the president of China," Hodges added. "This is not helpful."
Trump has spent much of his tenure in the Oval Office trashing U.S. allies while closely aligning himself with dictators and authoritarian regimes. Trump has repeatedly questioned the value of the NATO alliance, calling it "obsolete" and even threatening to pull out of the long-standing alliance.
Retired Adm. James G. Stavridis, the former supreme allied commander of NATO, said abandoning NATO would be "a geopolitical mistake of epic proportion." Using language similar to Hodges, Stavridis said that even discussing the possibility of leaving NATO "would be the gift of the century for Putin."
Former Defense Secretary Jim Mattis starkly warned that Trump's attacks on allies were deeply worrying. "My views on treating allies with respect and also being clear-eyed about both malign acts and strategic competitors are strongly held and informed by over four decades of immersion in these issues," Mattis wrote in his December 2018 resignation letter, adding that Trump does not share these key values.
Trump giving a gift to Putin would be par for the course for this administration. In a July 2018 press conference in Helsinki, Trump stood on a global stage and trashed U.S. intelligence agencies, siding with Putin's lie that Russia did not interfere in the 2016 election. After watching the press conference, former CIA Director John Brennan called Putin the "master puppeteer of Donald Trump."
Trump has diminished the image of the United States on the global stage, so much so that diplomats openly laugh at him at venues like the United Nations. His attacks on allies only hurt America's standing in the world, and are, indeed, "not helpful."
Published with permission of The American Independent.
IMAGE: Lieutenant General Ben Hodges (L), commanding general of the US Army in Europe at January 2018 NATO exercises in Poland. AFP Photo