'A Good Day': EPA Staff Cheer Pruitt Ouster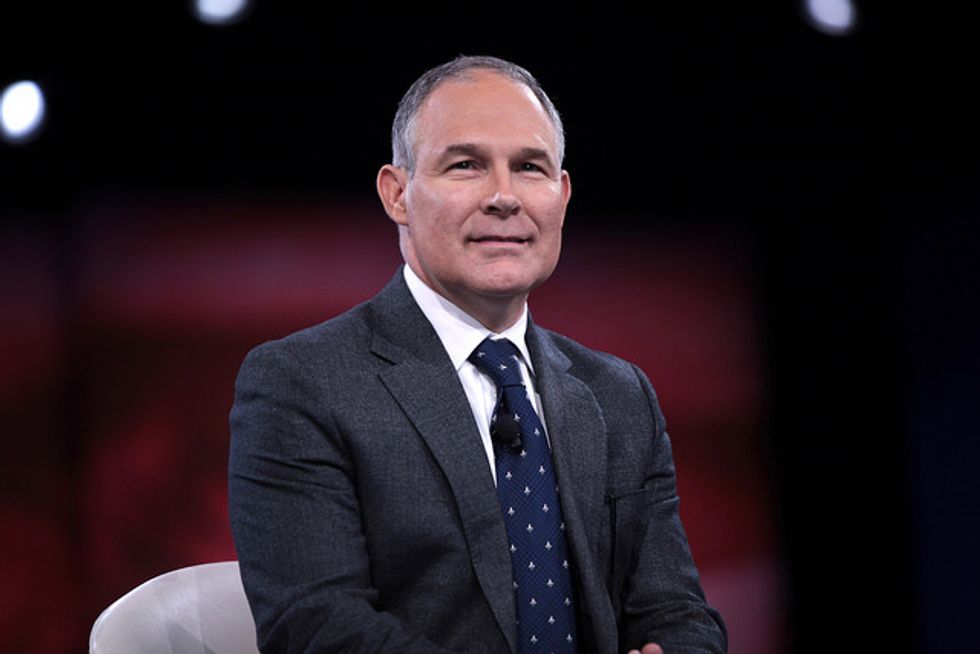 Reprinted with permission from AlterNet.
Even without all the scandals and the rampant allegations of corruption surrounding former EPA Administrator Scott Pruitt, staffers in the agency would have certainly welcomed his ouster.
That's because Pruitt, who resigned Thursday, always saw himself as an opponent of the agency's core mission: protecting the environment and the American people from the excesses of industry. He had brought lawsuits against the agency many times before being picked to lead it, and he believed his main task as administrator was to roll back Obama-era regulations.
Now that he's out, staffers across the agency are thrilled, according to a Washington Post report.
"It's a good day for the agency," one employee, who wanted to remain anonymous, told the Post. Another staffer smiled and took a picture outside the agency building with a man wearing a papier-mache head designed to look like Pruitt, the report says. When a Post reporter tried to speak to her, though, she ran away.
"I am happy," another employee told the Post. "He was never accepted. If you are going to be the environment chief, the environment has to be your passion."
The site Climate Wire found a similar reaction among employees, describing them as "quietly smiling" as they left work on Thursday.
They have a good reason for joy. As Politico reported Friday morning, the administration has been suppressing an EPA report on the cancer-causing effects of formaldehyde vapor — just one of many industry-friendly moves the agency has taken at the expense of human health under Pruitt's leadership.
But the agency is also unlikely to improve. The man wearing the papier-mache head was Lukas Ross, a senior policy analyst for the activist organization Friends of the Earth, and he warned Post reporter Dan Zak that Pruitt's replacement will not be any better.
"The only person more dangerous than Scott Pruitt," he said, "is Andrew Wheeler."
Cody Fenwick is a reporter and editor. Follow him on Twitter @codytfenwick.