A Good Trainer Can Be Key To Reaching Your Fitness Goals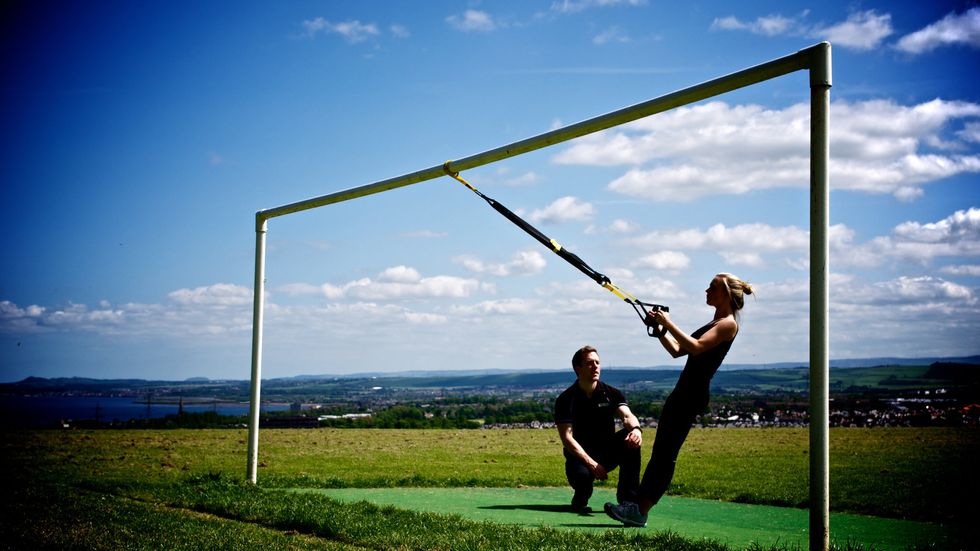 By Lori Nickel, Milwaukee Journal Sentinel (TNS)
MILWAUKEE, Wis. — "Hate me now! Love me later!"
That's what my kickboxing instructor used to sing-scream in the middle of class, usually when we were doing our third set of 20 burpees.
She read my mind.
I did hate her.
She's the kind who doesn't need a microphone — BUT USES ONE ANYWAY. She picks dance techno music that would be no slower than 140 beats per minute.
She yells at us during tuck jumps, jumping jacks, squats, back kicks, roundhouses and uppercuts. She yells at us for going too slow around the track. She yells at us during wall sits that turn your quads so numb you can't even stand after them, you have to sink to the floor, roll over and then get up, looking like you're on skis at the bottom of Alpine Valley.
I am absolutely certain that she slams a can of Red Bull before every class; she has so much energy it's sick.
I stagger out of class once a week looking like someone had just pushed me through a car wash — without the car. Hair completely disturbed out of a headband and ponytail, sweat falling off my eyelashes, shirt a different color than it was an hour earlier.
But I knew if I could survive that class, and her, I could handle whatever was thrown at me that day. She is the best kind of trainer because she is tough, but not mean.
Count me as one of the converted. I believe in gyms — especially in our Wisconsin climate — and now in personal trainers and group exercise leaders. They got me off my mindless jog and filled a bulletin board with participation medals and racing tags from mud runs and obstacle course races and half marathons.
I know, I know, some of you hate the suggestion (or maybe the cost) of needing a trainer to be fit. I give you all the credit in the world if you can keep yourself fit and fearless on your own without a coach or guidance. Honestly, I respect and admire the self-motivated so much.
I need a nudge on the good days and a swift kick on the others, and constant reminders to get my butt down in planks and my elbows in on triceps lifts and my back straight on rows.
When I'm looking for more than good health — when I want to be as strong and as fast as I can — I look to a group exercise trainer to show me the way.
I've come to appreciate a really good group exercise trainer and instructor for more than their whip-cracking motivation. They teach us how to lift, bend and twist to minimize injury. They show us the right technique, so the exercise is done for our greatest benefit. And sometimes they drown out the negative voice in my brain that is always pointing out my perceived limitations.
I've come to think of a really good trainer and instructor as an extension of the health care profession, because they help me eat better and take care of my body, keeping me away from doctors and hospitals.
But one thing I've learned is that I really respect the trainers who are not just passionate but knowledgeable. If you're working with a personal trainer either one-on-one or in a small group exercise, don't be afraid to ask for his or her certifications, credentials and qualifications.
Some trainers have college degrees in the exercise sciences and hard-earned certifications; others get certified in three days. It is worth it to find out who you're working with.
Here are some things you could consider:
Look for nationally recognized, meaningful certifications like ACE, NSCA and ACSM.
Rick Mikat is the director of the exercise and sports science program at the University of Wisconsin-La Crosse, the largest health and fitness program in the state with 800 students enrolled in the various specialties.
He said UW-La Crosse recognizes three certifications as the best in the fitness industry: ACE (American Council on Exercise); NSCA (National Strength and Conditioning Association) and ACSM (American College of Sports Medicine).
"Those three are the biggest most respected, and the most rigorous too," he said.
Other good certifications also include NASM and AFAA (Aerobics and Fitness Association of America).
"Students completing the National Academy of Sports Medicine certified personal training program also learn about using assessments to create programs specific to each client and use a proven training system called the optimum performance training model," said Mike Fantigrassi, NASM's director of professional services. He is a NASM certified personal trainer (NASM-CPT), corrective exercise and performance enhancement specialist in Chandler, Ariz. "By obtaining and maintaining certification, it demonstrates a commitment to the profession. "
"There are hundreds, but only 13 or so that are currently NCCA-accredited, which is a gold-standard litmus test that consumers can use to assess a personal trainer's credential(s)," said Neal Pire, a medical wellness implementation specialist from HNH Fitness in Oradell, N.J.
"NCCA provides a stamp of approval that legitimizes such a certification, which ensures for the public that they are getting what they are paying for."
Four-year college degrees.
UW-La Crosse offers fitness degree core classes in basic anatomy, physiology, sports nutrition, exercise physiology, human motor learning and biomechanics to undergraduates on the fitness track. There are also kinesiology, human performance coaching, athletic training and other fitness related programs.
Experience and references.
Professional experience, liability insurance and loyal customers are helpful indicators to look for when considering using a personal trainer.
"Keep in mind that certification only provides minimal competency," said Grace DeSimone, a certified personal trainer and group exercise instructor with ACSM and the editor of "ACSM's Resources for the Group Exercise Instructor." She is based at Fitness Plus One in New York City. "Certified fitness professionals have made a commitment to provide safe, effective exercise programs based on industry recognized best practices."
"Certification by itself does not ensure someone is a good trainer," Fantigrassi said. "You would want to interview the fitness professional to see how they've worked with clients with similar goals, have the trainer take you through a workout, and speak to other clients for feedback. It is also a good idea to find a trainer that has a coaching style and personality that is a good match for you.
"A personal trainer is there to coach, hold accountable, and provide information about fitness. A good personal trainer will interview the client to find out what their goals are and create a plan to achieve the goals. They will regularly assess the client and make adjustments to the program to keep progressing to the goal. Finally, they should make exercise enjoyable and sustainable so they continue to exercise, even if not working with a personal trainer."
(c)2015 Milwaukee Journal Sentinel. Distributed by Tribune Content Agency, LLC.
Photo via Flickr