A Perfect Tweetstorm: Senate And FBI Must Probe Whelan Hoax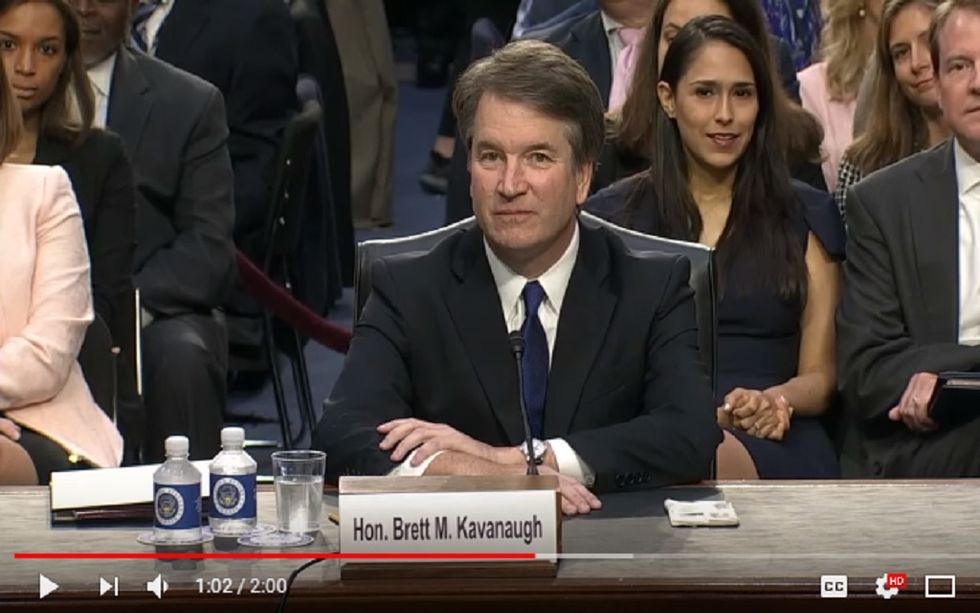 While the Senate Judiciary Committee ponders the disputed allegation that Supreme Court nominee Brett Kavanaugh assaulted Christine Blasey Ford, its members must also contend with the indisputable fact that Kavanaugh's advocates have just perpetrated a massive deception on his behalf.
And they will have to consider the likelihood that Kavanaugh himself is implicated in that fraud — which attempted to frame another man who attended Georgetown Prep for the attempted rape of Ford circa 1983, and assert that the nominee is a victim of "mistaken identity."
Carefully set forth in a series of tweets that featured maps, floor plans, and yearbook photos, and fronted by Ed Whelan — a prominent Washington lawyer who heads the right-wing Ethics and Public Policy Center — the hoax blew up on Friday morning when Whelan abruptly admitted his "appalling and inexcusable mistake in judgment."
Saying he "deeply" apologized for smearing the innocent man, a Maryland middle-school teacher, Whelan tried to erase the widely mocked Twitter thread under his name. Alas, his attempt to clean up the defamatory mess was too little and too late. By then, the false accusation had flown out over the Internet and reached millions of Fox News Channel viewers.
And despite ethics expert Whelan's empty vow to take "full responsibility" for the fabrication, a series of hard questions is unavoidable: How did this demented fable take shape? Who else was involved in concocting it? Where did Whelan obtain the name and yearbook photo of the man he attempted to frame? As an adviser to the White House nomination team, did Whelan discuss this plan with his longtime friend Kavanaugh? Did Whelan, a manager of previous GOP judicial nominations, share the scheme with White House counsel Don McGahn, who is overseeing Kavanaugh's confirmation? Was Leonard Leo, the Federalist Society honco advising Trump on judicial nominations, in on the plan too?
Circumstantial evidence of a conspiracy is abundant in this case — including efforts to promote the "mistaken identity" theme by conservative publications, columnists, and at least one Senator. Politico reported on Friday that CRC Communications, headed by Republican P.R. veteran Greg Mueller, who helped to promote the 2004 "Swiftboat" smear of John Kerry, advised Whelan on his Twitter frameup strategy — and represents both the Federalist Society and the Judicial Crisis Network, the two national organizations leading the battle for Kavanaugh's confirmation.
Just as significantly, according to the Washington Post:
Kavanaugh and his allies have been privately discussing a defense that would not question whether an incident involving Ford happened, but instead would raise doubts that the attacker was Kavanaugh, according to a person familiar with the discussions.
According to Christine Ford, she knew both Kavanaugh and the man framed by Whelan back in high school, and would never have confused them. She has urged the FBI to investigate her charge that Kavanaugh assaulted. Now the bureau should investigate the origins of the frame-up plot as well.
To those of us who consider Kavanaugh more of a political hack than a distinguished jurist — sort of a Roger Stone in judicial robes — the emergence of a dirty tricks campaign now is hardly surprising. Firm evidence of his participation would not only disqualify Kavanaugh from a seat on the Supreme Court, but would inevitably lead to his removal from the appellate court where he currently sits.
On Friday, Whelan told the Washington Post: "I have not communicated at all with [White House counsel] Donald McGahn or anyone at the White House, or Judge Kavanaugh, about the topic of the Twitter thread."
For now, the Judiciary Committee should immediately subpoena Ed Whelan, demand his emails and any other materials relevant to this scandal, and insist that he disclose all the circumstances and individuals behind his bogus tweet-storm, under oath. And if the board of the Ethics and Public Policy has any actual ethics, it will demand Whelan's resignation. (Among the members of that board is none other than Leonard Leo, who may have to fire himself as well.)