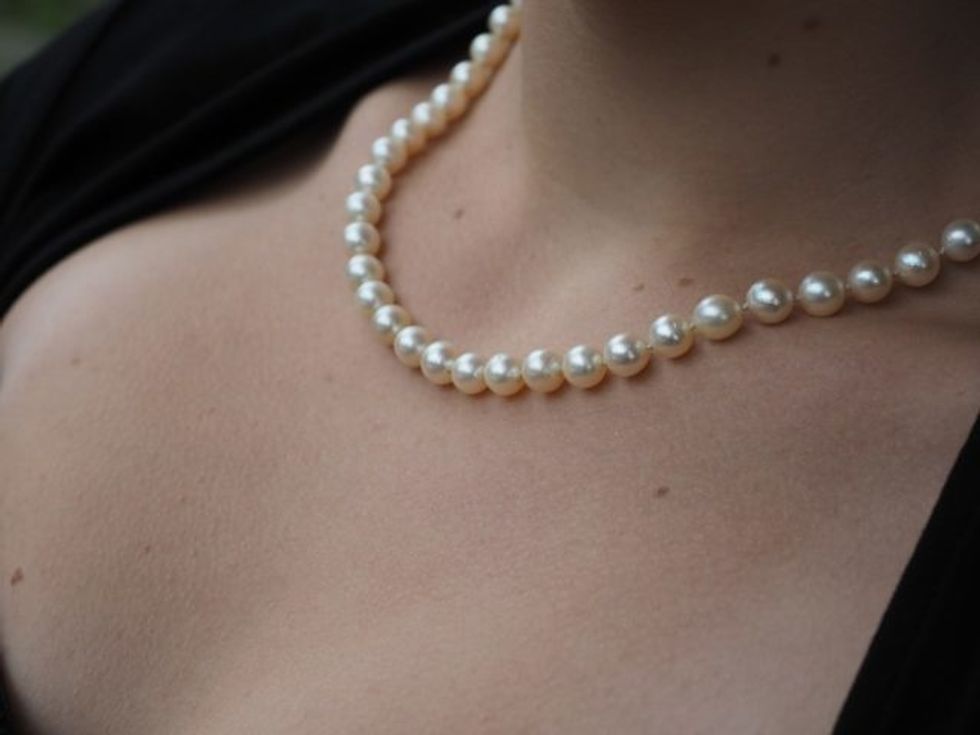 Reprinted with permission from Creators.
Every morning in our home, one of the first things I see is a necklace I cherish but have never worn. It is too delicate for that, too meaningful — 264 reminders of what a woman can do when she dares to hope.
Between 1942 and 1945, the United States government forced about 120,000 people into internment camps on American soil. Their only crime was to be Japanese-Americans during World War II. They lost their homes and their jobs, and virtually all of their material possessions. They were ripped from their lives and herded into nearly a dozen camps, with no idea how long they would be imprisoned or if they would ever again be free.
In 1942, 22-year-old Toshiye Morita was sent to an internment camp in Topaz, Utah, along with her parents and six siblings. This particular camp was built on an ancient lakebed, where thousands of seashells remained. They were the detritus of a lake that no longer existed, but to young women like Morita, they were found treasures.
During her three years in the camp, Morita collected hundreds of tiny shells to string together. It was a painstaking process. She matched the shells in size and shape, and lacquered each with nail polish before threading them one at a time.
During her three years in the camp, Toshiye Morita made three necklaces from the shells. Her son, Michael F. Ozaki, discovered them only after she had died, at age 94. She had secreted them away in one of the two suitcases she had packed with evidence of her incarceration and labeled: "Don't Throw Away." Along with the necklaces, Ozaki found photos of his mother and her family on the day they were released in 1945, and a small plastic ID badge that had allowed her to work in the field.
Michael, a retired pediatrician in California, said his mother had always refused to discuss her years in the camp. "Couldn't be helped," was all she would say, in Japanese.
Two years ago, through Michael's generosity, one of his mother's necklaces made its way to me. The 264 white shells are the size of lupine seeds. "You can see how hard she worked on it," he said. "How she found all the shells in the exact same size, and painted them to match."
In the midst of such horror and uncertainty, his mother made this thing of beauty. I look at the necklace and marvel at her resolve. I touch the delicate shells and feel her courage. For what is hope if not an act of bravery, a refusal to surrender when the world is closing in.
Toshiye Morita's necklace also reminds me of our potential for cruelty. What would have happened if American citizens had raised their collective voices to fight for those 120,000 neighbors, friends and fellow citizens?
I know the counterargument: We were a country at war. It was a different time.
Then let us learn from it, and do better now. As John Steinbeck wrote, "It isn't that the evil thing wins — it never will — but that it doesn't die."
What keeps evil alive? Many things, of course. Surely, our indifference is one of them.
In recent months, I have often looked at that single strand of shells and thought of the migrant children who remain in U.S. custody, far away from their parents. At least 500 of the children who were torn from their parents at the border are still here. They have no idea when, or if, they will ever see them again. Some of them are too young to know their parents' names.
There are so many more. As New York Times reporter Caitlin Dickerson wrote earlier this month, "the overall number of detained migrant children has exploded to the highest ever recorded — a significant counternarrative to the Trump administration's efforts to reduce the number of undocumented families coming to the United States."
Right now, she writes, 12,800 migrant children remain in federally contracted shelters. Many of these children are teenagers from Central America. They fled the most dangerous countries in the world — alone — because their parents were willing to do the unthinkable to save their lives. There's not a devoted parent in America who wouldn't do the same thing in the same circumstances and let his or her child go. We should say that out loud. Every day, we should tell someone else.
There's so much going on in our country, so many concerns hovering like ghosts competing for our attention, that it can be overwhelming. But Toshiye Morita's necklace reminds me of who we can be.
All those little shells, so perfectly strung together. At the height of her uncertainty, so clearly a sign of hope.
Connie Schultz is a Pulitzer Prize-winning columnist and professional in residence at Kent State University's school of journalism. She is the author of two books, including "…and His Lovely Wife," which chronicled the successful race of her husband, Sherrod Brown, for the U.S. Senate. To find out more about Connie Schultz (con.schultz@yahoo.com) and read her past columns, please visit the Creators Syndicate webpage at www.creators.com.