A Trump Christmas Brings Tidings Of Resentment And Revenge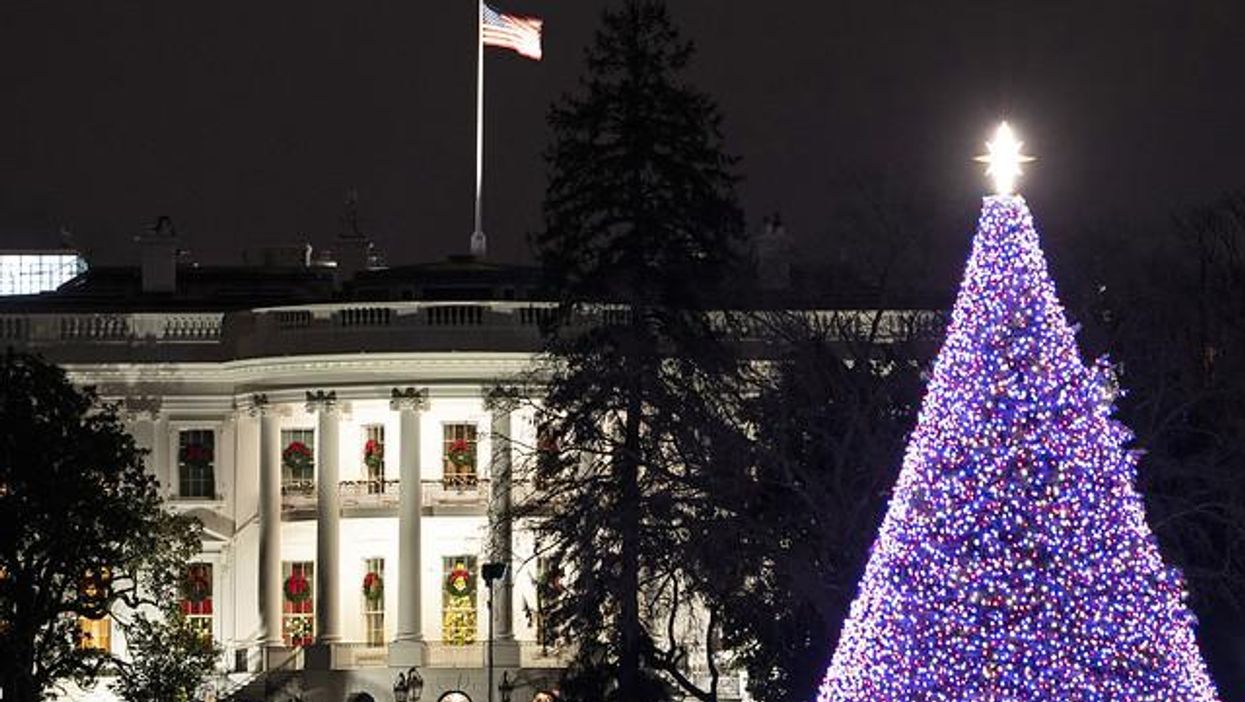 Official White House Photo by Joyce N. Boghosian
Behaving badly, in a way contrary to anyone's idea of norms or traditions, has become a badge of honor for far too many of our nation's leaders and citizens, for which they feel neither shame nor a need to apologize.
Do unto others? Not quite. All those questions that should give pause — "Would you want someone to call your mother that name?" "What kind of example are you setting for your child?" — don't work.
---
Incivility is winning, just in time for the holiday season.
I wonder if the armed mob that gathered outside the home of Michigan Secretary of State Jocelyn Benson as she was finishing up decorating with her four year-old son were some of the same folks who complain about secular attempts to cancel Christmas. You know, the ones who grumble if a Starbucks cup displays snowflakes instead of a Nativity scene or go ballistic if an unsuspecting clerk dare utter an inclusive "Season's Greetings."
They have succeeded in tanking Christmas where so-called heathens have failed — as if COVID-19 were not already enough of a reason to feel depressed.
Loud chants of "You're murderers" and shouted obscenities hardly sound like tidings of comfort and joy.
Follow The Leader
Those refusing to accept the fact that former Vice President Joe Biden will be moving into the White House in a few weeks, and acting abominably to their fellow Americans because of it, are only following the lead of President Donald Trump, whose weekend speech raised victimhood to a sacrament in a cult-like religion over which he rules.
In Georgia, ostensibly to stump for the state's two Republican senators in runoffs that could determine party control of the Senate, Trump, of course, turned the conversation to the injustice of being rejected by a majority of the voters.
"We're all victims. Everybody here, all these thousands of people here tonight, they're all victims. Every one of you."
Faith, hope and love? Actually, Trump called for "revenge." How Christ-like.
What else would you expect from a man who even when his recent "summit" was supposed to be offering information about a vaccine spent most of his time not consoling Americans who have lost loved ones but instead ranting about an election he won't ever believe he lost?
The frightening thing is how many choose to follow this false savior, whose words and actions resemble not the Ten Commandments but rather the seven deadly sins.
Christian radio talk show host Eric Metaxas told the president, "This is God's battle even more than our battle." Excuse me, but I believe God would like a word before handing over the reins to someone who has judged the election the "most horrible thing that has ever happened in the history of our nation." Genocide and enslavement have apparently been relegated to footnote status.
While some Republican lawmakers in Washington have called to congratulate him, Biden says, only a minority are acknowledging his victory publicly, not exactly a ringing endorsement for following the people's will nor a demonstration of courage.
One senator who waffles when asked about the president-elect is one of those Georgia GOP incumbents Trump has endorsed, Sen. Kelly Loeffler, who has also appeared as a guest speaker at the church of her Democratic opponent, the Rev. Raphael Warnock. Now, however, she refuses to call Warnock by his title in a debate and plucks passages from his sermons out of context to question the sincerity of his faith — a strategy she preemptively decried when Judge Amy Coney Barrett came before the Senate for her Supreme Court hearing.
In return, Warnock, senior pastor of Ebenezer Baptist Church in Atlanta, said of Loeffler: "She's lied, not only on me, but on Jesus."
Being accused of radical political views is nothing new for Black pastors. The historic Ebenezer Baptist was the church of the Rev. Dr. Martin Luther King Jr., who was often accused of being a "communist" and worse for advocating racial justice.
All Are Not Welcome
The new religion of Trump is defined not by good deeds but by its enemies list. Rather than welcome people in, its adherents push them out. Why else would Georgia's Republican election officials, including Secretary of State Brad Raffensperger, praised for vouching for the integrity of his state's votes, nevertheless back additional regulations to make voting more difficult?
Using phony voter fraud claims to restrict the vote and access to it — in the middle of a pandemic, no less — is about making "thy neighbor" an "other," and clogging up any path to equality with obstacles.
The holiday season could be a backdrop for concerned leaders urging unity, patience and consideration for others by, for example, wearing a mask. The recent "Giving Tuesday" showcased worthy causes and organizations to lift up in times that have been especially tough for them.
But how many instead listened to the ridiculous siren song of donor pleas that read: "Please contribute $45 IMMEDIATELY to claim your FREE Trump Christmas Ornament!" The money — more than $200 million raised by Trump's team so far — will go to a lot of things not remotely related to contesting the 2020 election.
No genuine contrition, which in many faiths is the first step toward reconciliation with the Creator. Just pride in every transgression, and doubling down on wrongdoing.
Retired Army Lt. Gen. Michael Flynn, Trump's first national security adviser, who pleaded guilty of lying to the FBI, was pardoned by Trump, though the federal judge who heard his case said that didn't equal innocence. Instead of being grateful and perhaps doing some, may I say, penance by helping others who weren't so lucky or well-connected, Flynn promptly supported a group that urged Trump to "immediately declare a limited form of Martial Law, and temporarily suspend the Constitution and civilian control of these federal elections, for the sole purpose of having the military oversee a re-vote."
Exalting in one man's transgressions, amplifying and imitating them, and demanding others to follow along turns Christianity, or any faith, on its head.
What it does look like, though, is a true "War on Christmas," with weapons.
Mary C. Curtis has worked at The New York Times, The Baltimore Sun, The Charlotte Observer, as national correspondent for Politics Daily, and is a senior facilitator with The OpEd Project. Follow her on Twitter @mcurtisnc3.
CQ Roll Call's newest podcast, "Equal Time with Mary C Curtis," examines policy and politics through the lens of social justice. Please subscribe on Apple, Spotify or wherever you get your podcasts.