Aboard 'The Beast,' Migrants Fear Texas Crackdown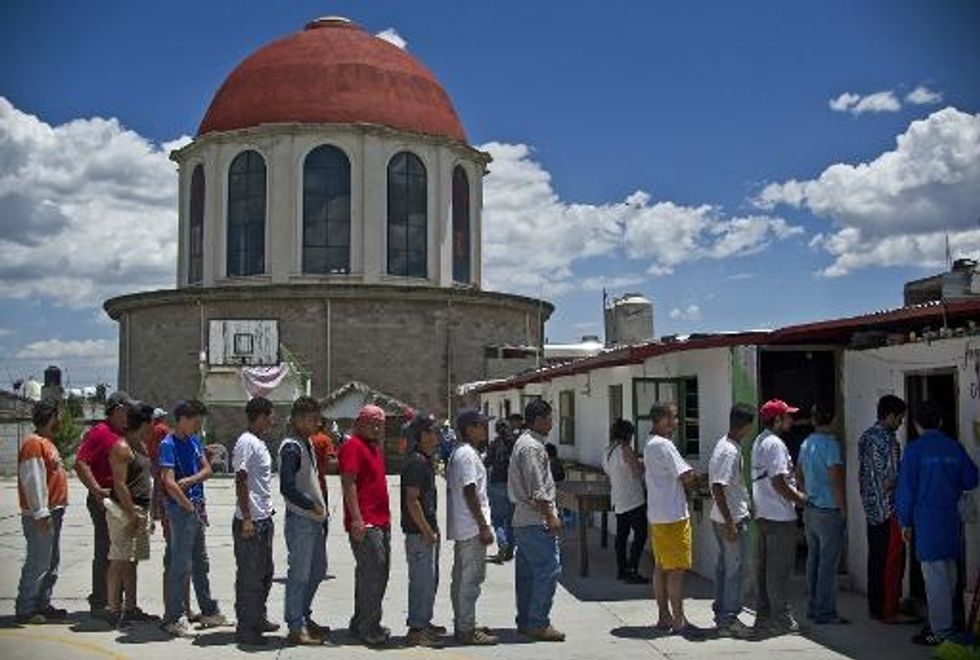 Apizaco (Mexico) (AFP) — Texas Governor Rick Perry's plan to send troops to reinforce the Mexican border was enough to deter Salvadoran couple Edwin and Sandra, who decided to make a difficult trek through New Mexico instead.
The young couple, who are expecting a baby in six months, are crossing Mexico aboard an infamous freight train known as "The Beast," which tens of thousands of Latin Americans hop on each year to make their way to the U.S. border.
Carrying two small backpacks, the pair had jumped off The Beast — actually a network of trains crossing Mexico from south to north — to stop for the night at Christ the King, a shelter in the central Mexican town of Apizaco that provides rooms to migrants hoping to sneak into the United States.
The couple had been on the road for 18 days since leaving El Salvador, but when they heard the news about presidential prospect Perry's move to send 1,000 National Guard reservists to the already tightly guarded border, they decided to ditch their plan to cross at Eagle Pass, Texas, and take an even longer route.
"A friend told me he crossed in New Mexico. Nobody goes there. It's very far, very high and you have to walk about three days through the desert," said Edwin, 36, who lived for years in Dallas and has done this all before.
Sandra said she was more worried about the more immediate danger they faced: a long row of concrete barriers set up along the train tracks in 2012 in the town of Apizaco.
The barriers are part of the Mexican government's efforts to stop migrants from riding The Beast, where, officials say, they risk falling off or being assaulted by criminal gangs that target the trains.
But the barriers are a danger themselves. Eight people have lost one or both legs at the barriers, according to Martin Morales, who runs the Christ the King shelter.
"People are going to have to find other means of transport — either by bus or walking," Morales told AFP, saying gangs would just target migrants elsewhere and increase the "fees" they charge them.
– Tattooed attackers –
Enrique Peralta, a 39-year-old from Honduras, worried that if migrants could not ride The Beast, they would no longer be able to access the network of charitable hostels like Christ the King, where activists and religious workers provide them food and shelter along their journey.
"If they take us off the train, we'll lose everything: the shelters. We'll have to stay in the hills, there will be a lot more deaths," said Peralta, who had a sling around his chest and shoulder after falling off the train.
The trip is already full of dangers as it is.
Criminal groups such as the Zetas, a violent gang formed by ex-soldiers who deserted from the army, finances itself in part by robbing, kidnapping, or shaking down undocumented migrants.
Nine travelers who arrived Tuesday at Christ the King said they had been assaulted.
In front of the rail line's own guards, a group of tattoo-covered armed men made them get off the train, demanding they hire one of their "polleros," or human traffickers, who charged them $7,000 to continue their trip, they said.
Unable or unwilling to pay, most of the victims returned home.
"But we decided to go around through the hills. The first night we had to hide in the bush (because) they were chasing us with lanterns across the mountain," said Edwin, one of the group.
He and eight companions managed to make it to Apizaco. But there are still many dangers between there and a new life in the United States.
AFP Photo / Ronaldo Schemidt
Interested in world news? Sign up for our daily email newsletter!