Abortion Issue Moves Swing Voters Toward Democrats — But How Much?
@alexvhenderson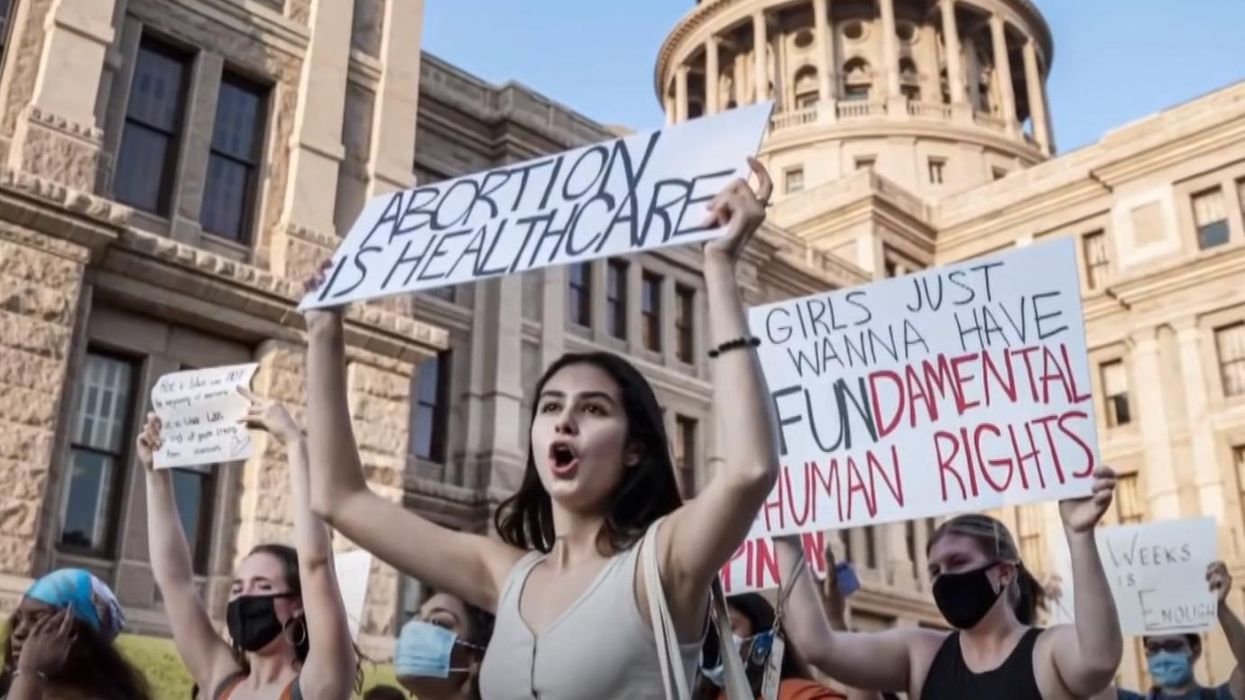 Youtube Screenshot
Seven or eight months ago, many Democratic strategists feared that the 2022 midterms would bring a massive red wave like the red waves that plagued President Bill Clinton in 1994 and President Barack Obama in 2010. But that was before the U.S. Supreme Court's radical-right majority handed down its decision in Dobbs v. Jackson Women's Health Organization and overturned Roe v. Wade after 49 years. Senate Minority Leader Mitch McConnell still believes that Republicans are likely to "flip" the U.S. House of Representatives, but he considers the U.S. Senate a toss-up.
In an article published by the conservative website The Bulwark, Rich Thau (president of the research firm Engagious and a moderator for the Swing Voter Project) and Susie Pieper (an Engagious intern and student at Haverford College in the Philadelphia suburbs) examine the effect that the abortion issue could have with swing voters in the 2022 midterms. The Dobbs decision, according to Thau and Pieper, definitely helps Democrats among swing voters. But the burning question is: How much?
"An overwhelming majority of Americans oppose the Supreme Court's decision in Dobbs, which overturned Roe v. Wade," Thau and Pieper explain. "Concurrently, an overwhelming majority of Americans think abortion should be legal in at least some cases. But how will these views translate to voting behavior among swing voters? This month, as part of our Swing Voter Project, we asked focus groups of Trump-to-Biden voters across North Carolina what's changed for them when it comes to their likely voting behavior in the wake of the Dobbs decision."
Abortion rights, according to Thau and Pieper, are a high priority for the swing voters that the Swing Voter Project spoke to in North Carolina. But they have other priorities as well.
"Among eleven North Carolinian swing voters, nine said that Dobbs would be a top-three issue for them in the midterms, which seems significant," Thau and Pieper report. "Except that issue matrixes are often complicated: Earlier in the same focus groups, we asked which one issue in the news concerns them the most — and only one said abortion. We have seen similar results in recent months, where abortion is a leading issue, but it competes with various others — such as inflation and gun violence — for the top concern."
Alana, a 26-year-old swing voter from Dover, North Carolina, told researchers, "I was registered as a Republican. I still am right now, but I'll be switching completely to Democrat. As I say, most Republicans are the reason why this happened, and I just can't stand by and agree with something that has affected myself, my family, and friends so much. It's just something that has upset me greatly."
Abortion is clearly a major issue for Kayla, a 34-year-old swing voter from Mocksville, North Carolina who told researchers, "I was registered unaffiliated. I didn't see myself as a Republican or a Democrat, but I would vote for a Republican if I thought that candidate had my views for the economy. But nah, I'm leaning left completely. And this is personal for me. So, I'm probably going to end up registering as a Democrat from here on out."
The Swing Voter Project found that some of the swing voters were leaning towards pro-choice Democratic nominee Cheri Beasley in North Carolina's 2022 U.S. Senate race. A Civitas/Cygnal poll released in late September found Beasley and Ted Budd, the Donald Trump-backed Republican nominee, in a virtual dead heat. However, Beasley trailed Budd by 3 percent in an Emerson College/The Hill poll released on September 20.
"We won't know the electoral impact of Dobbs until the votes are counted," Pieper and Pieper observe. "But this month's focus group suggests that with swing voters, the issue salience is high and helpful to Democrats."
Reprinted with permission from Alternet.