The ACA In Threes: The Good, The Bad And The Ways To Make It Better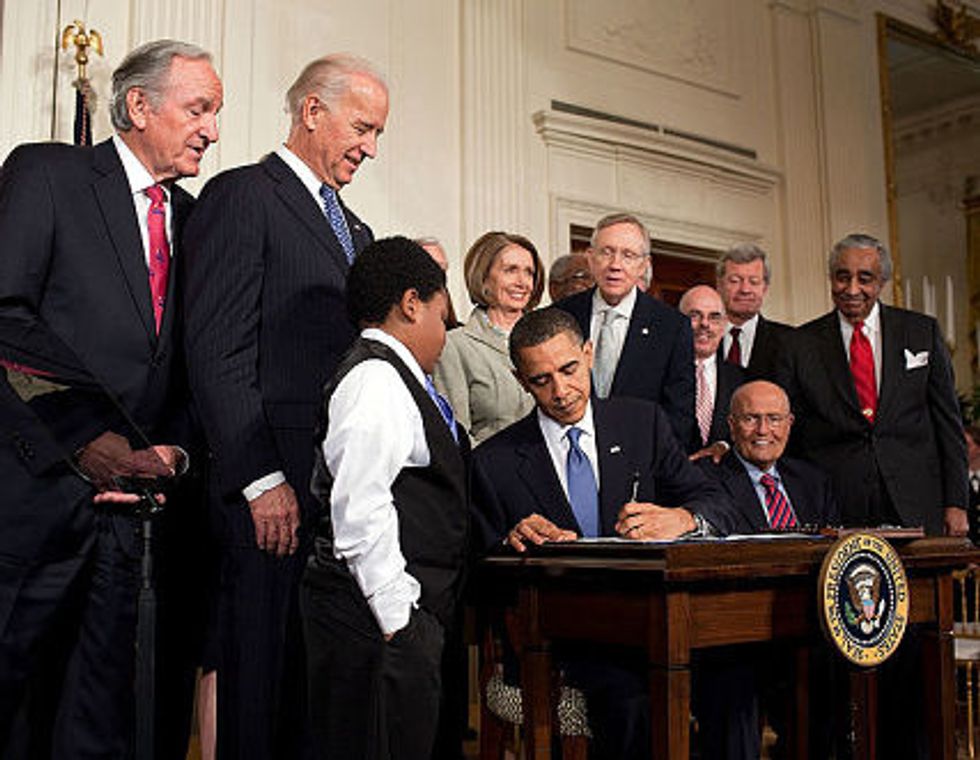 With the first open enrollment period ending Monday, consider some successes, outrages, and bug fixes for the Affordable Care Act (ACA). 
The Good: Three Big Successes of ACA:
The Affordable Care Act is saving people's lives: Already. Like Kathy Bentzoni, a Pennsylvania schoolbus driver, who dropped her old insurance because it was expensive and rejecting claims because of her pre-existing conditions. After getting ACA coverage at $55 a month, she was able to seek care: "They found my hemoglobin level was 5.7, and the normal is 14. I needed a transfusion. It was due to a rare blood disorder. Where would I be without Obamacare? ER, 3 units of blood, multiple tests in the hospital and a 5-day inpatient stay without insurance? Probably dead." Kathy was not alone in that fear – studies show that tens of thousands of people each year die because they don't have health coverage.
Medicaid enrollment is a bigger success than expected: Not only is Medicaid enrolling people who are eligible for the first time – 4.6 million of them – but almost another 2 million more are enrolling who were eligible before, but had not applied. In the big push to get people to sign up for the ACA, many people who have been eligible in the past applied for the first time.
Seniors on Medicare are saving money, getting better care: While most seniors don't think that the ACA has anything to do with them, it does. Last year, 37 million people on Medicare – seniors and people with disabilities – received free preventive care. Since the law was enacted, 8 million people enrolled in Medicare have saved $10 billion on prescription drugs, as the prescription "donut hole' closes. And for the first time in 30 years, hospital readmission rates for people on Medicare are coming down, because hospitals are now penalized for pushing people out before they are ready.
The Bad: Three Outrages Against the ACA
States that have refused to expand Medicaid: In an example of partisan politics killing people, Republicans in 24 states have refused to expand Medicaid, leaving 5 million people who would be eligible for coverage without any recourse.
Koch brothers campaign to discourage young people from signing up: In an example of billionaires killing people, the Koch brothers have funded tasteless ads and campus beer parties in an attempt to keep young people from signing up for insurance on the exchanges.
Republican lies about job loss and the ACA: One advantage of the ACA is that it gives people the freedom to leave their jobs or reduce their work hours, and still be able to get affordable coverage. When the Congressional Budget Office estimated that 2.3 million American workers would gain this freedom over the next 8 years, Republicans falsely claimed that it would cost jobs. If anything, it will create jobs for people who fill in for those who take advantage of their new freedom. I thought Republicans liked freedom.
The Ways to Make it Better: Three Big Fixes for the ACA:
Allow Medicare to operate in the exchanges: The best way to bring price competition and access to virtually ever doctor and hospital in the exchanges would be to have Medicare offer a plan (without age requirements) in every exchange. This is the easiest and most effective way to bring back the public option.
Base the employer mandate on a play or payroll tax: As I've explained here, the best way to get rid of the convoluted system of employers paying a penalty for employees who work more than 30 yours a week, would be to have employers who don't provide coverage pay a percentage of payroll for health care, just like employers now do for Social Security.
Lower the premiums and out-of-pocket costs: While the ACA is providing affordable coverage for millions – and will offer lower premiums than 29 million people are paying now – they are still too high for many families. And the out-of-pocket costs in the cheaper plans are way too high. The subsidies should be increased for middle-income people – funded by progressive taxes – and the high-out-of-pocket plans ended.
Richard Kirsch is a Senior Fellow at the Roosevelt Institute, a Senior Adviser to USAction, and the author of Fighting for Our Health. He was National Campaign Manager of Health Care for America Now during the legislative battle to pass reform.
Cross-posted from the Roosevelt Institute's Next New Deal blog.
The Roosevelt Institute is a non-profit organization devoted to carrying forward the legacy and values of Franklin and Eleanor Roosevelt.