Activists Turn Up The Heat On Congressional Republicans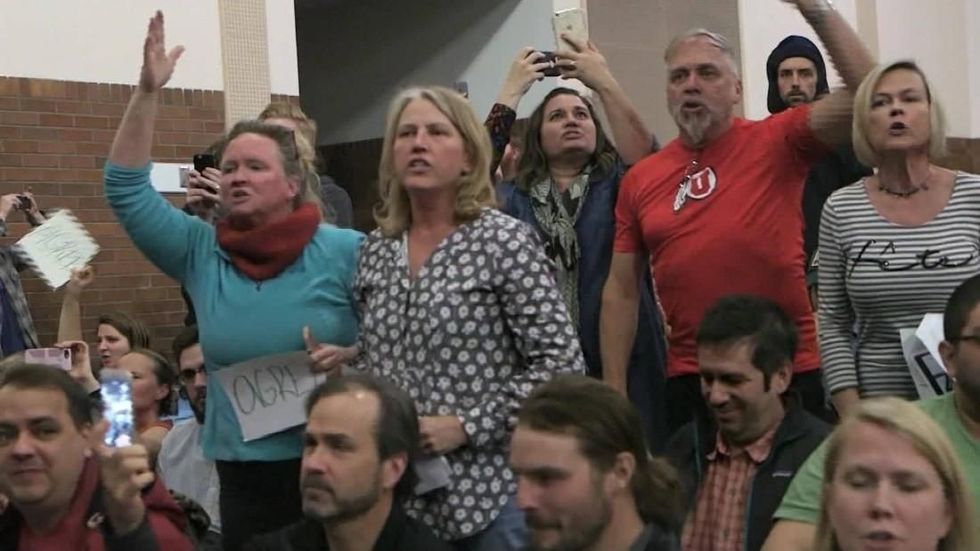 Reprinted with permission fromAlterNet.
Recess week, when members of Congress return to work in their home states and districts, is generally a placid affair—a chance for a ribbon cutting or school visit photo-op, plus a sparsely attended town hall meeting. As Long Island, NY Representative Steve Israel explained in a New York Timesop-ed, "for the first nine years of my time in Congress, my town halls could barely fill a closet."
That is, until the Trump era arrived, galvanizing a new generation of activists and bringing others back to life who thought their protesting days were behind them. According to a coalition of advocacy groups, including MoveOn.org and the Working Families Party, an estimated 40,000 people attended town hall meetings in 300 cities and 49 states around the country last week.
Many of them got heated. As Nelini Stamp, national membership director of the Working Families Party, said in a news release at the start of the week, "Members of Congress are going to hear our voices this week, whether they want to or not. Americans are taking our democracy into their own hands. If members of Congress won't hold town hall meetings, we will hold our own meetings, and we'll speak out loud enough that they can hear us, wherever they are."
Numerous groups around the country—many inspired by Indivisible, a guide for ordinary citizens interested in influencing members of Congress, which uses Tea Party methods for progressive aims— packed libraries, churches, and community centers in their states and districts. Members of newly formed activist groups called their representatives' offices, some for the first time, demanding a town hall.
Jason Chaffetz (R-UT) was booed by angry constituents demanding he investigate Trump with the same vigor he pursued Hillary Clinton's emails. They were furious about his support for Trump's immigration executive order, and more locally, his attempts to roll back Obama's funding for Bears Ears National Monument in southern Utah.
Cong Chaffetz Town Hall crowd chanting "Do your job!" He's having a hard time answering over crowd noise @UtahIndivisible@IndivisibleTeampic.twitter.com/gO0BXybGy5

— Kyung Lah (@KyungLahCNN) February 10, 2017
When an elected official wouldn't hold a town hall, constituents got creative. Marco Rubio (R-FL), who told Florida station CBS4-Miami that he wouldn't hold a town hall because people would "heckle and scream at me in front of cameras," was treated to missing person posters with his face on them, plastered on walls throughout Florida and on Twitter.
Has anyone seen our Senator? @SunSentinel@MiamiHerald@MiamiNewTimes#canwetalkrubio#marcorubio#townhallpic.twitter.com/ln2fYOZfuX

— Hillary Dougherty (@HilaryDougherty) February 24, 2017
In Denver, Colorado, 1,000 constituents of Republican Senator Cory Gardner showed up for a town hall that was missing a key member: Gardner. A similar scene played out in Fort Collins, Colorado, where constituents directed their questions to an empty chair, set out like the glass of wine for the prophet Elijah on Passover. The senator never showed, but local media did, and Gardner's absence was louder than any angry constituent.
Many want to talk to Cory Gardner and he is no where to be found in Colorado. #corygardner#cohealthforall#translivesmatterpic.twitter.com/wiOourE2az

— Above Waters Project (@AboveWaterProj) February 23, 2017
Frequently, the pressure worked, even, or especially, in the deepest of red states, like Arkansas.
As Shannon Simons, an organizer of Ozark Indivisible, an anti-Trump, pro-Affordable Care Act group based in northwest Arkansas, explained to AlterNet, "We are committed to keeping protections under the ACA. Repealing it would bankrupt Arkansas. We want a strong Arkansas. We also want to get our Tea Party members of Congress out of office."
This includes Senator Tom Cotton (R-AR), who Simons says "did not give us the opportunity to even drop in at his office without an appointment before we protested." Ozark Indivisible's pressure worked, however, and Simons described the resulting meeting as "democracy in action."
Kati McFarland, a student at the University of Arkansas, told Senator Cotton that without coverage through the Affordable Care Act, "I will die. That is not hyperbole. I will die." Cotton offered a vague promise: "If you lose your coverage today, you can still have it."
Laura from Louisiana, who attended Bill Cassidy's town hall: 'Harsh questions need to be asked…We want more transparency in government.' pic.twitter.com/BPUDbXnu5l

— Kyle Griffin (@kylegriffin1) February 22, 2017
One woman expressed her fears that she and her daughter might be deported or split up due to her family's mixed immigration status. Others questioned the financial and moral consequences of building and financing a border wall. Multiple constituents expressed their displeasure, with chants of "do your job" and "tax returns."
Lest anyone claim that these angry constituents are paid protestors or carpet-bagging liberal activists, Simons reminds us, "There are a lot more people who reject 45 [Trump is the 45th U.S. president] in red states than people think. Our voices have been drowned out by the conservatives and our stories have not been told because we are a smaller group. So many of us kept our opinions to ourselves because many people have feared reprisals. The Indivisible movement has provided us connections with like-minded people, and 45's election gave us the will to speak up."
Ilana Novick is an AlterNet contributing writer and production editor.
IMAGE: Screenshot / YouTube