Kinzinger's Family Sends Wild Letter That Says He Joined 'Devil's Army'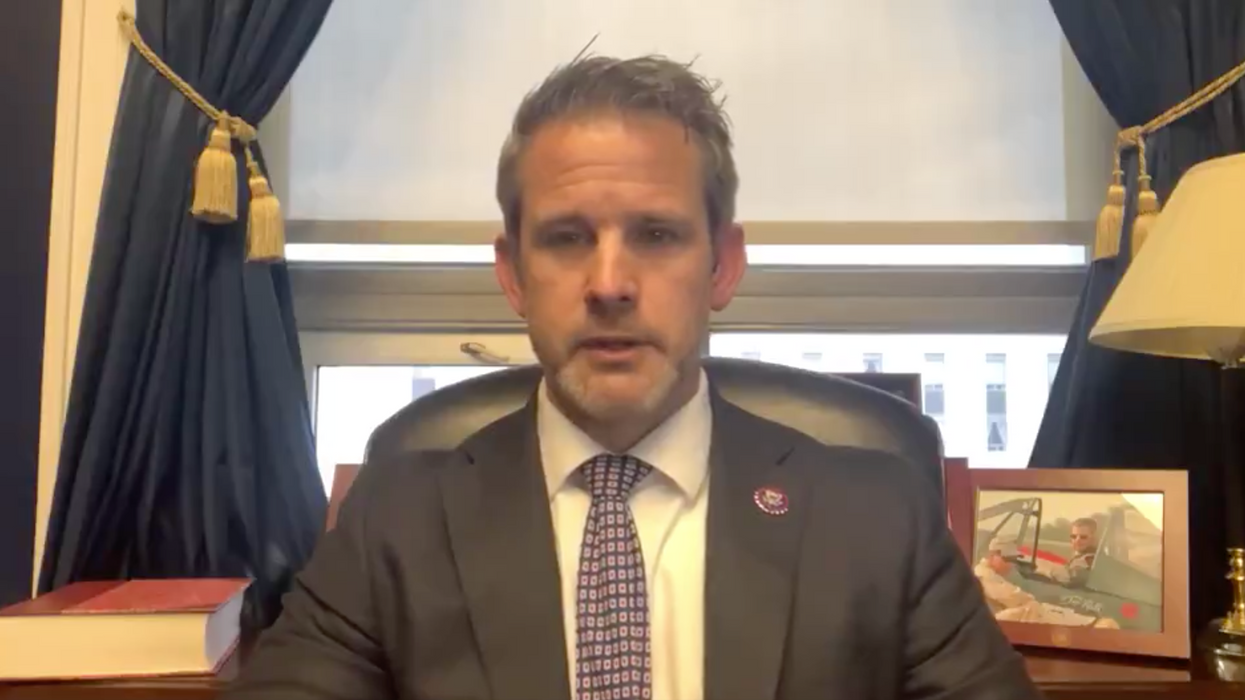 Screenshot from Rep. Adam Kinzinger's Twitter (@RepKinzinger)
Reprinted with permission from Alternet
Illinois Republican Rep. Adam Kinzinger made many enemies within his own party by standing up to former President Donald Trump after the 2020 election, a break that included voting in favor of impeachment pushed by the Democrats. And on Monday, a new profile of Kinzinger revealed that some of his harshest critics come from within his own family.
The New York Times obtained a letter signed by 11 of Kinzinger's relatives and sent to his father, as well as other Republican officials in the state. It was written by his cousin, Karen Otto, the Times reported.
In style, the letter was clearly influenced by Trump's own writing — though it included far more religious references than the former president typically employs, unless he is intentionally addressing a religious audience.
"Oh my, what a disappointment you are to us and to God!" Otto wrote.
She continued:
We were once so proud of your accomplishments! Instead, you go against your Christian principles and join the "devil's army" (Democrats and the fake news media). How do you call yourself a Christian when you join the "devil's army" believing in abortion! We thought you were "smart" enough to see how the left is brainwashing so many "so called good people including yourself and many other GOP members. You have even fallen for their socialism ideals! So, so, sad!
President Trump is not perfect, but neither are you or any of us for that matter! It is not for us to judge or be judged! But he is a Christian. (If God can forgive and use King David in the Bible, He can do the same with President Trump.) Franklin Graham, Robert Jeffress, to just to name a few, of many Pastors who mentor President Trump, know that he is a believer! Obviously, you did not hear President Trump's "Christmas Message" to the American people (fake news media did not cover his message) where he actually gave the plan of salvation, instructing people how to repent and ask the Savior into their heart to be "Born Again"! (To believe in John 3:16) When was the last time you proclaimed your faith Adam? (Oh, we forgot you now belong to the "devil's army.") You won't convince us otherwise with your horrible, rude accusations of President Trump! (To embrace a party that believes in abortion and socialism is the ultimate sin.) We should list even more grievances against you, but decided you are not worth more our time to list them. We have said enough!
You should be very proud that you have lost the respect of Lou Dobbs, Tucker Carlson, Sean Hannity, Laura Ingraham, Greg Kelly, most importantly in our book, Mark Levin and Rush Limbaugh and us!
It is now most embarrassing to us that we are related to you. You have embarrassed the Kinzinger family name!
We are not judging you. This letter is our opinion of you!
Oh, by the way, good luck in your fund raising endeavor. We are sure we know there are many other good GOP and CHirsitans supporters that feel the same way we do. Also very disappointed with the many other GOP that have sided with the Democrats. (We should demand our money back!)
View an image of the letter below:
"I wanted Adam to be shunned," Otto told the Times.
The message was a stark demonstration of the force of negative polarization. Because Kinzinger's family hates the Democrats so much, they see Kinzinger's turning against Trump and most of the Republican Party as an ultimate betrayal. What's binding the right-wing together isn't so much shared values as much as the shared belief that the Democratic Party is the ultimate threat. Parallel trends are affecting the political left in the United States, though it's unclear if the forces are as extreme.
"We just fear," Kinzinger said in an interview with the Times. "Fear the Democrats. Fear the future. Fear everything. And it works for an election cycle or two. The problem is it does real damage to this democracy."