Adrian Peterson Expected To Plead Not Guilty Today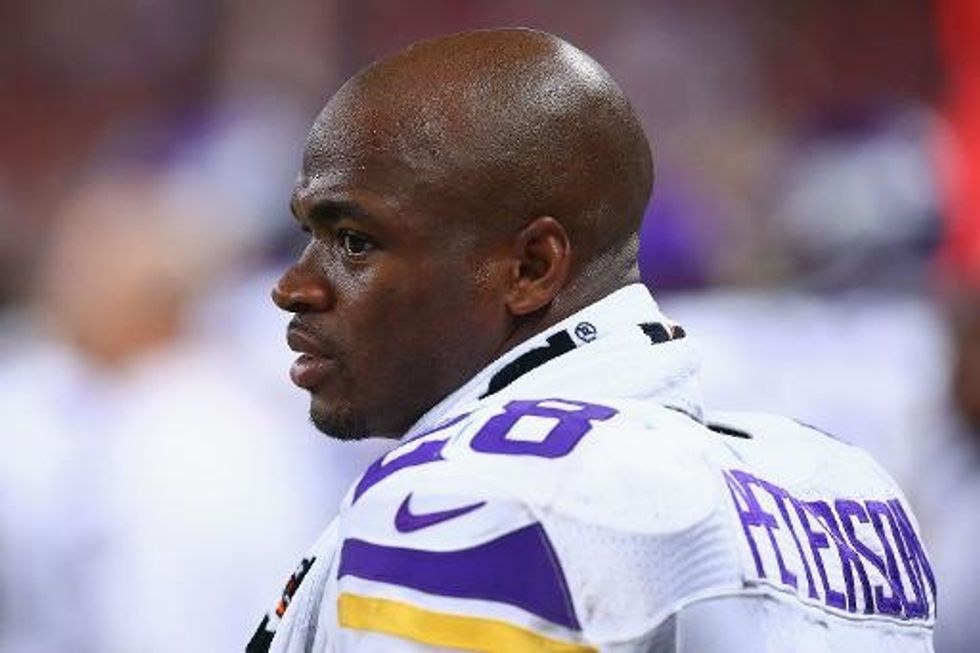 By Rochelle Olson, Star Tribune (Minneapolis)
Benched Minnesota Vikings star Adrian Peterson will plead not guilty in a Texas courtroom Wednesday to a felony child abuse charge. Peterson was indicted Sept. 12 on a charge of child endangerment, accused of striking his 4-year-old son with a switch — a tree branch with the leaves removed — so badly that the boy had bruises and scars days after the incident in Texas.
What happens today? Peterson must appear at a hearing in Conroe, Texas. His lawyer, Rusty Hardin, said Peterson will plead not guilty.
Why not guilty? Peterson has admitted hitting the child, but contends it was intended as discipline, not to injure the child.
What could happen? It depends on what the judge wants, according to Montgomery County prosecutor Phil Grant. Judge Kelly Case may order discovery, or the collection and sharing of information. He could impose restrictions on Peterson's activities while awaiting trial. He could also set boundaries for media contact. The judge will set a schedule for how the case proceeds from here. Closed-door plea discussions are possible at any time, but those wouldn't be public until or unless a deal is made.
How soon will he go to trial? A trial date could be scheduled later this year. A date soon would be "highly unusual," Grant said. Usually, cases in which the defendant is in jail are tried before those in which the defendant is free, such as Peterson, who posted $15,000 bond last month, Grant said. But the judge has discretion to schedule cases. Lawyers have previously said they expected a trial in 2015.
Will he be back to play for the Vikings this season? If he were to plead or be found guilty, he would probably be required to serve an immediate NFL-imposed suspension for a number of games.
Will he go to prison? If found guilty, the presumptive sentence is two years. But first-time offenders rarely go to prison.
What is he doing now? He is in Texas, occasionally tweeting from his account, @AdrianPeterson. He is on the NFL commissioner's exempt list and not playing. He still collects his $11 million salary.
AFP Photo/Dilip Vishwanat
Want more national news and analysis? Sign up for our daily email newsletter!