As Advertisers Flee, Hannity Brags About Conspiracy Smears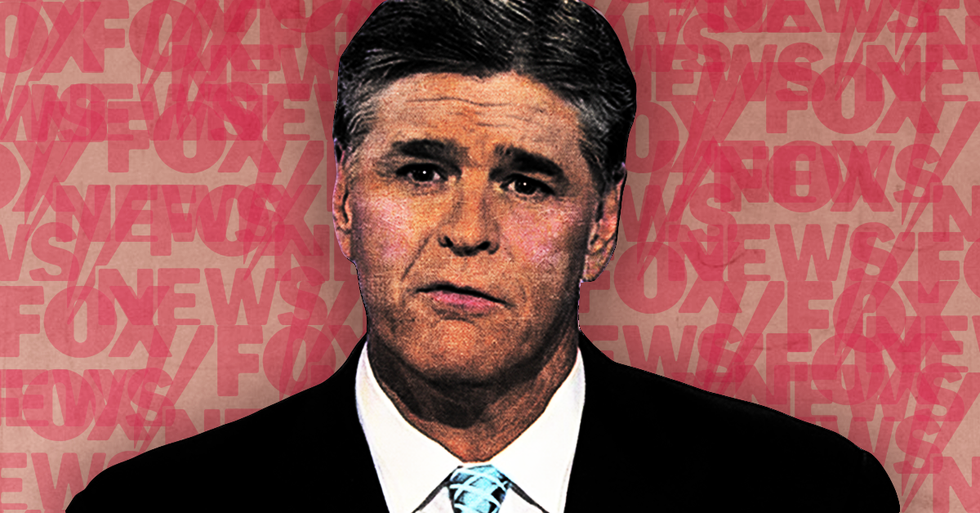 Reprinted with permission from MediaMatters.

Fox News host Sean Hannity bragged about his continued promotion of a baseless Seth Rich murder conspiracy and fringe-sourced smear, even as advertisers began to announce they would no longer be advertising on his Fox News show.
In an interview with HuffPost, Hannity said "he received no pressure from Fox News brass or Rupert Murdoch … to back off the story," which Hannity has continued to promote even "after Fox News' website retracted a story featuring unproven claims of a link between Rich and WikiLeaks." Instead, Hannity argued "There's nothing that I did, nothing that I said, except they don't like my position politically," in reference to criticism of his ghoulish obsession with Rich.
Hannity's refusal to back down comes as advertisers are realizing that his history of bigotry, sexism, and penchant for spreading conspiracy theories might be too risky for their brands. As reported by Buzzfeed, multiple advertisers are dumping his show.
From the May 24 HuffPost article:
"I did it out of my own heart," he said. "Nobody tells me what to say on my show. They never have and frankly they never will. I'm not that type of person you can say, 'Go on air and say this.' That's been the beauty of Fox News all these years. They leave me alone."

A year ago, Fox News appeared invincible amid 15 years of rating dominance among cable news networks. But co-founder and chairman Roger Ailes left in disgrace in July following a sexual harassment scandal; he died last week. O'Reilly, the top-rated cable host, swiftly lost his perch in April following a social media-fueled boycott. Co-president Bill Shine, who Hannity personally advocated for on Twitter, was out weeks later.

[Media Matters President Angelo] Carusone said he views Hannity "freaking out" on Twitter as evidence of "palpable fear and anxiety," given those high-profile departures from Fox News. "I think it illustrates the anxiety he feels," he said. Still, Carusone also said Hannity was exploiting the opportunity to attack the left.

Last week, Media Matters launched a campaign ― "Know What You're Sponsoring" ― that's aimed at making sure "ad buyers know what their clients are sponsoring if they spend their ad dollars with Fox," according to the group's release. Carusone said posting the list of Hannity's advertisers is "a continuation of that conversation," and pointed out that Media Matters compiled it through publicly available information.
Carusone said the problem with Hannity's brand right now from an advertiser perspective is not that it's conservative, but that it's "completely volatile."
Header image by Sarah Wasko / Media Matters