Affidavit Links Kavanaugh To Gang-Rape Of Inebriated Girls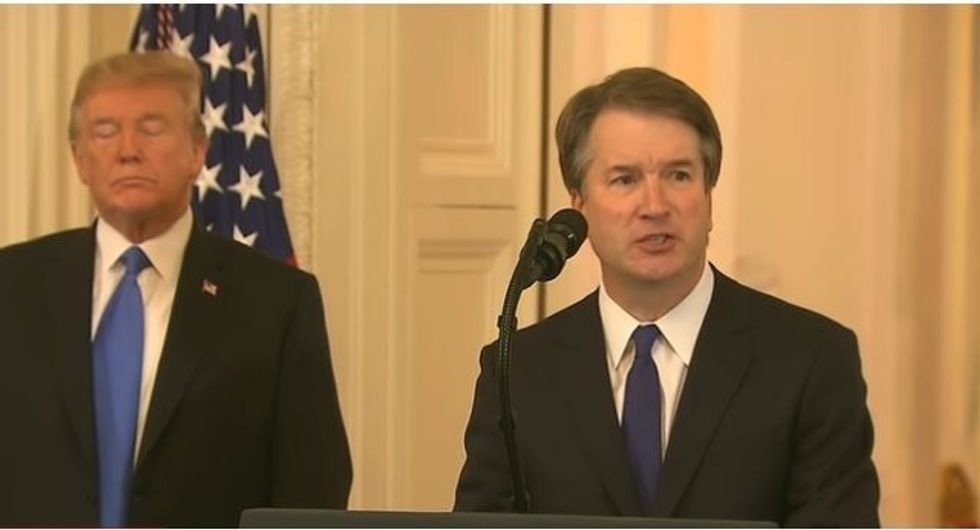 Reprinted with permission from Shareblue.
A third woman has come forward to accuse Supreme Court nominee Brett Kavanaugh of sexual misconduct — specifically, that Kavanaugh facilitated "gang rapes" at house parties in high school, in which a "train" of boys waited outside a room for their "turn" to rape girls who had been incapacitated with drugs or alcohol.
The woman, Julie Swetnick, submitted a sworn declaration signed under penalty of perjury attesting that she was a victim of gang rapes at one of these house parties, during which she believes she was drugged with Quaaludes or a similar substance that made her unable to fight back.
She says that Kavanaugh and his friend Mark Judge were both "present" during that incident, but does not specifically allege that either of them raped her. She also says she has a "firm recollection" of seeing Judge and Kavanaugh lined up with other boys in another "train."
Swetnick is a government employee who has multiple current and active security clearances. She is being represented by Michael Avenatti, who is also the attorney for Stormy Daniels. Avenatti released Swetnick's declaration on Twitter, along with an email he wrote to Senate Judiciary Committee staffers about it.
Avenatti announced earlier this week that he had a client with credible information about Kavanaugh's activities during high school parties, and that this client would be ready to come forward and be named by today.
In addition, Swetnick alleges that Kavanaugh and Judge — who was allegedly the third person in the room during the assault described by Dr. Christine Blasey Ford, Kavanaugh's first accuser — both behaved in an "overly aggressive with girls" when they drank.
Swetnick says she witnessed Kavanaugh behave in both physically and verbally abusive ways toward girls at parties, including groping them without their consent.
"I observed Brett Kavanaugh drink excessively at many of these parties and engage in abusive and physically aggressive behavior toward girls, including pressing girls against him without their consent, 'grinding' against girls, and attempting to remove or shift girls' clothing to expose private body parts," Swetnick stated. "I likewise observed him be verbally abusive towards girls by making crude sexual comments to them that were designed to demean, humiliate and embarrass them."
To sum up, here's what Swetnick is (and is not) specifically alleging:
She says she witnessed Kavanaugh sexually assault other girls at parties by groping them without consent.
She says both Kavanaugh and Judge facilitated "gang rapes" by "spiking" punch to lower girls' inhibition and by being present for the rapes.
Swetnick does not allege witnessing another girl's rape firsthand, and does not specifically allege being raped by either Kavanaugh or Judge.
She does allege that both Judge and Kavanaugh were "present" during her own rape, and that she was drugged at the time.
She does allege seeing both Kavanaugh and Judge waiting in line outside a room where it was understood by attendees that an incapacitated girl was being held so that boys could take "turns" raping her.
Judge's former girlfriend, Elizabeth Rasor, told the New Yorker Judge had confessed to her that he and other boys had "taken turns having sex with a drunk woman." He said this "ashamedly," Rasor said, although he seemed to believe the encounters were consensual.
Swetnick's declaration is worth reading in full. Her allegations about Kavanaugh's hard drinking track with what others have said about Kavanaugh, including what some of Kavanaugh's former classmates at Yale told the Washington Post.
"Brett was a sloppy drunk, and I know because I drank with him," said Liz Swisher, who described herself as a friend of Kavanaugh in college. "There's no medical way I can say that he was blacked out. … But it's not credible for him to say that he has had no memory lapses in the nights that he drank to excess."
The "choir boy" image Kavanaugh has been trying to cultivate for himself — a good guy who loves and respects women, a girls' basketball coach, a guy who focused more on church and friends in high school than parties — is quickly falling apart under closer scrutiny.
And yet.
Even though Swetnick is the third named woman to come forward with serious allegations against Kavanaugh, Republicans on the Senate Judiciary Committee are preparing to move forward as planned with a hearing on Thursday.
And they're moving forward with just two witnesses — Kavanaugh and Ford.
It's clearer than ever that Senate Republicans want to "plow right through" this, as Senate Majority Leader Mitch McConnell (R-KY) indelicately put it.
No matter how many women come forward, and no matter how many people corroborate their stories, Republicans seem determined to confirm an alleged sexual predator to the Supreme Court.
Published with permission of The American Independent.